CLAYTON — A St. Louis County woman has sued a Chesterfield health clinic claiming she was denied a job there last year when the company told her via email it doesn't hire people with "ghetto" names.
Dorneshia Zachery, 23, a black woman from unincorporated St. Louis County near Florissant, sued Mantality Health in Chesterfield last week, claiming employment discrimination. Her lawsuit says she applied to Mantality, a clinic that treats men with low testosterone, last July and received an email Aug. 13 saying, "Thank you for your interest in careers at Mantality Health. Unfortunately we do not consider candidates that have suggestive 'ghetto' names. We wish the best in your career search," the email said.
Zachery could not be reached for comment but she posted a screenshot of the email she received to her Facebook page last year. Her lawsuit seeks at least $100,000 in damages.
A company representative could not be reached Monday but owner Kevin Meuret last year told the Post-Dispatch that Mantality's email system was hacked from someone outside Missouri — believed to be a former employee. Meuret said about 20 applicants received such emails from the hacker. Meuret said the company would never treat job applicants that way. He also said the company filed a police report.
In addition to the Chesterfield office, Mantality says on its website that it has locations in south St. Louis County, Omaha, Nebraska, two sites in Iowa and two in Wisconsin.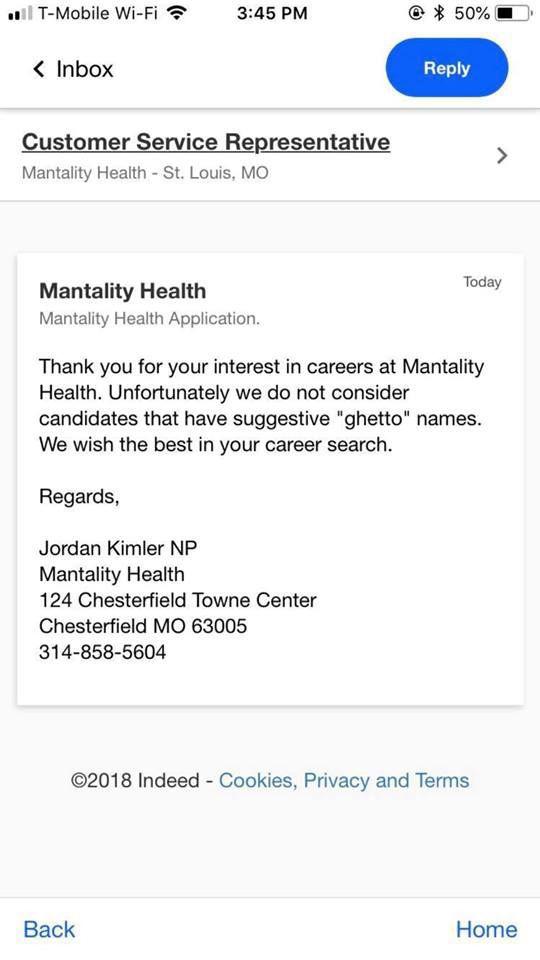 "They discriminated against me because of my name, which they considered it to be 'ghetto' for their company!" Hermeisha Robinson, then 27, wrote on Facebook at the time.
"My feelings are very hurt and they even got me second-guessing my name, trying to figure out if my name is really that 'ghetto.'" She asked for all her social media friends to share the post "because discrimination has to stop."