The Poplar Street Bridge is the busiest of the St. Louis-area spans over the Mississippi River — about 100,000 vehicles cross it each day.
Opened in 1967, the bridge in recent years has shown signs of its age, both in need for repairs detailed in an inspection report finding it to be in poor condition, and in the traffic that often backs up during peak times.
A major two-year project by the Missouri Department of Transportation set to start in February aims to alleviate both problems. It's a big fix the department has talked about for years, said state Bridge Engineer Dennis Heckman.
That work comes with a $54 million price tag and includes lifting and moving the bridge's eastbound lanes 9 feet downstream, then filling in the bridge's center with an extra driving lane.
The bridge is two separate spans, Heckman said. The eastbound and westbound lanes sit atop concrete piers sunk into bedrock about 65 feet below the river's average level. Those piers will be widened and strengthened to support the expanded bridge.
Besides adding the eastbound lane, which takes the bridge from eight to nine with the additional lane going from the Interstate 55 ramp to Illinois Route 3, the project includes adding a new driving surface, improving its resistance to earthquakes, painting and crack repair.
The only total closure of the bridge expected will be over a weekend — no date has been set for when that will happen — so crews can lift the eastbound lanes about a half inch, then move them all at once, Heckman said.
"It'll take hours to move the bridge nine feet," said Stacy McMillan, a structural liaison engineer at MoDOT who was key in the design process of this project.
On the Poplar Street Bridge, the steel deck is part of the structure that holds up the bridge. Such decks are rare and getting asphalt to stick to them is difficult, said Greg Horn, MoDOT's district engineer for the St. Louis area. So a concrete deck is being added to the eastbound lanes, something done last year on the westbound lanes.
The Sixth Street ramp from downtown near Busch Stadium that goes to Illinois will have its own lane, meaning traffic won't have to merge with other cars on Highway 40 (Interstate 64).
And a lane will be added to the current one-lane ramp to the bridge from northbound Interstate 55, where traffic often backs up, especially when several trucks are using it.
To do that, the ramp will need to be shut down four to five months, likely beginning in late summer.
Missouri is paying the bulk of the cost, with about $18 million coming from Illinois.
'Poor' ranking to rise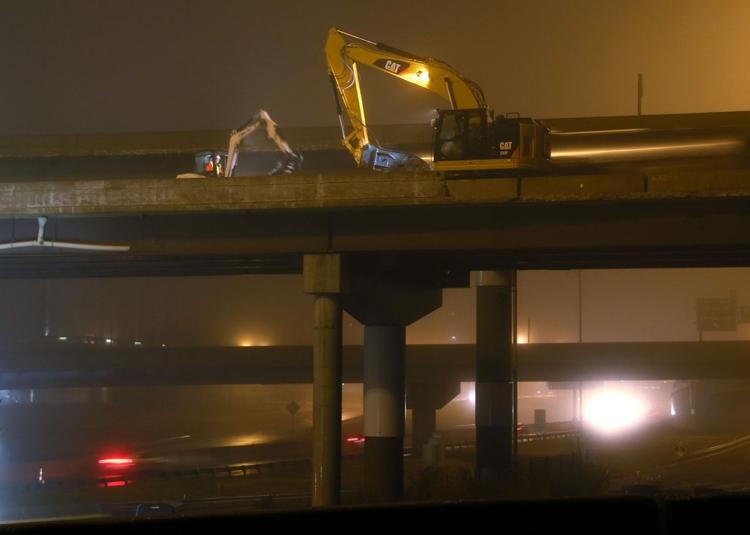 MoDOT uses a ranking system for bridges that spans from one to nine, with nine being the best condition possible, such as a new bridge. A bridge that scores a one is collapsed, and a two means it's closed.
Those ranked as a three or four are considered poor. And the overall condition of the Poplar Street Bridge is a four, according to a report of its most recent inspection done about one year ago. After this project, it's expected to rate a six.
Heckman stressed that the bridge remains safe to cross, and that MoDOT would close it if it were not.
Problems highlighted during an inspection last February included bolts that "habitually work loose" and cracking related to the steel plate the asphalt won't stick to.
Heckman said if left unchecked, that cracking could lead to his agency closing the bridge in 10 years.
That score was even lower in 2011, when the bridge dropped from a six to a three due to a large fatigue crack that MoDOT repaired. Two years later, 98 total cracks were found in an inspection, and repairs again were made, upping the ranking to a five.
Cracks on the Poplar Street Bridge have been a problem since the 1980s, Heckman said, and many steel bridges built in the 1960s have fatigue problems.
He compared it to a paper clip — when you keep bending it back and forth, it eventually will break. The new concrete driving surface will help stop such bending, which causes cracking. And it's better for cars, he said, while making the bridge stiffer so it doesn't bend or bounce as much.
In 2015 the inspection score of the bridge's superstructure, which is the part of the bridge above the piers that supports the deck and connects other parts of the bridge, was lowered from a five to a four due to the number of new cracks.
Many of those were addressed with work on the westbound lanes, and the new project will address issues on the eastbound side, Heckman said.
The bridge is inspected yearly, which can cause traffic backups. Yearly inspections will continue after this project for a time, but could be stretched out to every two years if results are good.
"We're hoping that will be more a savings for us and more convenient for the public that we don't need to do as many inspections as we do now," Heckman said.
MoDOT says 866 of its 10,400 bridges are in poor condition, a newer classification to align with federal standards that replaces what the agency previously had defined as critical bridges.
That's up from 852 in 2015 and 842 in 2014.
As for the Poplar Street Bridge's future, MoDOT says this project is expected to give the spans another 30 years of use.
"After that, we'll need a new bridge," Heckman said.
---
EDITOR'S NOTE: A timeline on an earlier version of this story gave an incorrect date for start of work on this project. This version has been corrected.