ST. LOUIS — Gun violence has been an ever-present part of growing up in some St. Louis neighborhoods, but for Antionette Carroll, it really hit home last year when her 14-year-old brother was killed in his own bedroom.
The shooting that took Oscar 'OJ' Johnson's life was the result of an argument among teenage friends. The 13-year-old who pulled the trigger ran away from the house, but was later caught by authorities. He was committed to juvenile detention until age 17 on a first-degree involuntary manslaughter charge.
Carroll says men in her family haven't made it past age 56. She hopes her dad will "break the curse." At family reunions she attended growing up, she heard about people coming and going from prison. She thought that was normal.
"I realized that was wrong," Carroll said.
This weekend, Carroll talked about gun violence with 25 teens at her nonprofit's Young Leaders for Civic Change workshop held at the Deaconess Center for Child Well-Being. The workshop was sold out, with an additional 15 students on a waiting list.
Gun violence and its impact on St. Louis youth is front and center, after more than a dozen kids were killed by gunshot wounds this summer. Police have made two arrests and filed charges in only one of the cases so far.
An intervention designed in Creative Reaction Lab workshops can be as small as a social media change, or as big as a policy change proposal.
"And we need the varying degrees to create change," Carroll said.
Government, education, media and health care institutions can be, and have been, designed to be exclusive, according to Creative Reaction Lab. That means they can also be redesigned to be inclusive, and that's the point of the Young Leaders workshop.
Using the education system as an example, Carroll said it's important for all students to have equitable access and resources in the classroom. But she suggests people also think about how narratives taught in the classroom can be designed differently, and be more inclusive of perspectives and cultures other than white, Eurocentric ones.
"If we talk about blackness (in schools), we talk about it through the lens of slavery, the Civil Rights movement, and probably Barack Obama now," Carroll said. Part of Creative Reaction Lab's goal is helping people understand how inequities in schools, government, health care and media relate to issues like gun violence.
On Saturday, the teens began to see how small parts of a larger system, like the number of parks or free, fun activities in a child's neighborhood, can relate to gun violence. They would like to see more projects like the Magic House's satellite children's museum, Made, which opened in June on Delmar Boulevard in the city's Academy neighborhood.
"Kids need something here at home," said Taylor Fisher, 17, of St. Louis.
Children don't have enough positive activities close to home to be engaged in, the group concluded, and creating those spaces would help kids feel a stronger sense of community.
"Imagine a place where city and county kids play together," said Mitchell Gray, 16, of Ballwin.
Other ideas the teens came up with on Saturday, like free or low-cost counseling, would help youth in other ways, too.
"Stuff gets bottled up inside," said Emma Carter, 16, who lives in the city's Greater Ville neighborhood. "When people join gangs, or do a mass shooting, it's because they're not talking to people."
At the end of the weekend, the teens were to have developed two to four community-based interventions, aimed at stopping gun violence, that they can take into action in the St. Louis community.
Carroll's nonprofit, Creative Reaction Lab, was formed after the 2014 unrest in Ferguson following the shooting of Michael Brown Jr. The lab first hosted a 24-hour design challenge where participants were asked to brainstorm ideas for community interventions that could help address racial inequalities and police brutality.
Since then, the nonprofit has created and shared a variety of resources and workshops for communities on many subjects related to inequity. Their Equity-Centered Community Design field guide is used by doctorate students, college professors and other nonprofits around the world, Carroll said. Last year, progressive business magazine Fast Company featured Creative Reaction Lab and its innovative approach to rethinking community design.
Saturday's workshop was funded by Creative Reaction Lab and a grant from St. Louis ReCAST as a part of the St. Louis Promise Zone.
Click on top left for legend and details.
Young leaders look for ways to eliminate gun violence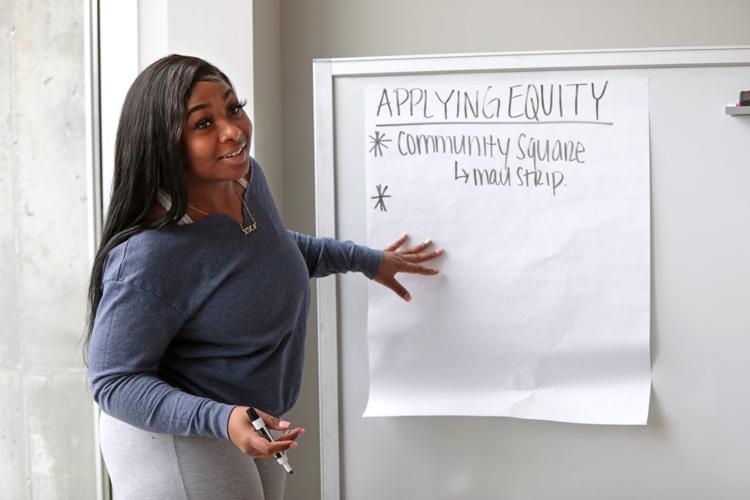 Young leaders look for ways to eliminate gun violence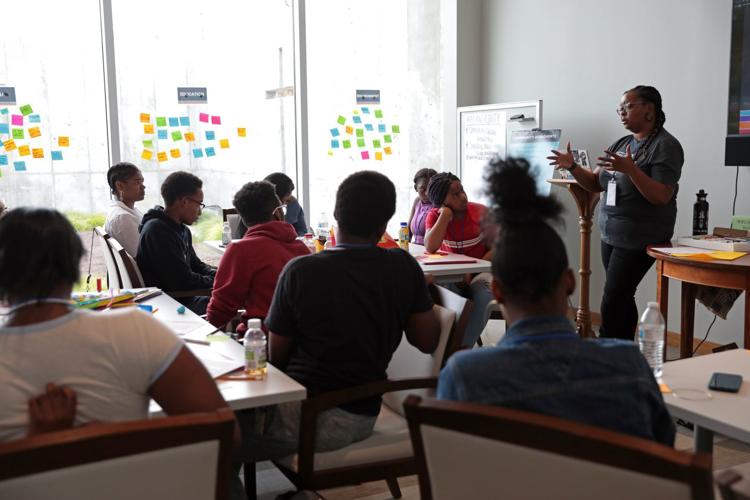 Young leaders look for ways to eliminate gun violence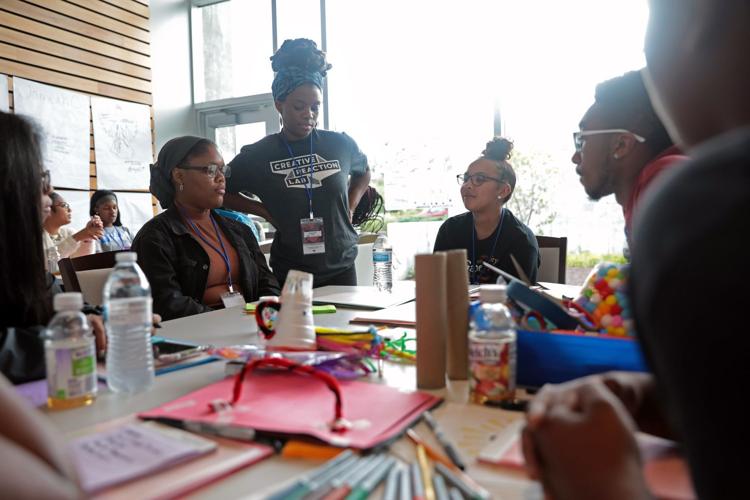 Young leaders look for ways to eliminate gun violence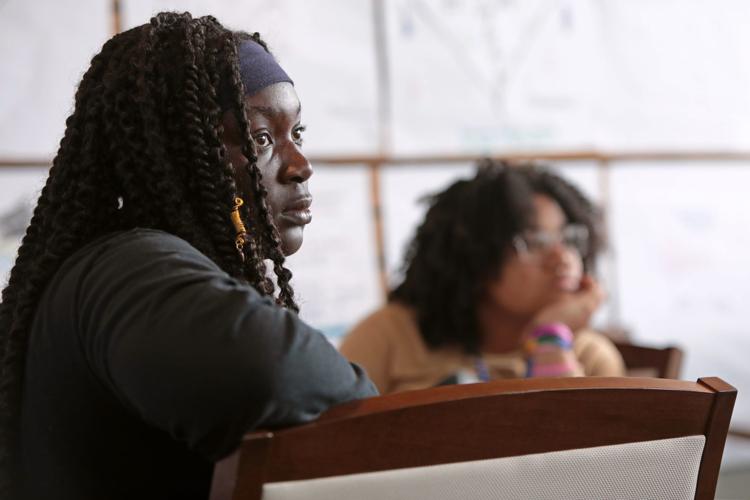 Young leaders look for ways to eliminate gun violence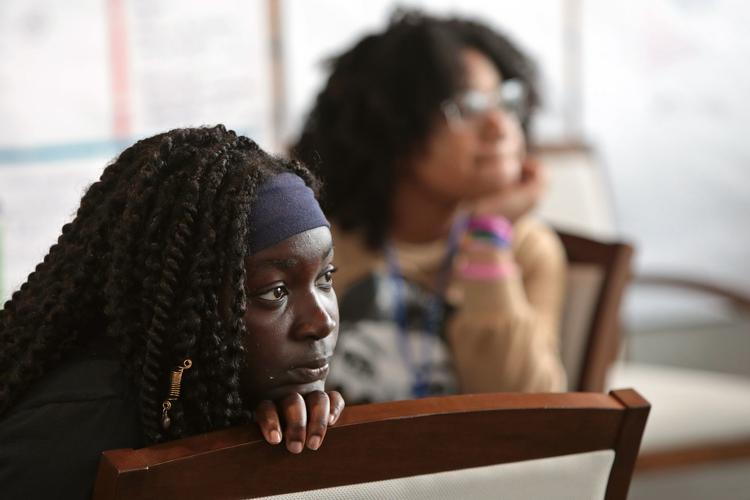 Young leaders look for ways to eliminate gun violence
Young leaders look for ways to eliminate gun violence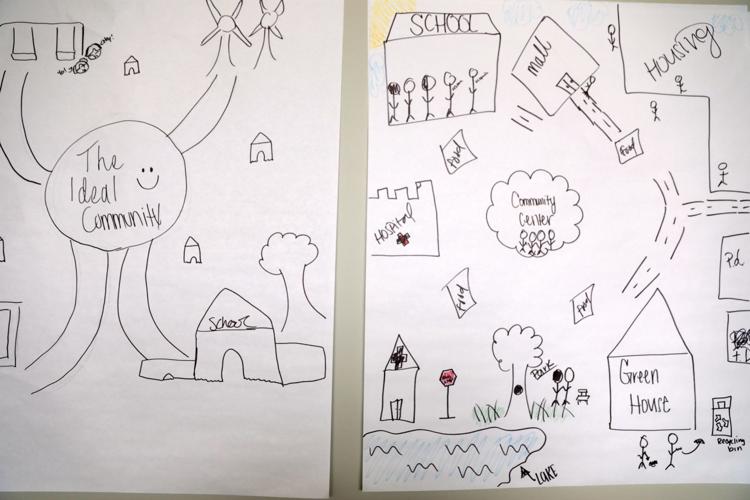 Young leaders look for ways to eliminate gun violence