MARYLAND HEIGHTS • In the corner of Syberg's restaurant off Old Dorsett Road, a cloud of smoke partly obscures the lights of an arcade game and the silhouettes of two men.
Click, click, click. Pause. Click, click, click.
The men emerge, clutching e-cigarettes and drinks. The air smells of vanilla and vodka. Their hunt has started.
A photo of one of the men hangs over the right corner of the Big Buck Hunter arcade machine. "Congratulations Skippy!" the framed picture reads, showing him grinning with a lion hat on his head and a golden trophy in his hand.
"Skippy" is Derek Tower. He's 34 and has worked as a server at Syberg's for nearly a decade. That picture was taken in October 2014 when he captured the 2014 Big Buck Hunter World Championship in Minneapolis, along with $15,000. His boss surprised him with the framed photo.
His friend is Jared Crumpler, a fellow buck hunter from Monroe, La. — near the hometown of Duck Dynasty, which has an alternate game mode on Big Buck HD. Crumpler eases off his straw cowboy hat, straps on his American flag sunglasses and struts over to one of the two guns.
Both men are competing with about 4,000 other people to qualify for the 64-man tournament this October in Chicago, the largest unique qualifying group in Big Buck Hunter game history. They'll spend several hundred bucks, well, dollars, attempting to earn a spot at the all-you-can-eat, all-you-can-drink, two-day buck fest.
Competitors in the men's and women's brackets will assure you that they'll earn it all back.
"This is the only thing I'm the best at," Tower said.
New sponsors at the tournament this year mean new money, and the cash pool has grown to more than $75,000, with no word on how the pot will be distributed. First prize is still $15,000 in the men's tournament and $5,000 for the women's tournament.
Since about 2008, Big Buck Hunter has sponsored the biggest-paying arcade game championship in the nation. Global interest continues to grow for live video game tournaments, attracting big audiences and big payouts.
Big Buck Hunter has expanded from a single machine in Aurora, Ill., to a worldwide attraction in less than two decades. Minnesota boasts the most machines in the country — Missouri, seventh-most. Most players are nonhunters and nongun-owners, said Jessica Petro, spokeswoman for Play Mechanix, one of the game's developers. The game features little animated blood or violence.
Big Buck Hunter's objective is simple: Earn points shooting the male deer. Felling a doe immediately ends a stage.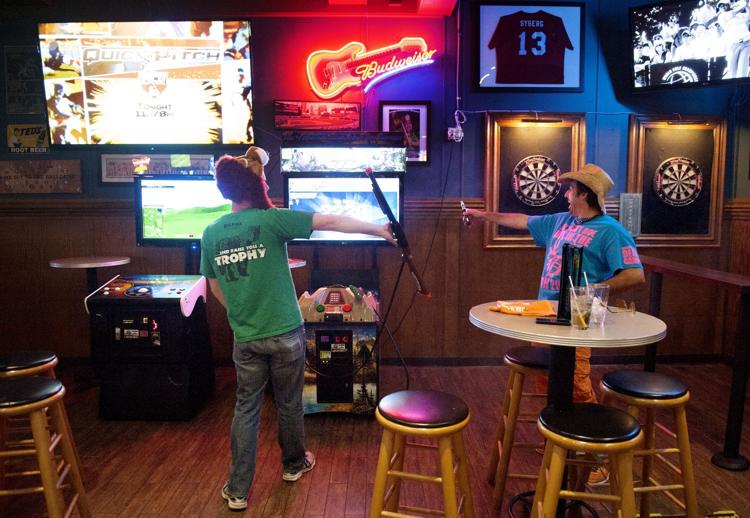 An adventure on the new high-definition machine costs about $3, lets players hunt in 15 locations and reveals three male buck targets per location. Well-placed shots earn higher points. A bonus round taking shots at jumping frogs, fleeing cockroaches or exploding lava earns even more points.
Anyone can play, but few play it well.
Tower trains nearly every Sunday for about 10 hours on "his" Big Buck Hunter machine at Syberg's, scribbling notes on a soggy piece of paper ripped from a server's pad.
Big Buck records at Syberg's are hard to beat for most casual players. Tower and his friends with "Team 314" have earned many of the high scores.
Oh, and the Golden Tee machine sitting next to Big Buck Hunter? Tower owns some of those records, too. He likes to play the game in his "offseason," after the annual Big Buck Hunter tournament.
On a recent Sunday, few noticed Tower in the corner jamming cash into the machine and pumping digital slugs into digital animals. About a dozen people settled in chairs near the bar watching the final innings of a Cardinals-Braves game.
Some of the regulars know Tower, a Pattonville High graduate. One man occasionally grabs Tower while he plays and yells "the champion," usually disrupting a carefully measured shot. When Minnesota Vikings fans assemble on Sundays, incessant cheering and horn blowing disrupt Tower's training.
Despite the distractions, Tower estimates he's killed more than 100,000 virtual animals playing the game over the last half decade.
Those around Tower accept his passion to play Big Buck Hunter competitively. His girlfriend, Christie Carroll, who also works at Syberg's, knew about his love for Big Buck Hunter going into their relationship.
"He could be doing worse things," she said as Tower clicked the gun, groaning when he missed a shot.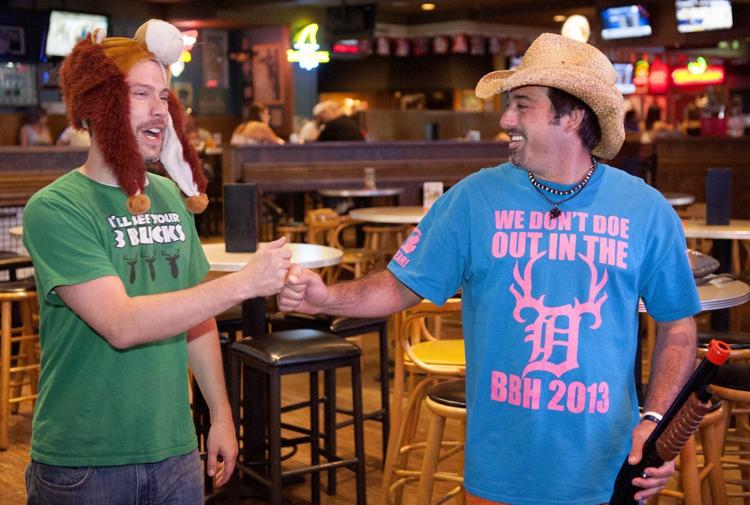 Carroll brought Tower and Crumpler refreshments as they plugged away into the night. At times, she sat and watched. When a friend can't make it, Tower asks Carroll, a crack shot in her own right, to play with him.
Tower prefers a hunting partner. Safety first.
Hope for another tournament excites Tower and his competitors long after their eyes burn and wrists ache from playing. That's the topic most discussed on Sunday nights around the Big Buck Hunter game at Syberg's.
They talk about the people they play against and how that one guy lost his shoe the night before the tournament. They reminisce about rivalries and the fans screaming.
As the drinks drain and condensation pools around their glasses, the two hunters refocus and add a few dollars to the machine. The option for another trek pops on the screen. A half-naked woman dances before the sounds of reloading and gun shots resume.
Click, click, click. Pause. Click, click, click.