PIERSON STATION, Ill. • Farm auctions in tiny towns like this one in Illinois often mark the end of a family legacy.
Land cultivated for generations is placed on the auction block. Sometimes the acreage is split up and sold to multiple buyers. Often, though, nearby farmers and investors secure another section of what some call the most fertile terrain in the country.
On Thursday, folks from far and wide gathered at the farm of Dale Fulton to bid on large machinery that — even at age 95 — he has relied on to harvest corn and soybeans.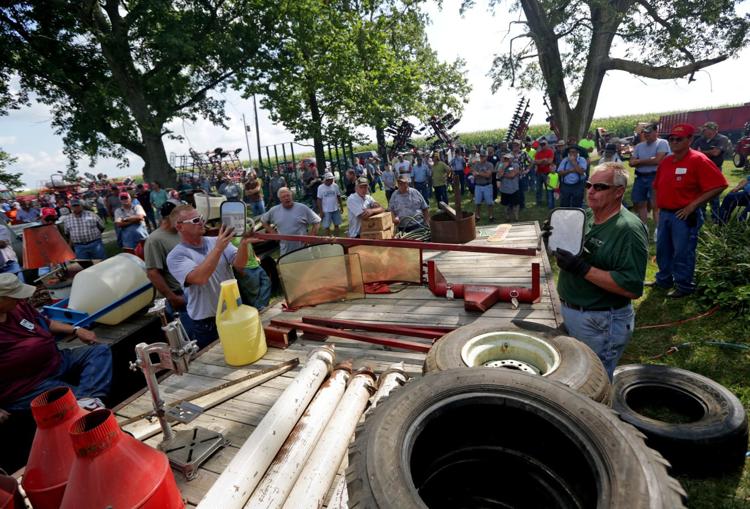 But Fulton said he will not sell a single acre of the flat land his family has owned since nearly the Civil War.
He feels a bond and doesn't want the estate broken up, even after he's gone. That will be one last obstacle for him to figure out and overcome.
"At 80, I didn't have a single problem, physically," he said. "I am losing ground now."
Indeed, weekly blood tests signal that's he's winding down. He's been a little out of breath the past couple weeks hitching up things and preparing for the auction.
But he still has ambitious plans for his family's 633 acres, even though he's all the family that's left.
Fulton, a lifelong bachelor worth millions, has outlived his kin and contemporaries by a long shot. So it will fall to a younger business partner and a small local bank to see his plan for the farm forward.
Fulton is a profile in intrigue, independence and health — a man who still drives a pickup to the cafe for lunch, and shows up for work six days a week.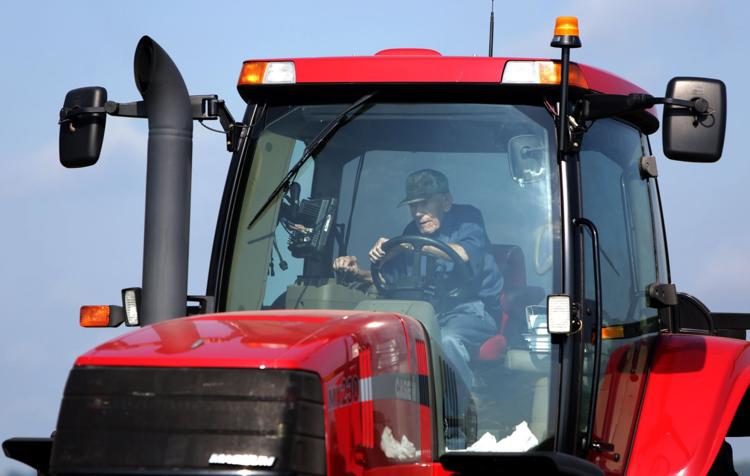 "What I am trying to figure out, how can a man live out in the world like that and live that long," said Jacob Helmuth, 78, an Amish farmhand who worked at the Fulton farm for decades.
Helmuth, who has Parkinson's disease, was talking more about religion and worldly temptations than the limits of human longevity.
Fulton said his mother, Rosa, was a strict Baptist who wouldn't let him drink root beer. As an adult, he still doesn't drink much but leans heavily toward reason. Even so, he sees signs of the divine in the world around him.
"If you consider biology and science, it couldn't have happened by accident," he said.
Taking flight
Born and reared here during the Depression, Fulton is grounded to the family farm.
That wasn't always the case.
When he was 17, his parents bought him his first airplane. And with it, Fulton flew the coop toward a full career as an international pilot for TWA.
Fulton said he's still baffled why his parents paid $1,000 for the used 50-horsepower Taylor Craft bought in Indianapolis. It must have been wild for them to look up and see their teenage son buzzing overhead, landing in pastures as he learned to fly.
Especially for his father, William B. Fulton, who was born in 1868. He was 52 when Dale, the youngest of three children, was born in 1921. Dale's brother died at 7, his sister at 21.
And there Dale was, pushing the limit, initially on a motorcycle. Stories still linger about how the young daredevil rode standing on the seat.
"I'd never let a child of mine have a motorcycle," he said. "We were always getting skinned up."
After getting his first ride with a barnstormer who was showing off an airplane in the area, Fulton started riding to the airport in Decatur, 30 miles away. An instructor there encouraged the adventurous boy. Once he got his own plane, he further honed his landing, heading and recovery skills.
He said his first major trip was in 1940. He flew to an air show in Miami. He'd watch the metal wire gas gauge on the 12-gallon tank sink as he flew each leg of the trip, usually about 175 miles, depending on the headwind.
He recalled landing at the airport in Atlanta during the voyage without a radio.
"You try to do that today and you'd be in Leavenworth 100 years," he said.
It was a job advertisement that soon took him out of the row crops for a long time. Pilots were needed in England to ferry airplanes from factories to fighter fields.
His credentials were thin.
"They didn't care too much, as long as you could fly," he said, adding of his talent for figuring things out: "If you have a job to do, your mind orients to it and that's what you have to do."
Over two years, he learned how to fly all sorts of aircraft. In 1942, as the United States dipped more heavily into World War II, Fulton signed on with Transcontinental and Western Air, which later became TWA. The company had a government contract to fly transport planes and they needed pilots.
"You know, if it hadn't been for the war, I don't know what I would have done," said Fulton, who never went to college. "Probably nothing."
He was the commander of various types of cargo planes that flew across the ocean dozens of times. One common route was from Natal, Brazil, to Dakar, in West Africa, then over to Khartoum, Sudan, and up the Nile Valley to Cairo.
He became a seasoned long-range pilot but still liked pushing the performance of smaller planes. Around 1946, he bought a used P-51 Mustang from the War Department for $3,500. While on vacation that year, he won notoriety with a first-place trophy at the National Air Races in Cleveland. His average speed was 352 mph.
Fly or farm?
He stayed on with TWA, flying passengers all over the world, for decades to come. He lived in Washington, D.C., New York, and San Francisco. After his mother died in 1969, he spent a lot of his downtime in Illinois, running the farm with the help of farmhands and others from the community.
Roger Harris, an electrician in nearby Atwood, said Fulton once left him a message about fixing a fan in a grain bin. No need to call back, he was in the French Riviera.
"He'd tell you to do something, whether he was here or not," said Harris, 79. "You did it and he was happy."
Fulton had a big decision to make when he retired from TWA in 1981 at the age of 60: Move to Singapore to fly for a different company and continue to wear tailor-made white shirts, or take on rural Illinois full time, where the family farm was worth a considerable amount. He said the fertile land could have more recently sold for $14,000 an acre.
"I had to do something," he said. "I couldn't have been happy with my feet up."
He dug into the farm, poured countless hours into work. Sometimes during harvest season, he wouldn't get to bed until midnight, then he'd be up before sunrise.
Years passed. His reputation solidified as a man who wanted the best.
He's been a frequent customer at the nearby Case International Harvester dealership, where a combine fetches $500,000. He is meticulous about machinery, wants the new stuff delivered straight from the factory. He demands that it be washed, even waxed sometimes, before leaving it in the shed for the next season.
He's not as particular about his own accommodations. He lives in his parents' old home. Parking is easy compared to where he used to live, he says with a smile.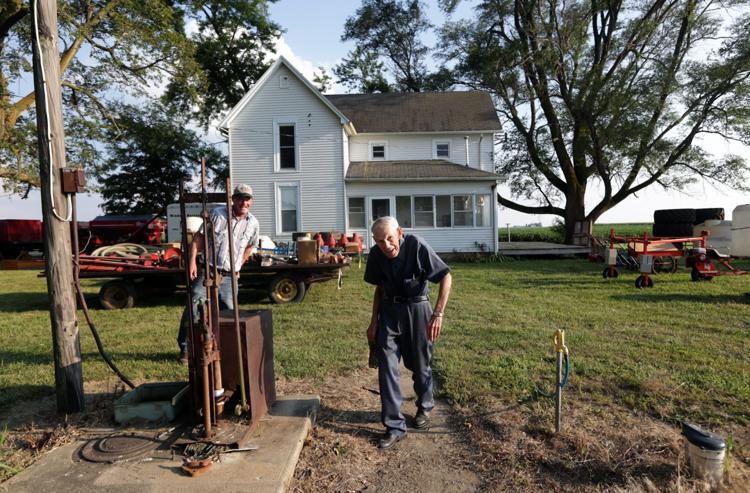 Looking back, he said, maybe he should have put more effort into getting married.
"The women I knew wouldn't have cared for farm life," he said. "They wanted a few more bright lights."
Securing a legacy
Fulton has avoided retirement homes. Not able to fly anymore, growing soybeans and corn on land that his parents cultivated helped keep him alive, some said.
In recent years, he had a dog named Rambo that he'd buy hamburgers for at the cafe. Other than that, it has just been him and some farmhands. Among the help is Rob Flavin, 53, who farms Fulton's land and looks out for him.
"You need to eat more," he told Fulton the other day.
Fulton weighs 116 pounds, down from 140 four years ago. His hemoglobin count needs to be monitored.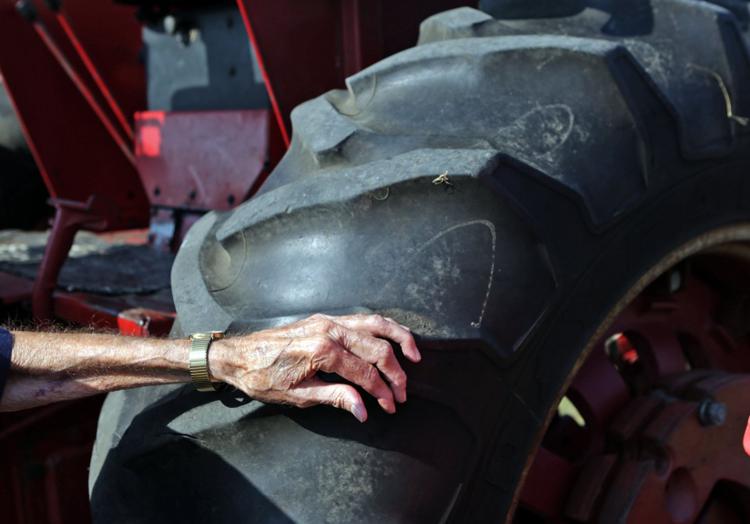 "My future is not very far from here," he said.
But there are still plans to set in order, including the auction.
Fulton said he's happy to sell off the equipment he cared so much about. He was losing too much to depreciation. But selling the land, he said, would come with an enormous tax bill, and the government would just "piss it away."
To keep the land intact after he dies, it will be left in trust.
Flavin will farm the land, largely using his own equipment — though a few tools and tractors are being spared from the auction. A new farm office was just built and siding is being replaced on a large shed and shop.
If all goes well it will be a profitable enterprise for years to come.
Profits from Fulton's side of the operation will be donated to nearby Friendship Hill Retirement Center, sometimes referred to as "Pill Hill."
The center was set up by a homeopathic doctor from Hammond, the next little town over. The doctor, who didn't have children either, left it as her dying legacy. It operates out of her former summer home and is supported by an endowment that includes net income from 2,000 acres of farmland.
Fulton said he liked that approach and wanted to add income from his own land to the cause.
"Hopefully, it will help keep the rates down," he said.