Your Sunday 6: Broiling ballparks, toddler drives toy tractor to fair and skin in STL at Naked Bike Ride
On this steamy Sunday, people also are talking about the death of Craig Akers, who never gave up on finding his once missing son, Shawn Hornbeck. 
Craig Akers dies 12 years after his missing son, Shawn Hornbeck, was rescued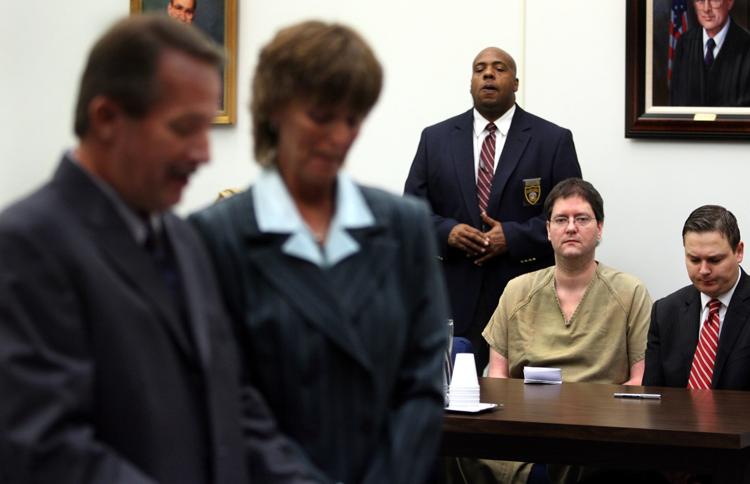 RICHWOODS, Mo. — Craig Akers refused to give up his quest to find his kidnapped son, Shawn Hornbeck, during the four years and three months he was missing — even if it meant ignoring his own health, according to his wife.
He suffered from a vascular disease and once had several bypasses performed on his right leg. The surgeon saw news coverage of him searching for Shawn in a wooded area well before his six-week post-op checkup when he should have been resting it, Pam Akers recalled in an interview Saturday.
"The surgeon told him, 'I can't believe you're back out there,'" Pam Akers said. "He got a little bit of a chewing out. But that's how he was. He was dedicated to his kids and his family and now his grandkids."
In June, Craig Akers was diagnosed with stage 4 bladder cancer. He died Monday, (July 15, 2019.) He was 57.
His death occurred 12 years after being reunited with Shawn, who, at age 16, was found alive in January 2007 in a Kirkwood apartment along with another boy, Ben Ownby, 13, who had gone missing four days earlier.
The moment made Craig and Pam Akers the faces of hope for families of missing children. A man has since been convicted of abducting, abusing and torturing the boys.
Their rescue became known as the "Missouri Miracle," and garnered international headlines.
"Craig was so grateful he got to spend more time with Shawn," she said. "We were one of the lucky ones, got our child back before we passed.
"I'm hoping that maybe now Craig is up in heaven so he can guide some other kids home and guide other parents through some comfort because I know he's looking over all of them now."
Shawn has since married and become a father. He lives in the St. Louis area. He turned 28 three days after Craig Akers died.
"Shawn has grown up, and they see things differently, but Shawn sees the devotion Craig had while he was gone," Pam Akers said.
Craig Akers met his wife 28 years ago when she worked as a secretary for his parents' custom homebuilding company. At the time, her daughters were 5 and 6 and Shawn was only 6 months old.
"They never called him a step-dad," Pam Akers said. "They said he was their bonus dad."
The Akers would have celebrated their 20th wedding anniversary at the end of the month. "He was my rock," Pam Akers said. "I don't think I could have made it without him.
"He assured me he would never give up and that he would always find an answer for me. Anytime I wanted to give up he would push me, tell me I couldn't and to keep going. A lot of couples don't make it through something like that, but we sure did. We leaned on each other. We comforted each other."
After Shawn's rescue, Craig Akers continued his quest to help find answers for families of other missing children. But, ultimately, his right leg had to be amputated up to his hip after complications from the vascular disease.
"If his health would have allowed him, Craig would have stayed involved, but he could no longer search and walk through the woods with a search dog," Pam Akers said. "For me, I tried to continue the work, but every time I showed up for a search, my nightmares started up again."
"I thought that was something I could do but unfortunately for me, it was like living it all over again. I would have the same vivid dreams even though Shawn was home safe. I know that parent's pain. I don't think that's something you ever get over. It will always affect us for the rest of our lives."
Survivors include his parents, Lester Akers of Richwoods and Anna Quinn of St. Louis; the two daughters, Jackie Huncovsky of Dittmer and Jennifer Maxwell of Richwoods and a brother, Rodney Akers of Sullivan.
"We appreciate what everybody did for us, all of the prayers, but this is a private moment," Pam Akers said. "This is going to be very hard on our family. This is a private family heartbreak that we're going through."
The funeral and burial will be private.
Broiling at the ballparks as heat wave grips the majors
At Wrigley Field, misters in the back of the bleachers tried to cool the crowd. At Yankee Stadium, only one player took batting practice on the field. In Cleveland, rules were relaxed on what fans could bring into the park.
Even for a sport that promotes high heat, Saturday was a scorcher across the majors. The National Weather Service said it was part of "a dangerous heat wave" gripping much of the country.
From the Northeast through the Midwest, no player, manager or umpire was spared as temperatures soared near triple digits in big league broilers.
Hours before Baltimore played Boston at sweltering Camden Yards, Orioles manager Brandon Hyde pulled aside starting catcher Chance Sisco and issued a stiff directive.
"I told Chance, 'Do not go outside until the game starts,'" Hyde said.
Sisco went all nine innings Friday night and was in the lineup again while backup Pedro Severino recovers from an illness.
"I told Chance, I don't want him hustling on and off the field. I want to see him walking," Hyde said. "When you're a catcher in these type of games, it's not easy. After the eighth inning, his face was beet red."
It was 97 degrees for the first pitch and no relief in sight, either. The temperature was forecast to top 100 for Sunday afternoon's series finale.
At Great American Ball Park in Cincinnati, where it was a sizzling 94 as the Reds played St. Louis, the stadium PA system got in the swing, sort of. The pregame songs? "Let It Snow" and "Tenth Avenue Freeze-Out," among others with winter-sounding titles.
In Chicago, where it also was 94 when the Cubs started against San Diego, there was a big ovation in the seventh inning — for the weather.
That's when the wind suddenly shifted and began blowing in. The temperature immediately dropped and many in the crowd of 40,314 cheered the wind in the Windy City.
For those sitting in the stands with no cover, it was hard to take.
Jaclyn Jendrisak, 31, was in town from St. Louis for a bachelor/bachelorette party. Fortunately for her group, the Cubs created a cooling station in right field.
"Standing in the shade, have some air conditioning blowing on us. We're sticking to water and not having beer. It's helping a little bit," she said.
The thermometer read 94 in New York, too, the hottest for a Yankees game this season.
The Yankees set up supplemental hydration stations in all three decks and the bleachers, and made announcements over the public address system reminding fans to keep drinking water.
Chris Del Vecchio, 33, from Verona, New Jersey, and his pal Bruna Silva walked around the ballpark with bags of ice on their neck and shoulders as the Yankees topped Colorado 11-5.
"Sitting in the bleachers is where our seats are and we made it about two innings, they scored about six runs, so it kind of extended those innings and made it seem a little longer. But, it's pretty brutal out there," Del Vecchio said.
ESPN reasserts no politics on air after attack on Trump
ESPN is reminding employees of the network's policy to avoid talking about politics after radio talk show host Dan Le Batard criticized President Donald Trump and his recent racist comments and ESPN itself on the air this week.
The reminder went out Friday to all employees, including Le Batard, according to an ESPN employee who spoke on condition of anonymity Saturday because the person was not authorized to speak publicly about personnel matters.
ESPN has not spoken publicly about Le Batard's comments, including whether he faces any disciplinary action.
Reached on Saturday, Le Batard also declined comment.
For ESPN, the episode raises comparisons to what happened following anti-Trump tweets by its former anchor Jemele Hill nearly two years ago. Following that case, and criticism among some conservatives about left-leaning remarks on ESPN's air, network president Jimmy Pitaro decreed that its employees should avoid political talk unless they're reporting on issues raised by sports figures.
Le Batard spoke in the wake of the president's rally in North Carolina, where Trump renewed his attacks on four Democratic congresswomen of color, prompting a chant from his audience of "send her back" directed at U.S. Rep. Ilhan Omar, of Minnesota. The ESPN host said he found the attacks on Omar to be un-American and deeply offensive, and that it was wrong of Trump to seek re-election by dividing people.
"We here at ESPN don't have the stomach for the fight," Le Batard said. "We don't talk about what is happening unless there is some sort of weak, cowardly sports angle that we can run it through."
Le Batard's criticism of ESPN's policy sets him apart from Hill, who in September 2017 tweeted on her personal account that Trump was a "white supremacist" and "bigot." The White House called that a fireable offense, but Hill apologized and the network accepted it.
Marking 75 years since German resistance tried to kill Hitler
 German Chancellor Angela Merkel has urged Europeans to confront populism, nationalism, racism and anti-Semitism as she paid tribute to the Nazi resistance in her own country.
Speaking Saturday at a solemn ceremony marking the anniversary of the failed attempt to kill Nazi dictator Adolf Hitler, Merkel said the courage and sacrifice of the conspirator should serve as an example to people today.
"They put humanity over their own human lives," she told the crowd at the site where plot leader Col. Claus von Stauffenberg and others were executed.
Von Stauffenberg tried to kill Hitler with a briefcase bomb on July 20, 1944, during a meeting at his headquarters in what was then East Prussia. Hitler escaped the full force of the blast when someone moved the briefcase next to a table leg, deflecting much of the explosive force. The plot crumbled when news spread that Hitler had survived. Von Stauffenberg and his fellow plotters were executed within hours.
Merkel took the occasion to pay tribute to all who stood up against the Nazis in different ways, including people who hid Jews to save them from the death camps, the Jews who rose up in the Warsaw Ghetto to attack their Nazi captors in 1943, the Polish fighters of the 1944 Warsaw Uprising and other partisans who fought against the German occupiers and others.
"Von Stauffenberg is a symbol of the resistance, but his story is not the only story of the resistance," she said.
Amid evidence of rising anti-Semitism and racism in Germany, Merkel said people need to draw inspiration from the civil courage shown by those who resisted the Nazis and make their voices heard.
"Instead of looking away or being silent, we need to be engaged," she said.
On a wider scale, she said Europeans need to speak out and act against nationalism and populism.
"We need to think multilaterally, not unilaterally; global, not national; open not isolationist; together, not alone," she said to applause.
"Those are the tasks of today."
Toddler takes himself to the county fair, on his toy tractor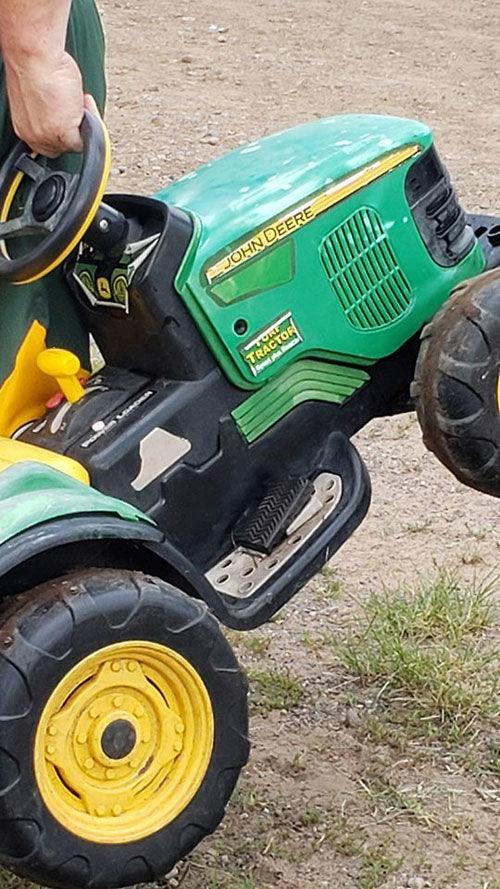 How far can a little one really go?
Well, one determined Minnesota 2-year-old got himself all the way down to the county fair, according to the Chisago County Sheriff's Office.
The sheriff's office received a call Friday night about a missing toddler, according to a Facebook post from the office.
But the determined tyke wasn't in danger -- he just decided he wasn't done at the fair.
The young boy hopped on his battery-powered John Deere toy tractor and drove it down the sidewalk to a back entrance of the festivities, according to CNN affiliate KMBC.
The journey was a little over a block, according to Sgt. Jason Foster.
Sheriff's deputies found him next to the Tilt-a-Whirl, his favorite ride, the station reported.
"He was reunited with dad," the sheriff's office said, "who promptly suspended his son's license by removing the battery from it."
In various states of dress - from not a lot to even less - people turned out Saturday for the 2019 World Naked Bike Ride through St. Louis. Pa…