People also are talking about a gun case before the Supreme Court and a state crown for De Smet in football. 
Two boys, 5 and 8, drown in southeast Missouri creek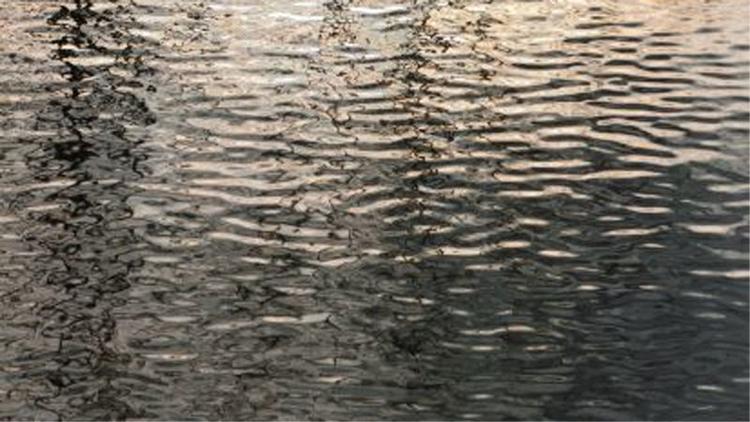 Two young boys drowned Saturday when the vehicle they were in was swept away in a flooded Bollinger County creek, the Missouri State Highway Patrol said.
Kayden Luttrull, 8, and Brantley Luttrull, 5, were in a vehicle driven by a 33-year-old Sedgewickville, Missouri, man at 9:15 a.m. when it entered a flooded crossing at Little White Water Creek, the patrol said.
The vehicle was swept away with both victims, the man and a 2-year-old boy inside. The Luttrull boys, both of Scott City, Missouri, were pronounced dead at the scene.
The 2-year-old boy was flown to Cardinal Glennon Children's Hospital in St. Louis with serious injuries. The driver was taken to St. Francis Medical Center.
A GoFundMe has been set up to help the family of Kayden and Brantley. 
---
Editor's note: This replaces an earlier version that incorrectly spelled the last name of the boys in the 2nd paragraph.
Odom out at Mizzou, quick search expected for coach's replacement
COLUMBIA, Mo. — After beating Arkansas to snap a losing streak at five games Friday, Missouri's Barry Odom was unsure if he'd have a job Saturday.
He got his answer in the morning, when athletics director Jim Sterk fired the fourth-year coach, less than a year after signing him to a contract extension through the 2024 season.
"Coach Odom bleeds black and gold and I understand that, which made it not an easy decision," Sterk said Saturday. "I did not make this move lightly. And I made this move to move our program forward."
With Odom out after going 25-25 in four seasons, Sterk has launched a national search to find his replacement with the help of Parker Executive Search, the same firm Sterk used when he hired men's basketball coach Cuonzo Martin. He hopes to move swiftly with a coach hired within the next two weeks.
Head-coaching experience isn't a requirement for the next coach but would be "very helpful," Sterk said. If not, the coach must be a successful coordinator "at a high level," he said.
Defensive line coach Brick Haley will serve as the team's interim coach until Sterk hires a replacement for Odom. The rest of Odom's coaching staff will stick around until the next coach is in place.
"As a program, we had tremendous momentum coming into the 2019 season with the opening of the new south end zone facility as well as other strategic investments in our football program," Sterk said. "However, we lost a great deal of that energy during the last half of the season. This decision was difficult to make but was necessary."
Asked if he identified any problems that led to Mizzou's losing streak, Sterk said, "The coaches, as you talk to them, (they're) not sure exactly what happened. It was unfortunate. So yeah, still an unknown."
After a season-opening loss at Wyoming, Mizzou cruised through a five-game winning streak at home before the season began to unravel with a loss at Vanderbilt on Oct. 19, followed by losses to Kentucky, Georgia, Florida and Tennessee.
Odom, 43, a Mizzou linebacker from 1996-99, joined the team's staff in 2003 and worked under Tigers coach Gary Pinkel in various roles until a three-year coordinator stint at the University of Memphis. He returned to Mizzou in 2015 to serve as Pinkel's defensive coordinator, then took over as head coach after Pinkel retired.
Since Don Faurot retired in 1956, Odom's winning percentage of .500 trails only Dan Devine (.704), Pinkel (.618) and Warren Powers (.580) among Mizzou coaches who lasted more than one season. But he was just 13-19 in Southeastern Conference games and 3-24 against FBS teams that finished with or currently have winning records.
The Tigers won enough games this season to qualify for a third bowl game under Odom, but the decision announced Tuesday by the NCAA Infractions Appeals Committee to uphold MU's one-year postseason ban will keep the Tigers home for the bowl season.
Under the terms of Odom's contract, Mizzou owes him his base salary ($450,000) for each of the five years left on his deal, plus $150,000 for every year he's been head coach as part of his annuity fund. That brings his buyout total to $2.85 million. His annual guaranteed salary was $3.05 million.
Mizzou will have to pay buyouts to Odom and any assistants who aren't retained, but those figures are offset by salaries they'll make at future jobs. The most MU would owe the outgoing staff is around $9 million, but Sterk said he expects MU to pay them about a third of that.
Odom was one of the lowest-paid coaches in the Power Five conferences, but Sterk indicated Mizzou is positioned to pay his successor more than Odom's $3.05 million.
"I think that the salary (will be) commensurate with experience, and if we can go out and hire someone with a lot of experience, then we're going to look at that," Sterk said.
Sterk told MU players his decision on a conference call Saturday. The team will have its postseason banquet Sunday.
Naturally, some former and current players spoke out on social media about the decision, including senior cornerback and return specialist Richaud Floyd. "Forever a fan of Coach Barry Odom," he tweeted. "They (messed) up that decision. The program that gets him will be lucky"
Odom did not return messages seeking comment on Saturday.
Where does Sterk go from here? A handful of established Group of Five conference head coaches should be appealing, including, possibly, Memphis' Mike Norvell, Louisiana-Lafayette's Billy Napier, Cincinnati's Luke Fickell, Boise State's Bryan Harsin and Florida Atlantic's Lane Kiffin. Sterk is familiar with Central Florida's Josh Heupel, Mizzou's offensive coordinator from 2016-17, but he comes with a $10 million buyout there.
Sterk could start interviewing candidates this week, though several of the aforementioned coaches will be in conference championship games next weekend. With the start of early signing period less than three weeks away, time is of the essence.
The Tigers are down to 16 players verbally committed to the 2020 recruiting class after losing one Saturday: three-star Texas defensive lineman Robert Wooten, who announced on Twitter he was opening his recruitment. The Tigers have another eight in-state targets with six from the St. Louis area. The early signing period begins Dec. 18, leaving prospects less than three weeks to consider other options.
A look at some potential candidates
Luke Fickell, Cincinnati
Age: 46.
Record: 31-19 (6-7 in one year Ohio State; 25-12 in three years at Cincinnati).
Salary: $2.3 million.
Buyout: $2.5 million.
The skinny: He's a Columbus, Ohio, native who played at Ohio State and has spent his entire coaching career in Ohio, 13 years as an Ohio State defensive assistant, one year as the Buckeyes head coach between the Jim Tressell and Urban Meyer regimes and the last three seasons as Cincinnati's head coach. After a four-win debut season with the Bearcats, he went 11-2 last year and 10-2 this season. Mizzou might prefer an offensive-minded  coach, but Fickell figures to be a prime Power Five candidate.
Bryan Harsin, Boise State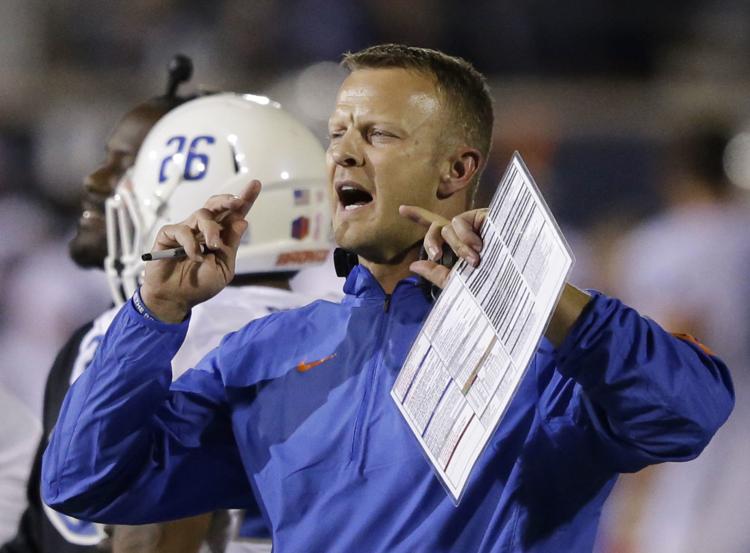 Age: 43.
Record: 69-21 (7-5 Arkansas State, 62-16 Boise State).
Salary: $1.75 million.
Buyout: $350,000.
The skinny: Harsin spent a couple seasons as Mack Brown's offensive coordinator at Texas and since has been one of the most successful Group of Five coaches in the country, with five double-digit win seasons in six years at Boise State, his alma mater. He might be difficult to pull away from the West Coast but figures to eventually leave for a Power Five position.
Josh Heupel, Central Florida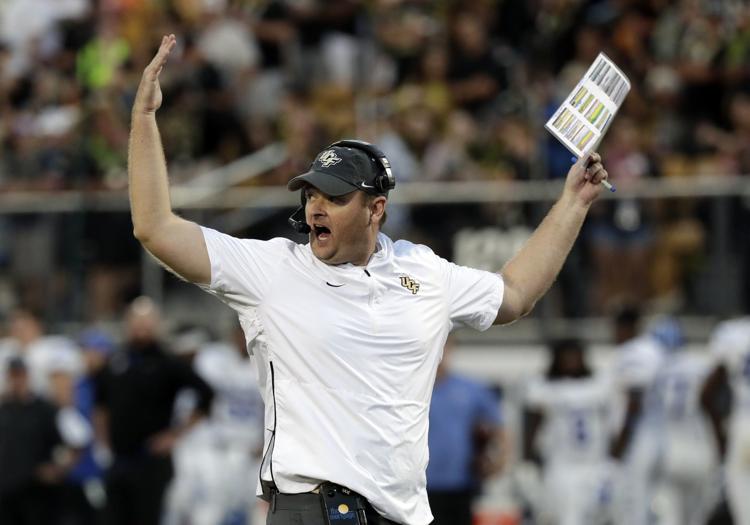 Age: 41.
Record: 21-4 (two years at UCF).
Salary: $2.3 million.
Buyout: $10 million.
The skinny: Heupel knows Missouri's program well having served as just-fired coach Barry Odom's offensive coordinator and quarterbacks coach in 2016-17. The former Oklahoma quarterback and longtime Sooners assistant long has been associated with explosive offenses and as a first-time head coach last season led Central Florida to a 12-1 record. Heupel has familiarity with Jim Sterk, but the Mizzou's athletics director is especially close with Central Florida AD Danny White and might not want to poach his head coach.
Lane Kiffin, Florida Atlantic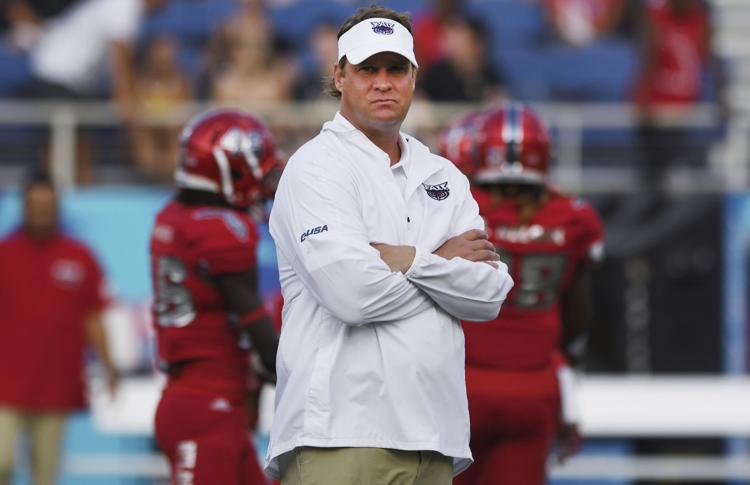 Age: 44.
College record: 59-34 (7-6 in one year at Tennessee, 28-15 in four years at USC, 24-13 in three years at FAU).
Salary: $1.432 million.
Buyout: $2 million.
The skinny: Kiffin was an easy punchline after a controversial short stay and abrupt departure from Tennessee, then was famously fired on the runway five games into his fourth season at Southern California. He rehabilitated his career with a three-year run as Alabama's offensive coordinator, and other than a few spicy tweets, he's stayed out of the national headlines at FAU, where he made a splash with an 11-win season in 2017, followed by a five-win setback in 2018. He's known as a gifted offensive mind and aggressive recruiter and would certainly bring some swagger to a program short on buzz.
Jeff Monken, Army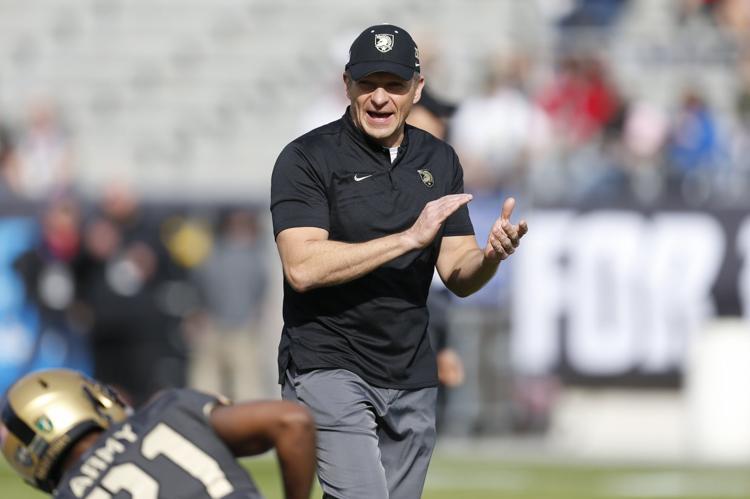 Age: 52.
Record: 78-50 (38-16 in four years at Georgia Southern, 40-34 in six years at Army).
Salary: Unavailable.
Buyout: Unavailable.
The skinny: The Peoria, Ill., native would be an unconventional option on two fronts. One, he runs the flex-bone triple option offense, a rarity at the Power Five level during the age of the spread attack and run-pass option craze. Two, he's been incredibly successful at West Point — three straight bowls and 21 wins in 2017-18 — but hasn't recruited at Power Five caliber of
Mike Norvell, Memphis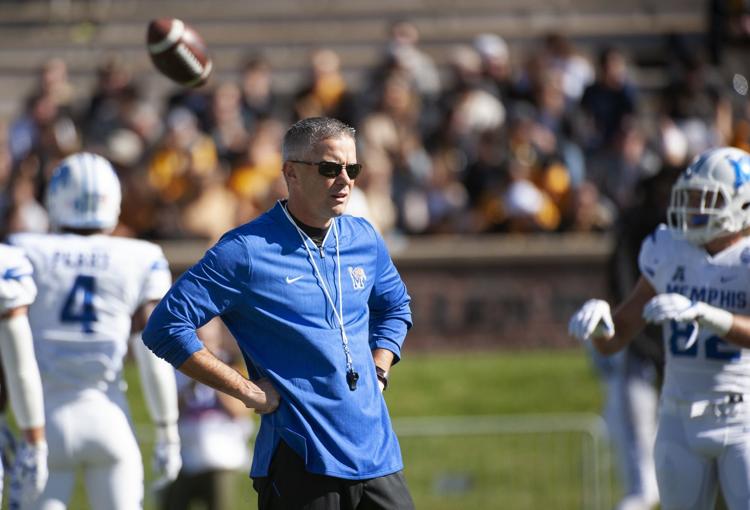 Age: 38.
Record: 37-15 (four years at Memphis).
Salary: $2.66 million.
Buyout: $500,000.
The skinny: One of the nation's most successful under-40 coaches, Norvell has two double-digit win seasons in his four years at Memphis and is known as a sharp offensive coach. As an assistant, he's coached at Tulsa, Pittsburgh and Arizona State and figures to be in high demand from other Power Five programs — notably Arkansas and Florida State.
Justices take up gun case, though disputed law has changed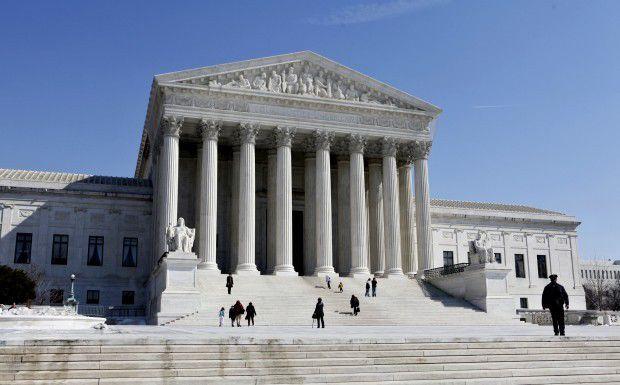 The Supreme Court is turning to gun rights for the first time in nearly a decade, even though those who brought the case, New York City gun owners, already have won changes to the regulation they challenged.
The justices' persistence in hearing arguments Monday despite the city's action has made gun control advocates fearful that the court's conservative majority could use the case to call into question gun restrictions across the country.
Gun rights groups are hoping the high court is on the verge of extending its landmark rulings from 2008 and 2010 that enshrined the right to have a gun for self-defense at home.
For years, the National Rifle Association and its allies had tried to get the court to say more about gun rights, even as mass shootings may have caused the justices to shy away from taking on new disputes over gun limits. Justice Clarence Thomas has been among members of the court who have complained that lower courts are treating the Second Amendment's right to "keep and bear arms" as a second-class right.
The lawsuit in New York began as a challenge to the city's prohibition on carrying a licensed, locked and unloaded handgun outside the city limits, either to a shooting range or a second home.
Lower courts upheld the regulation, but the Supreme Court's decision in January to step into the case signaled a revived interest in gun rights from a court with two new justices, Neil Gorsuch and Brett Kavanaugh, both appointees of President Donald Trump.
Officials at both the city and state level scrambled to find a way to remove the case from the justices' grasp. Not only did the city change its regulation to allow licensed gun owners to transport their weapons to locations outside New York's five boroughs, but the state enacted a law barring cities from imposing the challenged restrictions.
"There is no case or controversy because New York City has repealed the ordinance and the New York state Legislature has acted to make sure it remains repealed," said Jonathan Lowy, chief counsel and vice president of the gun control group Brady's legal action project.
But those moves failed to get the court to dismiss the case, although the justices are likely to ask at arguments about whether there's anything left for them to decide.
Teen killed by backseat passenger while driving, police say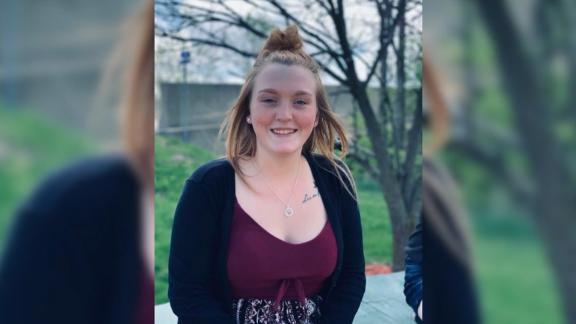 An Indiana teen was shot and killed by a backseat passenger with an AR-15 style rifle in her own car while she was driving, police said.
Annalysa McMillan, 19, was driving her car Tuesday in Marion, Indiana, about 70 miles north of Indianapolis when a gun discharged in the passenger seat behind her, striking her, the Marion Police Department said in a statement.
Police responded to a car accident and discovered she was unresponsive. Officers immediately began resuscitation efforts but she was pronounced dead at Marion General Hospital.
The cause of death was determined to be one gunshot to McMillan's back and the manner of death has been ruled a homicide. The shooting caused a minor accident with another driver, police said.
Austin Smith, 22, was sitting behind McMillan with the rifle when it discharged, police said. Smith is being held on bond on charges of reckless homicide and criminal recklessness while armed with a deadly weapon, according to the Grant Count Jail website.
It's unclear whether Smith has an attorney. CNN has contacted the prosecutor's officefor comment. 
McMillan celebrated her 19th birthday five days before her death, according to CNN affiliate WXIN.
De Smet uses shutdown defense to claim Class 6 state championship
COLUMBIA, Mo. — Robert Steeples never got a chance to bask in the glory of a postgame interview when he helped De Smet to its first state football championship in 2005.
A member of the powerhouse team, he watched longingly as his teammates smiled in front of the cameras.
"I was a cornerback, no one wanted to talk to me," he recalled.
On Saturday, as the De Smet coach, he made sure to make the most of the opportunity.
The Spartans (14-0) capped off a perfect season with a gutsy effort against the previous unbeaten Eagles.
"Honestly, we never really looked ahead to state," said junior defensive back/wide receive Jakailin Johnson said. "We always talked about playing to our standards."
Those standards were pretty high under the bright lights at the University of Missouri.
Johnson led a rock-ribbed defensive charge with a pair of interceptions. The Spartans forced five turnovers against a team that had committed just four over its previous 13 contests.
De Smet came into the contest averaging 45 points per game and racked up 544 yards on Saturday.
But it was the defense that changed the tide with a pair of turnovers that led to two scores in a 115-second span midway through the second half.
"It takes a little bit of everything," said the 29-year-old Steeples, who played a season in the NFL with the Minnesota Vikings. "Offense, defense, special teams. We did it all when we had to."
Joplin running back Isaiah Davis, who had rushed for 2,192 yards and a whopping 44 touchdowns this season, was held to 91 yards on 32 carries, his second lowest total of the season.
"Our defense had our backs," De Smet quarterback Michael Wheeler said.
Wheeler spent most of the season in the shadow of junior running backs Rico Barfield, Taj Butts and Darez Snider.
Barfield paced the running attack against Joplin with 116 yards and two scores on 15 carries.
Wheeler was asked to take a more active role in the offense and he responded with a big-time effort. The 6-foot-2, 180-pounder hit on 17 of 25 passes for 206 yards and two scores. Most importantly, he took some of the pressure off the running backs by rushing for a career-best 66 yards and one score.
De Smet moved the ball all game long, but was its own worst enemy through the first 34 minutes.
Joplin bolted out to a 12-0 lead and nursed a 20-14 advantage late into the third period before Jordan Calvin forced a fumble that gave the Spartans the ball at the Eagles' 41-yard-line.
Four plays later, Wheeler hit Ra'shod Smith-Harvey on a 24-yard scoring strike to give the Jesuit school its first lead of the game 21-20 with 11:55 left in the contest.
The De Smet defense struck again on the very next play from scrimmage. Junior Tanner Jackson recovered a fumble at the 40 to set the stage for Butts' 8-yard scoring burst that pushed the advantage to 28-20.
In a matter of minutes, De Smet's defense helped turn a six-point deficit into an eight-point lead.
"They got after us," Joplin senior quarterback Blake Tash said. "But a lot of that was our fault, my fault. We made way too many mistakes."
Wheeler put the game away with a 1-yard sneak with 1:14 left.
They began the season with high hopes and bolstered those expectations with a pair of wins over two-time defending state champion and Metro Catholic Conference rival CBC.
"This team is special in so many ways," Johnson said. "We built a strong mindset with everybody — it just wasn't a one-person game."
Barfield lifted the offense from its slumber with an 8-yard TD run midway through the second period to trim the deficit to 12-7. Following a Joplin score, Wheeler hit Smith-Harvey on a 6-yard scoring strike with 37 seconds left in the half to close the gap to 20-14. That touchdown was set up by a Johnson interception.
Steeples said winning the title as a coach was more enjoyable than taking the crown as a player. He made three unassisted tackles in a 48-31 win over Hazelwood Central in the championship game 14 seasons ago.
"I'm a foodie and sometimes the food is so good you want to see other people enjoy it," Steeples said. "That's what the game of football has been to me — something so awesome that I get enjoyment out of watching other people enjoy it."
———
©2019 the St. Louis Post-Dispatch
Visit the St. Louis Post-Dispatch at www.stltoday.com
Distributed by Tribune Content Agency, LLC.
Sad 'Day-O' as writer of calypso hit dies at 95
Composer Irving Burgie, who helped popularize Caribbean music and co-wrote the enduring Harry Belafonte hit "Day-O (The Banana Boat Song)," has died at the age of 95.
At the Barbados Independence Day Parade on Saturday, Prime Minister Mia Amor Mottley announced Burgie died Friday.
"Day-O," written in 1952, has been ubiquitous, appearing in everything from the film and Broadway musical "Beetlejuice" to an E-Trade commercial. "Day-O" was also the wake-up call for the astronauts on two Space Shuttle missions in the 1990s. When a superstar list of music royalty gathered to film the "We Are the World" video in 1985, most burst into a playful version of "Day-O" in between takes. Lil' Wayne used a sample of "Day-O" in his "6 Foot 7 Foot."
According to the Songwriters Hall of Fame, Burgie's songs have sold over 100 million records throughout the world. Many were recorded by Belafonte, including eight of the 11 songs on Belafonte's 1956 album, "Calypso," the first album to sell over 1 million copies in the U.S. Burgess also penned songs for the Kingston Trio ("The Seine," "El Matador," and "The Wanderer") and for other groups.
His "Jamaica Farewell" has been recorded by Belafonte, Jimmy Buffett, Carly Simon and others. Others who have sung his songs include Mantovani, Miriam Makeba and Julio Iglesias. Burgie's classic Caribbean standards include such familiar hits as "Island in The Sun," "Angelina," and he was co-writer of "Mary's Boy Child." He also wrote the 1963 off-Broadway musical "Ballad for Bimshire" that starred Ossie Davis.
He served in an all-black U.S. Army battalion in World War II and used GI Bill funds to pay for music studies. Burgie studied at the Juilliard School of Music, University of Arizona and University of Southern California. He became a folk singer using the stage name "Lord Burgess" and performed the circuit between New York and Chicago, making his New York nightclub debut at the Village Vanguard in 1954.
After announcing his death, Mottley asked for a moment of silence for the Brooklyn-born Burgie, who wrote the lyrics to the national anthem of Barbados — his mother's homeland.