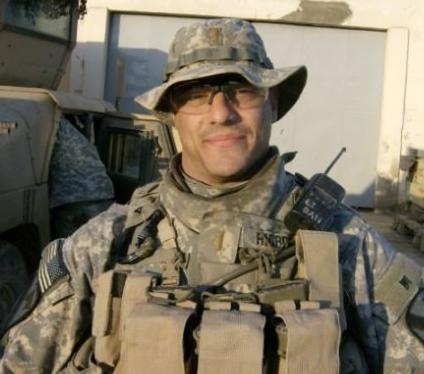 Army 1st Lt. Daniel P. Riordan told his mother to quit worrying and enjoy the good life in Sunset Hills. He asked his former teachers at Vianney High School to keep praying for him.
"He was the tops, " said Vianney Principal Larry Keller. "He was a young man committed to his mission and very, very concerned about the young men entrusted to him."
On Saturday, a roadside bomb killed Riordan, 24, and three of his men in their vehicle in Taji, about 20 miles north of Baghdad. He had been in Iraq since October, though he had come home on leave in February.
Riordan belonged to the 1st Cavalry Division's 2nd Battalion, 8th Cavalry, from Fort Hood, Texas. He suffered injuries in early April from another roadside bomb.
Riordan was born in Fort Worth, Texas, and grew up in south St. Louis County, one of three children of Rick Riordan and Jeanine Rainey. He lived in Sunset Hills with his mother and stepfather, Robert Rainey; his twin brother, Nick; and older sister, Suzanne.
He and his brother graduated from Vianney in 2001. Riordan went to Southeast Missouri State University in Cape Girardeau, from which he graduated and earned his commission through the Air Force ROTC program in 2005. A spokeswoman there said he switched to the Army through a program known as "Blue to Green, " and became an infantry officer in November 2005.
In a statement his family released Tuesday, his mother wrote of telling Riordan while in college that he didn't have to go into the military. His response, she wrote, was that the terrorist attacks of Sept. 11, 2001, made him "more committed to serving now than ever."
Shortly before he left for Iraq, he told her, "This is what I am called to do."
Jeanine Rainey also wrote, "While he was overseas, I often felt guilty sharing stories of family gatherings and the fun times because they seemed so frivolous compared to what he was doing. He told me not to feel guilty and to keep doing those things. That was why he was there, to protect that way of life for Americans."
Keller said Riordan sent e-mails almost weekly to Vianney, writing about his soldiers and their dangerous work in the "sandbox, " his term for Iraq.
"We could tell he was a real leader, " Keller said. "It was obvious that he was constantly in harm's way. He never wrote about politics, but always from the point of view of the mission. He was proud to be part of something for our country."
In one of his regular e-mails to Vianney from his base in Iraq, Keller said, Riordan wrote, "What's most important to me is, keep your prayers coming. They're the best ammo other than old-fashioned lead. Take it easy. I'll be in touch."
Keller said Riordan was present on Feb. 17 at the high school's annual fundraising auction, where he received a standing ovation.
Riordan was 5 years old when his family moved to St. Louis. He attended Queen of All Saints Catholic grade school in Oakville, where he was active in the Boy Scouts. He ran track and played football at Vianney.
The family statement calls Riordan "a true cowboy and gentleman who loved country music, the outdoors and his family." It says the family gathered privately over the weekend "to reminisce and share fond memories of Dan's life."
His father and stepmother, Michelle Riordan, live in southern Florida.
Killed with Riordan were Sgt. Joel A. House, 20, of Lee, Maine; Sgt. J.M. Malone, 23, of Wills Point, Texas; and Spc. Derek A. Calhoun, 23, of Oklahoma City.
Visitation is tentatively set for 3 to 9 p.m. Friday at Kutis South County Chapel, 5255 Lemay Ferry Road. The funeral is tentatively set for Saturday. The funeral Mass will be celebrated at St. Catherine Laboure Catholic Church, 9740 Sappington Road in South County, followed by burial at Jefferson Barracks National Cemetery.