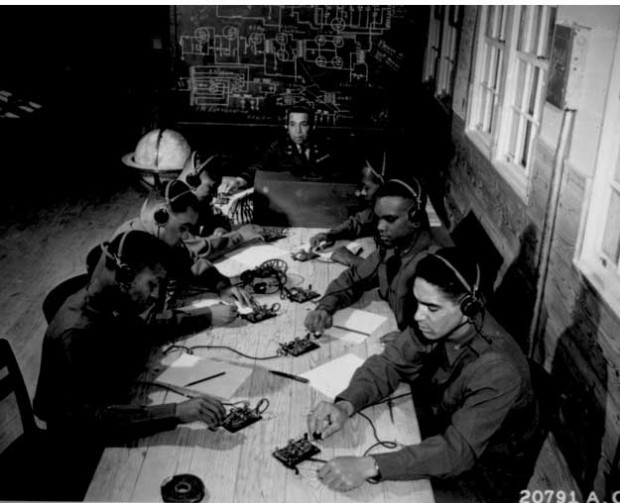 White was a student at the University of Chicago in 1941 when he learned the Army would begin training black men as aviators. White graduated from flight training on May 20, 1942, at Tuskegee Army Air Field, Ala. On Sept. 15 the 99th Fighter Squadron was declared combat-ready, but it would not be deployed for another seven months. The squadron arrived in North Africa on April 24, 1943, and began preparing for combat.
"Our pilots had their first mission on June 2, 1943," the official squadron history, written monthly by the squadron's intelligence officer, reported. "They did not encounter the enemy on this mission ... Pilots of the 99th Fighter Squadron had an average of two missions daily from June 2 to June 9, 1943. The missions were varied; some were to bomb gun positions on Pantelleria Island, others to serve as escorts for A-20s and B-25s."
While escorting light bombers over Pantelleria, Italy, on June 9, the squadron saw its first enemy fighters, but the German pilots fled before contact was made. Both 1st Lt. White and wnd Lt. McCullin participated in combat missions in June, which was described a "comparatively quiet" month. July would be different.
On the morning of July 2, White and McCullin were part of an escort for a dozen B-25 bombers. Near the coast of Sicily, German fighters swarmed to attack the bombers. Lt. Charles B. Hall shot down a Focke-Wulf 190, the first enemy fighter to be downed by a black pilot. But when the fighters returned to their base, White and McCullin were missing.
Lt. Col. Benjamin O. Davis Jr., who led the mission, and other pilots believed White and McCullin had been forced to land along Sicily's coast. According to the missing air crew report, a search patrol was sent out, but did not find evidence of either pilot or their P-40 Warhawks. A Royal Air Force plane searched the area the next day, but had the same results.
A correspondent for Baltimore's Afro-American who was at the 99th Fighter Squadron's base in Tunisia interviewed Davis and other pilots and sent a report to his newspaper: "They did not have time to jump," he wrote of White and McCullin. "One day they were eating and playing games and talking of postwar plans back home — then they went on a mission — and never came back."
Several weeks later, White and McCullin were officially declared dead; no trace of the pilots or their planes has been found.
After the war, historians began to publish information on the Tuskegee Airmen. Among the first was Charles E. Francis, a U.S. Air Force first lieutenant. His book "The Tuskegee Airmen: The Men Who Changed a Nation" said White and McCullin had crashed during take-off on July 2 and were killed. That error has been repeated many times since then. In fall 2008, an article in "Air Power History," the magazine printed by the U.S. Air Force Historical Foundation, sought to set the record straight: White and McCullin were killed in action over Siciliy, not on take-off in Tunisia.
Military reports for White and McCullin, dated July 3, 1943, say the pilots were last seen a little after 8 a.m. over the southwest coast of Sicily the previous day. The reports say the sky was hazy with scattered clouds at 9,000 feet, and that the planes were likely lost due to "enemy aircraft," although no one reported seeing either pilot in trouble. Other pilots flying with White and McCullin that day, including Davis's account in his autobiography, back up those reports.
"It was on this mission that I saw my first enemy aircraft, an element of two FW-190s and a flight of four (Messerschmitt) 109s, far above my part of our formation, which was flying close escort to the B-25s," Davis wrote in "American." "When the enemy planes dove on the bombers, our top cover turned into them and kept them out of range. During this mission we had our first pilot losses: Lts. Sherman White and James McCullin.
"The loss of fighter pilots was like a loss in the family."
Click on a name or map pin to learn more and see a video about each World War I and World War II cemetery. Also see
America's national cemeteries
.
World War I:
World War II: