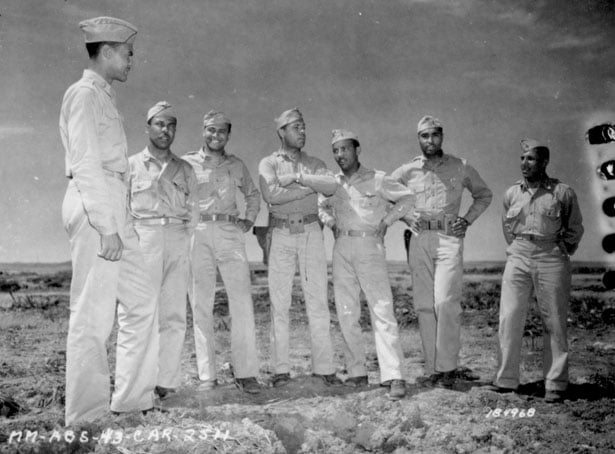 One of the first Tuskegee graduates, Capt. Erwin B. Lawrence Jr. eventually led the 99th Fighter Squadron for six months.
Lawrence of Cleveland graduated from flight training on July 3, 1942, at Tuskegee Army Air Field in Alabama. Lawrence joined the 99th Fighter Squadron, which was declared combat-ready on Sept. 15. The squadron finally deployed in April 1943, serving first in North Africa then moving to Italy in July.
In January 1944, more than 37,000 Allied troops launched an amphibious invasion of Anzio, Italy, about 35 miles south of Rome. Although they established a beachhead by nightfall, the Allies could not break out of the city. On Jan. 23, enemy planes attacked the Allied positions and two hospital ships in the harbor. Eight fighter squadrons, including the 99th Fighter Squadron, responded.
On Jan. 27, German warplanes raided Anzio. During an afternoon patrol, 1st Lt. Lawrence tried to maneuver his P-40 Warhawk away from a German plane when Lt. Wilson V. Eagleson cut across their path and fired at the Focke-Wulf 190 that was tailing Lawrence. The enemy plan burst into flames and hit the ground, giving Eagleson his first aerial kill. Lawrence fired on another FW-190, and Eagleson reported he saw it "roll over and dive for the ground, smoking excessively." Lawrence was credited with a "probable" kill.
In all, 32 enemy planes were shot down on Jan. 27 and 28; the 99th had the highest score with 13.
Three months later, Lawrence had been promoted to captain and was appointed commanding officer of the 99th Fighter Squadron after Maj. George "Spanky" Roberts returned to the United States.
Lawrence led several escort missions in the following months. On Oct. 4, he led 37 P-51 Mustangs on a strafing mission at a Greek airfield at Tatoi. As Lawrence's plane approached the target, "suddenly it flipped into a spin," 1st Lt. Leonard M. Jackson wrote in a military report. "After about two or three turns, the plane crashed into the ground and exploded into flames."
The pilots speculated Lawrence had hit a cable, strung across the airfield as a crude defense. Lt. Kenneth I. Williams also crashed in the airfield; he survived and became a prisoner of war.
"Four fires were seen on the aerodrome during the initial pass, but two of the fires are believed to have been from our own aeroplanes lost in the target area," Lt. Ray Ware wrote in his mission report. Nearly all of the 25 to 30 enemy planes at the airfield were damaged.
Click on a name or map pin to learn more and see a video about each World War I and World War II cemetery. Also see
America's national cemeteries
.
World War I:
World War II: