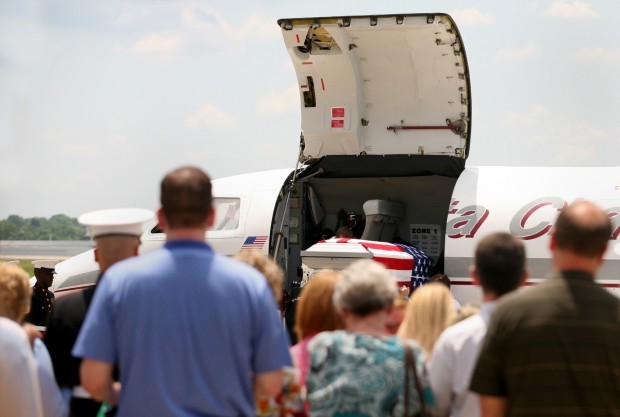 Marine Pfc. Michael R. Patton, 19, of the Fenton area, will be laid to rest this weekend, a week after he and three other Marines were killed by a roadside bomb in Afghanistan.
None of the others who died were from the St. Louis area.
A funeral Mass for Pfc. Patton will be celebrated at 11 a.m. Saturday at St. Paul Catholic Church, 15 Forest Knoll Drive in Fenton. Burial will be at Jefferson Barracks National Cemetery.
Visitation will be from 3 to 9 p.m. today at Kutis Affton Chapel Funeral Home, 10151 Gravois Road.
Pfc. Patton's body arrived home about 1 p.m. Thursday on a small chartered jet. Grieving family members and a few close friends met the flag-draped casket at a hangar at Lambert-St. Louis International Airport as it was carried by a Marine honor guard to a hearse on the tarmac.
Pfc. Patton joined the Marines shortly after graduating from Fox High School at Arnold in 2007. He was sent to Afghanistan in April.
All four Marines killed in Saturday's explosion had been supporting combat operations in Farah Province. They were assigned to the 2nd Battalion, 7th Marines, and had trained at the Marine base at Twentynine Palms, Calif.
Pfc. Patton was married about a year ago. His wife, Amy, had been his girlfriend in high school, family members said.
Survivors also include his parents, James and Teresa Patton, and two sisters, Rebecca and Margaret Patton, all of the Fenton area.