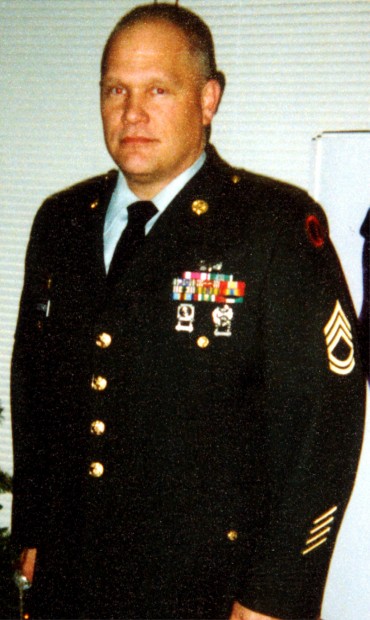 Army Sgt. 1st Class Steve Gottfried, who was killed Tuesday when his Humvee was struck by an explosive near Tikrit, Iraq, was a dedicated career soldier who had wanted for more than a year to serve in the war zone, his son said.
Gottfried, 42, lived part of his life in south-central Missouri and had relatives there and the St. Louis area. He was sent into Iraq less than two weeks ago with the 1st Division Support Command of the 1st Infantry Division. His son said Sgt. Gottfried was to have been part of the northern front that Turkey vetoed shortly before the invasion began almost one year ago. "I spoke to him the day before he finally got in there, " Eric Gottfried, of Jefferson City, said Thursday. "... He was bragging about how he had his ammunition and his Humvee and his buddies. ...
"Dad had no fear, " his son said. "He loved his country, he was proud of his country and he wanted to defend it. Whatever the commander in chief would ask of him, he would do. He was glad to put himself in harm's way for his men and his mission."
Sgt. Gottfried was a water-treatment specialist whose job was to ensure that soldiers in the 1st Infantry had safe water, his son said. He said he had few details of the bombing that killed his father.
Sgt. Gottfried met his wife, the former Mary Jo Eickelmann of Lake Ozark, Mo., when they worked in a restaurant at Tan-Tar-A Resort at the Lake of the Ozarks.
Mary Jo Gottfried has been living with her mother, Joan Eickelmann of Jefferson City. Sgt. Gottfried also is survived by a daughter, Ashley Gottfried, who serves in the Coast Guard in St. Louis; a sister, Anniela Gottfried of Richland; and a brother, John Gottfried, of near Nashville, Tenn.
Arrangements are pending. Eric Gottfried said there will be a memorial s ervice in Richland and a funeral with military honors at the First Assembly of God in Jefferson City, followed by burial in Jefferson City.