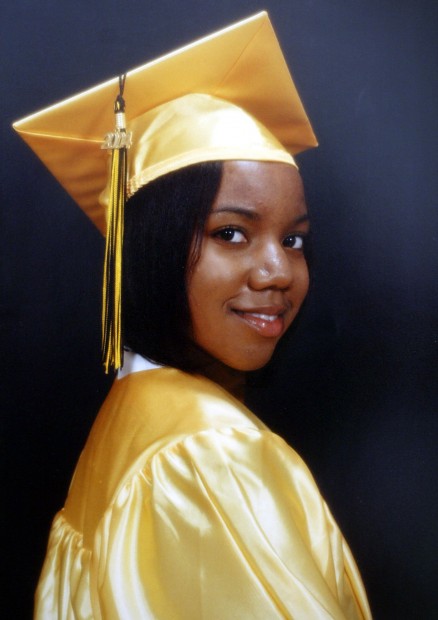 John Johnson knew what the uniformed man at his door had to say before a single word was uttered.
He had witnessed this scene before -- in 1967, when an Army official came by to inform family members that his 19-year-old cousin, George Williams, had died in Vietnam.
But this visit was so much more difficult to take.
"I had seen this before," said Johnson of the unexpected visit that took place Tuesday morning at his tidy four-bedroom home in Florissant. "But she was my angel. She was just an angel."
She was Army Pvt. LaVena L. Johnson, John and Linda Carter Johnson's 19-year-old daughter.
LaVena L. Johnson died Tuesday near Balad, Iraq, from what the Army called noncombat-related injuries.
She was the first female soldier from Missouri to die while serving in Iraq or Afghanistan.
John Johnson said the Army representative who delivered the news to his family said that her death was a result of self-inflicted injuries but that it was not suicide.
The Army on Wednesday released scant details of the death. Officials at Fort Campbell, Ky., where she was assigned to the 129th Corps Support Battalion, said the cause remained under investigation.
At the Pentagon, Maj. Elizabeth Robbins, Army spokeswoman for casualties, said late Wednesday that deaths are listed as noncombat-related "if the enemy forces were not involved" and "it was not part of doing combat duties."
There are five major causes of deaths that can lead to such categorization: accident, illness, foul play, suicide or an act of God, such as lightning.
Pvt. Johnson enlisted in the Army in September and joined the 129th Corps Support Battalion in Iraq in May, according to George Heath, installation public affairs officer at Fort Campbell. Heath did not know what her specific roles were in Iraq but said Johnson's unit is a logistics support unit.
Because her unit is deployed, there are no plans for a memorial service at Fort Campbell. Rather, her unit plans to honor her in a ceremony in Iraq.
LaVena L. Johnson, who would have turned 20 on July 27, had been out of high school for only a year. She graduated last year from Hazelwood Central High School, where she was an honor roll student who had straight A's her senior year, her father said.
She loved to play the violin and was a member of the school's orchestra. She was socially conscious as well, her parents and school principal said. She was a member of a school group that focused on diversity issues, and she volunteered for American Heart Association walks, donated blood and made sure she recycled paper.
"You knew that this was a special young lady who was willing to get out in our society and make things happen," said Hazelwood Central principal Frank Smith, who said the school will honor Johnson with a moment of silence when classes resume. "She was focused on what she did. But I couldn't tell you if she got five A's or five B's; it was her personality that was the winner. Even if she had a problem with a class, she would just say, 'Mr. Smith, I'll work it out.' That's the type of child she was."
For her volunteer work and good grades, she received commendations from members of the Missouri Senate and Congress, her family said.
"She was just a good kid," said her father, formerly a civilian personnel specialist for the military and now a consultant and author. "I used to call her Miss America."
While a senior, Johnson decided to join the Army. Her family said she wanted to travel and wanted to wait a while before starting college. Family members were surprised with her decision, though -- and her mother tried to talk her out of it.
Smith, her principal, recalled discussing the decision with Johnson.
"The only thing I could tell her," he said, "was just to be safe and be careful of your surroundings."
While in Iraq, the young soldier regularly called her family. She would try to keep her conversations upbeat. She would tell them funny stories about fellow soldiers joking about her love for television.
"She was a fun person," said LaKesha Johnson, LaVena's younger sister with whom the soldier was especially close. "She loved to tell jokes."
In April, when Johnson last was home, LaKesha -- one of five children in the family -- decorated the family's house with a banner to welcome her big sister. The banner is still there.
"I guess we will have to take this down," John Johnson said.
As family members struggled with the news Wednesday at their home, the telephone rang several times with callers offering their condolences.
And at the door were more reminders of the family's loss. Florissant police Officer Timothy Green and detective David Corbett came by to pay their respects and extend an offer of help from U.S. Rep. William Lacy Clay Jr. and Florissant Mayor Robert Lowery.
"Is there anything we can do?" Green asked.
"No," responded Linda Carter Johnson as tears welled in her eyes. "I wish I had my daughter."
Philip Dine of the Post-Dispatch contributed to this report.