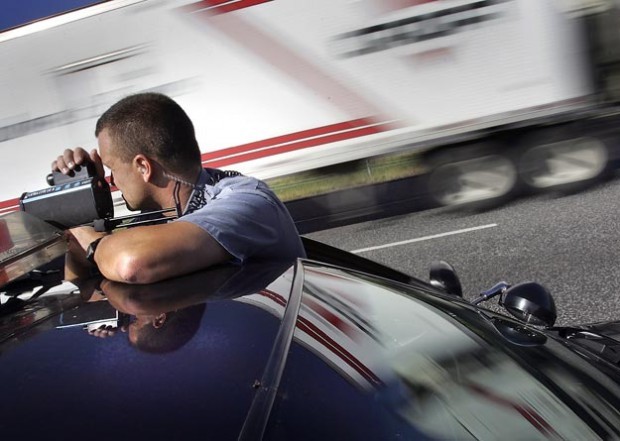 Missouri has its first official speed trap.
Randolph, Mo., a tiny suburb of Kansas City, is the first Missouri municipality to be found in violation of the state's so-called speed trap law, state auditor Susan Montee's office announced this morning.
The speed trap law -- also known as the Macks Creek law, named for the renowned mid-Missouri town that in the early 1990s inspired lawmakers to tackle the subject of how many traffic tickets is too many -- has been on on the state's books for 15 years. But the law never had been applied. Until now.
The state audit found Randolph relied too heavily on certain traffic fines for its operating revenues. State law says towns and cities can not generate more than 35 percent of total operating revenues from traffic fines and court costs collected on state and federal roads.
In Randolph, those traffic fines and court costs accounted for between 75 percent and 83 percent of the town's $270,043 annual revenues last year, according to the audit.
Randolph has long been among the top-ticketing towns in Missouri. It has fewer than 50 residents, but sees heavy flows of traffic from two casinos sitting just outside town limits, plus the Oceans of Fun water park a block beyond its boundary.
A 2009 Post-Dispatch investigation found that Randolph posted the state's highest rate for tickets-per-resident from 2004-2008, besting by 60 percent the No. 2 town, Foristell in St. Charles County.
Randolph police chief John Morris, head of what was then an agency with two full-time and eight part-time officers, was asked whether his town was a speed trap.
"Depends on what your definition of a speed trap is," Morris said. "If someone is going 15 mph over, then it's not a speed trap."
Despite the audit, the size of the problem in Randolph remained hidden from state investigators. Auditors were unable to pinpoint exactly how much Randolph collected in traffic fines in 2009 because the necessary records were not maintained -- and, in some cases, are not required to be kept by state law. So the audit notes only that Randolph "likely" collected between $39,575 and $53,878 too much.
The Post-Dispatch investigation highlighted loopholes in the state's speed trap law, including the problem of record-keeping and narrow definitions of which fines could be counted against the revenue cap.
Lawmakers for years had tried to lower the cap on traffic fine revenues from 45 percent to 35 percent. In the legislative session  that followed the articles, the change finally passed. A method for disbursing excess funds to school districts also was required.
But lawmakers left in language that stipulates only traffic fines for violations on state and federal highways count against the revenue cap. The problem with that, however, is that police agencies and municipal courts rarely -- if ever -- categorize fine collection by the type of roadway where the offense occurred.
This led to some guesswork on the part of state auditors. They turned to the state attorney general's Vehicle Stops Annual Report, which normally is used to review racial profiling rates, to get an idea of what was happening in Randolph. The town reported that 901 traffic citations were written last year and 1,079 stops occurred on state and federal highways. However, the data does not distinguish how many of those 901 citations were written on state and federal highways.
The auditors also selected 265 traffic tickets for closer inspection. Looking at the tickets, auditors found that 73 percent were for violations on state and federal highways, accounting for 75 percent of total fines and costs.
Randolph responded to the auditor's findings by asking its city attorney to calculate precisely the amount of excess traffic fines. The city court also said it would use new software to monitor traffic cases for violations of the state's speed trap law.
The auditor's focus on tiny Randolph happened almost by accident, an auditor's office spokesperson said. State auditors were examining the books of the Kansas City school district when they had some unexpected down time and decided to look into the neighboring suburb.
Find out more
About the research
The Post-Dispatch analysis included five years of traffic stop data which more than 700 law enforcement agencies are required to file with the Missouri Attorney General's Office. The information includes detailed statistics on numbers of traffic stops, citations and warnings issued by each agency. To create the citation rate per person, the number of citations was compared to the U.S. Census Bureau's 2007 American Community Survey population rates. Square mile measurements of municipalities recorded in the 2000 Census were used to create the ratio of traffic citations per square mile.