Parents and their children, joined by members of advocacy groups and politicians, gathered Saturday at the Gateway Arch to demand legislative action in response to gun violence.
Groups in favor of stricter gun legislation are making a major push during the U.S. Senate's August recess. Saturday's rally in St. Louis was one of more than 100 scheduled to take place over the weekend, spanning all 50 states, according to the Everytown for Gun Safety Action Fund.
Another rally took place Saturday morning in East St. Louis. Some of the attendees marched across the Eads Bridge to join the noon rally at the Arch.
Over 150 people gathered on the steps near the Arch, many donning red "Moms Demand Action" T-shirts.
The organization Moms Demand Action For Gun Sense in America said in a press release that the event was held to honor the lives of people killed by gun violence and to push for change, including a strong federal "red flag" bill and laws to require background checks on all gun sales.
Red flag laws allow police to temporarily confiscate firearms from individuals who a judge deems a danger to themselves or to others. Requests for these special protection orders often come from relatives or friends who raise concerns about loved ones who may have expressed thoughts about harming themselves or others.
Such legislation has been adopted in at least 17 states and the District of Columbia, the majority since the February 2018 mass shooting at Marjory Stoneman Douglas High School in Parkland, Fla., according to the Associated Press.
Karen Rogers, the Missouri chapter leader for Moms Demand Action, said she joined the group not long after the mass shooting at Sandy Hook Elementary School in Newtown, Conn., in which a gunman killed 20 first grade children and six educators.
Rogers, a mother of an 11-year-old and a 7-year-old from Kansas City, Mo., said her son was getting ready to start kindergarten at the time of that shooting.
Rogers said she grew up in a gun-owning family in Missouri.
"We can honor the Second Amendment and still pass commonsense gun laws," Rogers said.
Othea Stevenson, of Shiloh, said her 24-year-old son was killed on Aug. 23, 2016. Stevenson was a kindergarten teacher for 22 years, until that point, when she decided to become a motivational speaker against gun violence.
"I think more mothers need to stand up," Stevenson said. "I know a lot of them are grieving, but we just have to be heard."
Legislation
St. Louis Mayor Lyda Krewson spoke in favor of a federal bill sponsored by U.S. Rep. William Lacy Clay, D-University City, which would allow local governments like St. Louis to pass gun laws without approval from a state legislature. In June, Krewson said that if the city had the power, her first priority would be to require a permit to carry a gun, the Post-Dispatch reported.
"If we don't want it to change for the whole state, OK," Krewson told the group gathered at the Arch Saturday. "What fits the city of St. Louis may not fit the town that I graduated from high school in, which is Moberly, Mo. It may not fit there. But we can't have a one-size-fits-all. Give us some ability to figure out who has guns."
James Clark, Better Family Life's vice president of community outreach, said that situations with guns are different in cities than in rural areas. Gun violence, he said, shakes the St. Louis and Kansas City communities every day.
In 2016, Better Family Life started a program to deescalate conflicts that have a high likelihood of turning into shootings. Since January, the program has deescalated 86 conflicts, Clark said Saturday.
The rally was also attended by state Sen. Brian Williams, D-University City; St. Louis Aldermanic President Lewis Reed; and Missouri Auditor Nicole Galloway, who launched her gubernatorial campaign Monday.
"When you have children that can't even play in their backyard, and are greeted with grief counselors their first day of school, something is wrong," Galloway told the Post-Dispatch on Saturday.
The gun control debate has risen to the top of national conversations in the days and weeks following shootings in California, Ohio and Texas.
Art with a message
Members of the St. Louis Story Stitchers Artists Collective performed a song at the rally in St. Louis on Saturday.
"We ready for the change to come," they sang. "We ready for the violence to stop."
The collective is a group of professional artists and youth between the ages of 16 and 24, "working together to create social change with a focus on gun violence prevention," according to its website. The collective's goal is "to promote a better educated, more peaceful and caring region through storytelling."
Cassandria White, vice president of the collective, said the group's art ranges from song and dance to photography, poetry and videography.
Beside the stage at the rally, organizers lay quilts with images of young people. The images are part of the Faces Not Forgotten project, which creates portraits of people age 20 and under who are dead as a result of gun violence.
Founder and Director Christine Ilewski said she started the project after her friend, a St. Louis-area priest, was killed.
Looking at the children's faces, she said, people can't think of them as just a number.
Moms Demand Action for Gun Sense in America rally at Arch grounds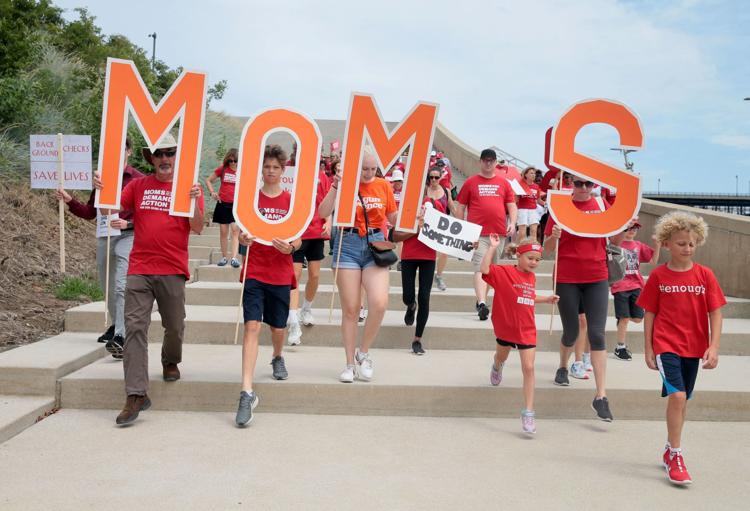 Moms Demand Action for Gun Sense in America rally at Arch grounds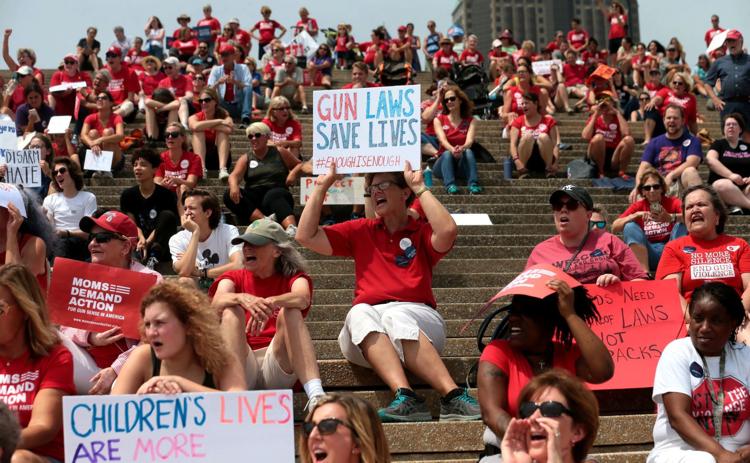 Moms Demand Action for Gun Sense in America rally at Arch grounds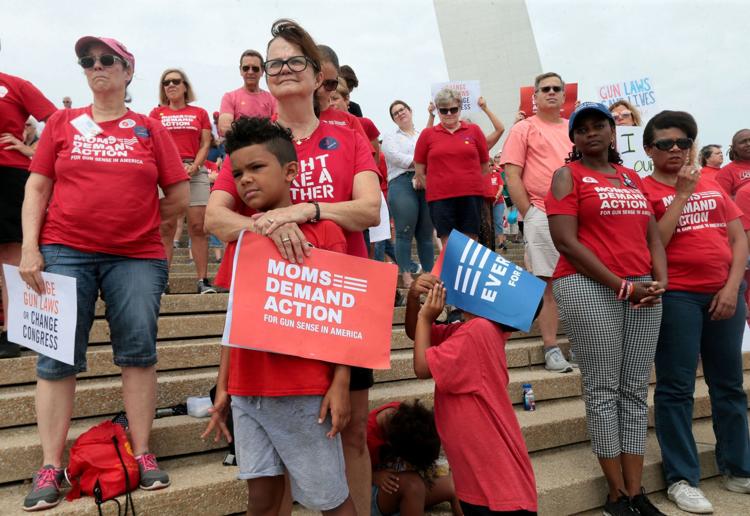 Moms Demand Action for Gun Sense in America rally at Arch grounds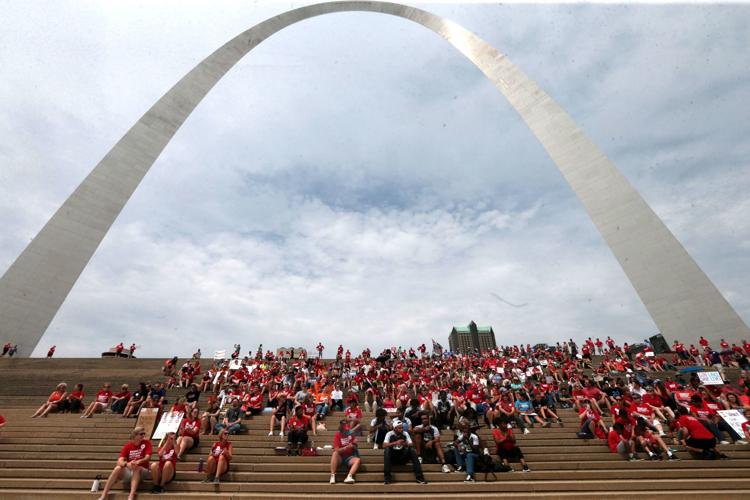 Moms Demand Action for Gun Sense in America rally at Arch grounds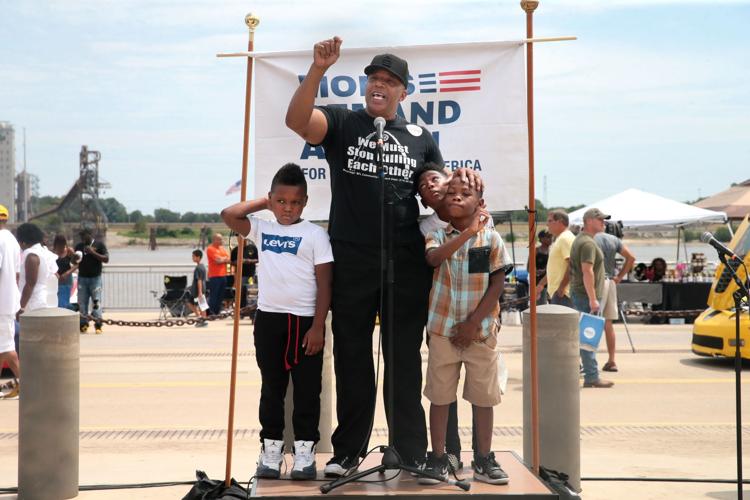 Moms Demand Action for Gun Sense in America rally at Arch grounds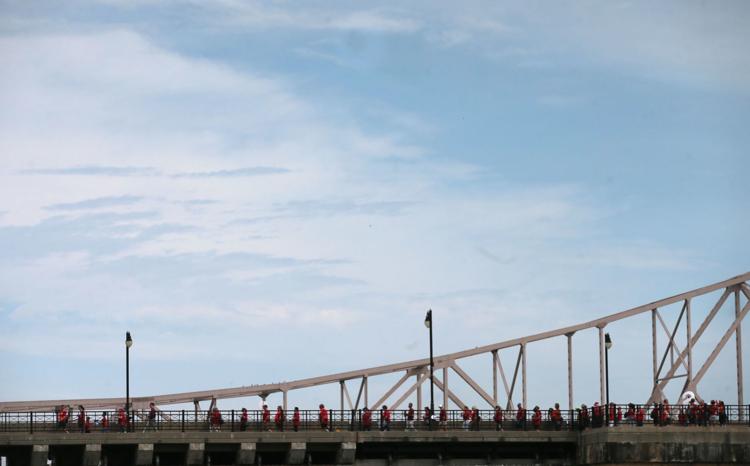 Moms Demand Action for Gun Sense in America rally at Arch grounds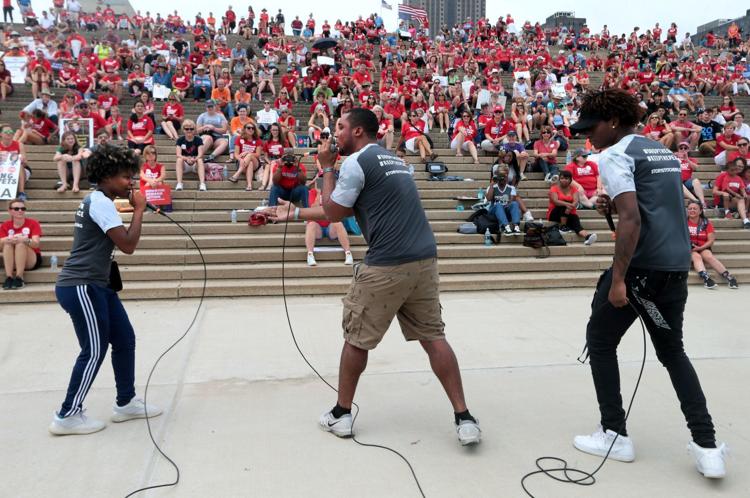 NO headline in galleries