For more than 70 years, former Post-Dispatch Weatherbird artist Amadee Wohlschlaeger captured the history of sports in St. Louis through cartoons, drawings and portraits.
Amadee rarely used his last name professionally. He was the fourth of just six artists to draw the Weatherbird, which made its debut in the Post-Dispatch in 1901 and remains the oldest continuously published daily cartoon in the United States.
Amadee died Tuesday (June 24, 2014) at Mari de Villa Retirement Community in Town and Country. He was 102 and had been a longtime resident of Sunset Hills.
In addition to drawing the front page Weatherbird, his work also appeared in the sports section. He was one of the last of the newspaper sports cartoonists and knew and drew all the great ballplayers of his era. His career spanned the Great Depression, World War II, and the Korean and Vietnam wars.
Amadee sketched Dizzy Dean and the Gashouse Gang as well as Satchel Paige when Paige was with the old St. Louis Browns. Amadee's works include baseball great Stan Musial, Cardinals manager Whitey Herzog, football Hall of Fame tight end Jackie Smith and broadcaster Jack Buck.
He often drew the covers for The Sporting News, then locally produced, and became nationally famous. He was one of the top 10 sports cartoonists in the country during an era when sports cartooning was an essential part of a newspaper.
His drawings were exhibited across the country, including the National Baseball Hall of Fame in Cooperstown, N.Y.
"He really is a St. Louis treasure," said Bill Mathies, a publisher in St. Louis who says he has archived 5,000 of Amadee's works to preserve them.
Amadee's cartoons could be biting at times. In 1969, the Cardinals were languishing in fourth place and Amadee infuriated catcher Tim McCarver with a cartoon showing shotgun-wielding manager Red Schoendienst about to blast the Redbirds off a telephone cable.
McCarver ran up to Amadee in the clubhouse, and, in front of an audience, bumped up against him with his chest protector.
"Just what the hell does that cartoon mean?" McCarver demanded.
Amadee, a powerful man with strong hands, shot back: "It means that some of you SOBs aren't going to be around next year." (Before the next season, the Cardinals did indeed trade McCarver.)
Former manager Whitey Herzog recalled that when he joined the Cardinals in 1980, he traded 14 players and got back just 11.
Amadee drew a cartoon showing the team's longtime clubhouse man, Butch Yatkeman, running around changing numbers on players' uniforms.
"It was really clever," Herzog recalled.
Longtime friend Schoendienst recalled a fishing trip with Amadee during spring training in Florida. Schoendienst finally caught a fish, only to watch it swim away before he could reel it in.
When the same thing happened again, he checked and found that Amadee had cut the barb off the hook; he could catch fish, but they wouldn't stay caught.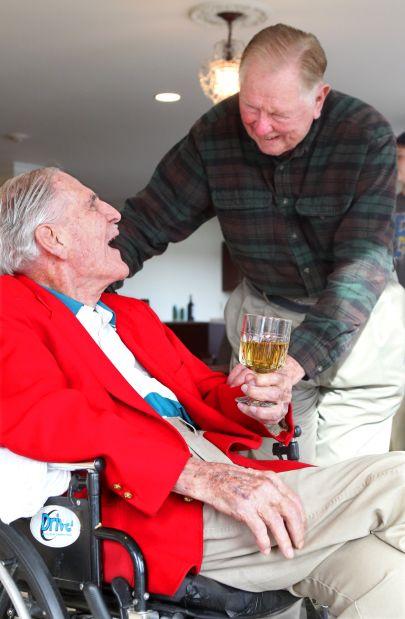 An avid hunter and fisherman, Amadee was so strong that when a boat caught fire while he was on the Gulf of Mexico, he swam a mile with an injured 200-pound man on his back.
"Anyone who knew him would agree that he was a larger-than-life personality," said Dan Martin, who has drawn the Weatherbird since 1986.
At 14, Amadee joined the Post-Dispatch as a copy boy, at $7.50 a week. He grew up in the Carondelet neighborhood of south St. Louis and never went to high school. With help from a friendly priest, he attended art classes at Washington University.
In 1929, when Amadee was 17, his father, a printer at the paper, told him of an opening in the art department. Amadee was hired. Then, in 1932, Carlisle L. Martin, who drew the Weatherbird, died. Amadee stayed up until 2 a.m. practicing drawing the bird. He got the job.
Later, in 1936, Amadee drew his first sports cartoon for the newspaper. A notoriously poor speller, he once misspelled "Wohlschlaeger" and used only "Amadee" from then on.
In 1939, he filled in as editorial page cartoonist. He targeted Hitler, Stalin, Mussolini and some morally bankrupt local politicians.
Amadee spent 53 years at the Post-Dispatch, drawing the Weatherbird from 1932 to 1981.
Amadee's favorite Weatherbird appeared on Oct. 2, 1944, and showed the bird dressed in the uniform of the St. Louis Browns, standing on its head. "And first in the American League," the bird line says, a play on the old saying about St. Louis: "First in booze, first in shoes, and last in the American League."
Amadee wore a pencil-thin mustache, chomped an ever-present cigar and was rarely far from a glass of scotch.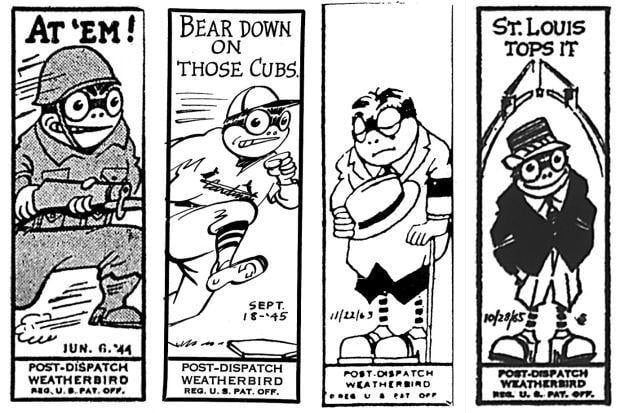 He gave up cigars only after his doctor promised that he could keep the scotch, recalled Schoendienst.
In retirement, Amadee gave away many of his drawings and sold some 3,000 to David Ault, owner of the Fox Run Golf Club in Eureka.
Ault said he paid "hundreds of thousands of dollars" so he could protect Amadee's work. Nearly all of it is stored out of sight, in a humidity-controlled vault in acid-free envelopes, he said.
The late Jack Buck wrote a tribute to Amadee when he reached 89. Amadee, he wrote, brought sports and historical events to life through his cartoons, caricatures, drawings and portraits.
Added Buck: "His style is as unique as he is, and his wit, intelligence and sense of humor come through in each and every piece that he pens."
The visitation will be 4-8 p.m. Thursday at Kutis Funeral Home, 2906 Gravois. The funeral Mass will be 10 a.m. Friday at St. Wenceslaus Catholic Church.
Michael Sorkin is a reporter at the Post-Dispatch. Follow him on Facebook.