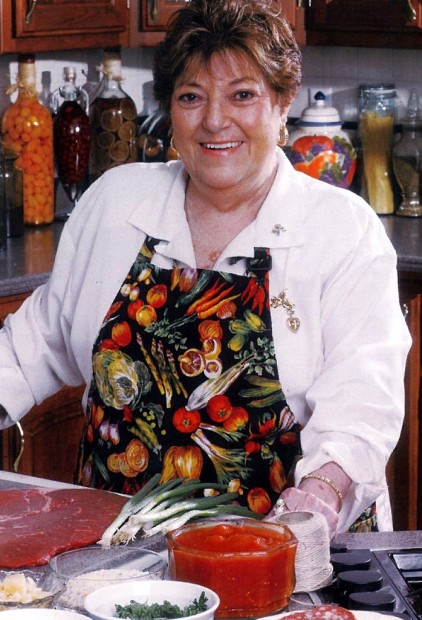 Annie Gitto, matriarch of the Gitto family that operates six restaurants here, died Monday (July 23, 2012) at St. Anthony's Medical Center in south St. Louis County.
She was 81 and lived in Sunset Hills. She was diagnosed in 2006 with dementia, her family said Wednesday.
Mrs. Gitto and her husband, Charlie Sr., opened Charlie Gitto's Pasta House on Sixth Street downtown in 1974. Their children own the other restaurants.
Mrs. Gitto was born Anna Marie Russo, the youngest of five children, and grew up on Bischoff Avenue on the Hill in south St. Louis. Her father was a coppersmith who made moonshine stills during the Depression. He died when Annie was 4.
Annie and Charlie grew up a block from each other but didn't meet until she was 14 and he was 13. He saw her at an ice cream parlor where he worked after school. They started going steady at 16 and 17. Annie was attending Southwest High School while Charlie attended Hadley Technical School.
They married when they were 20 and 21 and opened their first restaurant, Gitto's Pizzeria, on Macklind Avenue in 1956. She cooked and kept the books, and he ran the restaurant. When money was tight, she did secretarial work on the side.
Their four children pitched in at the restaurant as soon as they were able to bus tables and wash dishes.
"We've grown together, and we count on each other," Mrs. Gitto told the Post-Dispatch in 1988.
Her husband recalled this week: "I got all the credit, and she did all the work."
Mrs. Gitto was especially proud of her meatballs and sugo sauce, meatloaf and cassata cake. She worked until she became ill about six years ago.
Her daughter recalled how her mother held her rosary even while she was behind the wheel driving. She kept a lengthy list of friends for whom she prayed daily, and her family planned to bury it with her.
The City of Hope charitable organization honored Mrs. Gitto and her husband in 1988 for their charitable work.
Visitation will be from 2 to 8 p.m. today at Ziegenhein and Sons Funeral Home, 4830 Lemay Ferry Road in south St. Louis County. The funeral Mass will be celebrated at noon Friday at the Basilica of St. Louis, King of France (the Old Cathedral), 209 Walnut Street. Burial will be at Resurrection Cemetery.
Survivors, in addition to her husband of 59 years, include two sons, Charlie Gitto Jr. of Chesterfield and John Gitto Sr. of St. Louis; a daughter, Karen Vangel of St. Louis; 11 grandchildren; and three great-grandchildren. A third son, George Gitto, died in 1999 of a heart attack at age 38.