Bette Pappas, who with her husband hired architect Frank Lloyd Wright to design their house in Town and Country, loved the home so much she wanted to die in it.
"That's the one wish she had," said her daughter, Charisse Pappas of Jefferson City. "To come home, and she did."
Mrs. Pappas died in the home Sunday (Feb. 11, 2018) after breaking her wrist in December and then suffering a series of health setbacks that had sent her briefly to a rehabilitation center. She was 91.
Mrs. Pappas was one of a handful of original owners still living in Wright-designed homes. The house, which is on the National Register of Historic Places, is one of two Wright-designed buildings in the St. Louis area. The Frank Lloyd Wright House in Ebsworth Park in Kirkwood was a private home now run by a nonprofit group, on land maintained by St. Louis County.
Mrs. Pappas and her husband, Theodore, lived in Wisconsin early in their marriage, and she fell in love with Wright's work there. They lived in an apartment in Richmond Heights in 1955 when she said she wanted a home built by Wright. "I have a wife who feels she has to have a house built by you," wrote Theodore Pappas to Wright, including a $300 check.
The couple met with Wright at his Wisconsin home and studio, Taliesin, and she recounted feeling nervous about meeting him and nervous about talking money.
Their Town and Country home took four years to complete and cost four times more than they originally planned to spend. It was finished in 1964, with the couple doing much of the construction work themselves. It's made with custom-molded concrete blocks and sits on nearly four acres off a gravel road. Mrs. Pappas chronicled the process in a 1985 book, "No Passing Fancy." They raised four children inside the house. It still has all the Wright-designed original furnishings, too.
"It was quite a stretch for us because we were not wealthy people, and we did a lot of the work ourselves," she said in an interview for an obituary for Theodore Pappas, who died in 2004.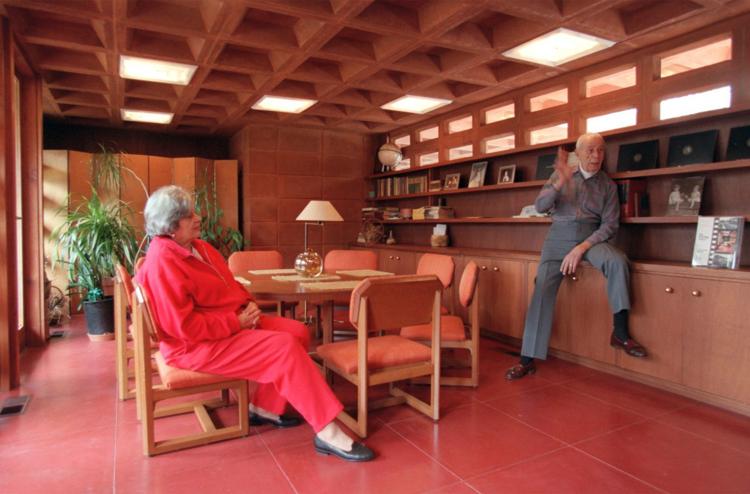 Mrs. Pappas spent her childhood in St. Louis and then moved to University City, where she attended University City High School. She studied history and education in college but quit when she got married. She returned to school to complete her degree when her children were in school. She ran a travel agency for about five years and mainly worked as a stay-at-home mom.
"She was really shy," said Cynthia Pappas, Charisse's twin, who lived with her mother in the house the last several years and has a home in Wentzville. "My dad was the gregarious one. Once you got to know her, she was full of life and fun. I thought she was very compassionate. She was very nurturing. They didn't say we had to conform to other standards. They allowed you to be who you were."
Mrs. Pappas loved nature, collected rocks, and loved the property the house sat on. She maintained the house as best she could, and it is in good shape, Cynthia Pappas said. "She considered this house more of a spiritual place," she said. "Other people went to church. And Wright was a god."
The family is not sure what will happen to the house, but they want it and the land preserved and will entertain fair, serious offers to do so. They are not yet working with a real estate agent.
Mrs. Pappas donated her body to St. Louis University. Her family plans to have a celebration of life service, but no date has been set.
In addition to her twin daughters, Mrs. Pappas is survived by daughter Candace Simmons of Foristell; five grandchildren; and one step-great-grandchild. A son, Theodore Jr., died in September.