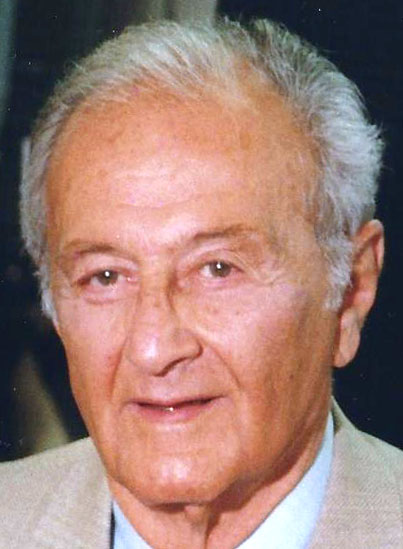 Bob Gamm was a jogger who used to wrap his keys and money in a handkerchief and leave them on the ground while he ran. He hoped they'd be there when he finished.
Then he had what he called the "crazy" idea of designing an athletic shoe with a small, zippered pocket on the side. That was the start of the Kangaroos Shoe Co.
The company sold hundreds of millions of dollars of shoes during the 1980s. Mr. Gamm became a well-known figure in St. Louis and throughout the business world.
Robert Julian Gamm died Friday (July 13, 2012) at his home in Town and Country. He was 91 and was diagnosed more than five years ago with Parkinson's disease, his wife said Tuesday.
In February, he slipped and broke a hip while getting a glass of water in his kitchen. He underwent three surgeries, which his wife said led to an infection and pneumonia.
Mr. Gamm wanted to be an architect but his parents said he should join the family shoe business.
After graduating from Clayton High School and Washington University, he was drafted into the Army in 1942. He went in as a private and worked his way up through the ranks to sergeant major. His commander sent him to Officer Candidate School and he ended the war as a captain.
He returned to St. Louis and the family business, the Modern Shoe Co. He traveled across the country learning about shoes.
He went out on his own in 1979 to start Kangaroos. At first, he couldn't find anyone to make his shoes. A Korean factory finally agreed to produce them — if he bought 40,000 pairs the first month.
Mr. Gamm said he came up with the name because the kangaroo jumps almost 25 feet per step while running; never looks back, only forward; and has a pocket.
After a slow start, Kangaroos became hugely successful.
Ozzie Smith of the Cardinals and Walter Payton of the Chicago Bears were among the athletes who wore them. Mr. Gamm opened stores at Northwest Plaza and in Chesterfield.
His 55 employees said he knew how to treat them. After he hired Lindell Jones, Mr. Gamm wanted to know how much his new employee needed for a down payment on a house.
"The next thing I knew, I had a check for $15,000, and he said he would take it out of my yearly bonus," Jones recalled. "He was a wonderful human being — he really took care of us."
In 1985, Mr. Gamm donated $100,000 in shoes and a new gymnasium floor to a church in San Pedro, Calif.
The Kangaroos sold well in shoe stores, but Mr. Gamm wanted a piece of the growing technical shoe market, sold in specialty stores to more serious runners.
He contacted engineers at NASA for help to develop a shoe that he hoped would be better than the hugely popular Nike Air. The engineers came up with something called the "Dynacoil."
The Dynacoil was successful in some European countries, but not so much in the United States. In 1988, company sales dipped to $50 million from a high of $114 million four years earlier.
That followed the unexpected death in 1987 of Mr. Gamm's wife, Miriam.
He sold his company the next year to California investors. He regretted it a few years later and tried but failed to buy it back.
In 1992, he met his future second wife while on vacation in Newport Beach, Calif. He and Linda Gamm were together for 20 years.
Linda was a glass artist who sold her work at art shows. When a husband took his wife's arm to pull her past Linda Gamm's booth, Mr. Gamm stepped in to take the husband aside to talk sports. Meanwhile, his wife made a sale.
During World War II, Mr. Gamm's first assignment as an officer was to organize the base records. He was so successful, his commander put him in charge of moving 500 officers and men by train to their new base for final overseas training.
Lt. Gamm decided that the most important part of morale was food. He built brick barbecue pits in two boxcars. He stopped the train in towns to pick up meat and vegetables.
Those were not Mr. Gamm's favorite foods.
According to his memoirs, he regularly stopped the train to "commandeer thousands of bars of candy from places such as A&P warehouses."
A memorial service will be at 1 p.m. today at Bellerive Cemetery, 740 North Mason Road in Creve Coeur.
Survivors, in addition to his wife, include three daughters, Carol Michelman, Gloria Bayer and Audrey Sherman, all of Chesterfield.