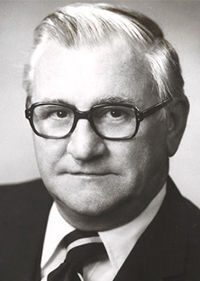 Dr. George E. Thoma Jr., a pioneer in the field of nuclear medicine and a former vice president of the St. Louis University medical center, died Jan. 31 of natural causes. He was 93.
His daughter Mary Ann Dowling of Ladue remembers a busy and fun childhood with her seven siblings in Clayton. Dr. Thoma was a caring father who was devoted to his family and the St. Louis community, she said.
Dr. Thoma grew up in Dayton, Ohio, and received a bachelor's degree from the University of Dayton in 1943. In 1988, the university awarded him its distinguished alumni award.
Dr. Thoma received his medical degree from St. Louis University in 1947 and quickly moved into clinical and administrative appointments at the school and its hospital. He worked as a professor of internal medicine and dean of the medical school.
In the early 1950s, Dr. Thoma served as a flight surgeon in the U.S. Air Force, earning the rank of major. As an early adopter of nuclear medicine, the use of radiation to diagnose and treat diseases, Dr. Thoma became the founding editor of The Journal of Nuclear Medicine in 1958 and held the title until 1970.
While a practicing physician, Dr. Thoma was the medical director for the St. Louis Police Department.
In 1963 Dr. Thoma became assistant to the vice president for the SLU medical center, and 10 years later he rose to vice president, holding that post until he retired in 1986. Under his tenure, the medical center completed a $56 million expansion project. Dr. Thoma oversaw the construction of the Margaret McCormick Doisy Learning Resources Center and the School of Nursing and established the Center for Health Care Ethics.
Outside of medicine, Dr. Thoma's interests included food, wine, travel and intellectual pursuits. He held leadership positions with the Missouri Botanical Garden, the Academy of Science of St. Louis and the Racquet Club of St. Louis. He was a member of the Cosmos Club in Washington and the International Federation of Catholic Universities. Dr. Thoma also enjoyed teaching cooking classes at a local shop during summer vacations in Douglas, Mich.
As president of the board at the Academy of Science, Dr. Thoma reinvigorated the group's junior academy to encourage young people to enter science, medical and engineering fields.
Mary Burke, the academy's CEO, called Dr. Thoma "a tireless advocate of opportunities in science to inspire and encourage the next generation."
Over 45 years of marriage, Dr. Thoma and his wife, Eugenia, or "Genie," traveled worldwide, including many trips to France for cooking classes and private meetings with renowned chefs. Local charity auctions often included meals prepared and served by the culinary couple. Dr. Thoma served for 12 years as a Maitre, similar to president, of the St. Louis chapter of the Commanderie de Bordeaux, a social group for people passionate about the French wines.
"George had a very dry sense of humor," said Bud Pessin, the club's current leader. "He was a quiet person who got things done before you knew they were done, with a leadership quality of subtlety."
Pessin said when the two men talked about the end of life, Dr. Thoma humbly recalled a French phrase he appreciated that translates — "he has disappeared."
In addition to his daughter and wife, Dr. Thoma is survived by four other daughters, Lee Cornish of Tulsa, Okla., Christie Dennison of Richmond Heights, Lisa Savel of St. Louis and Nellie Ross of Chicago; and three sons, Skee Thoma of Sacramento, Larry Thoma of Raleigh, N.C., and Mark Thoma of San Francisco, 17 grandchildren and 10 great-grandchildren. Dr. Thoma was preceded in death by his first wife, Jennifer Biega Thoma.
The family will welcome visitors at 9:30 a.m. Friday at Our Lady of the Pillar Church in Creve Coeur. A memorial mass will follow at 10 a.m.
Dr. Thoma donated his body to the SLU medical school. Memorial contributions may be made to the school at DuBourg Hall 319, 1 North Grand Avenue, St. Louis, Mo. 63103.