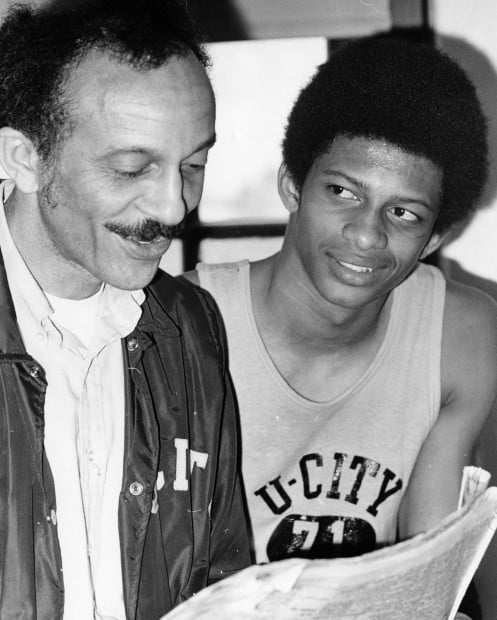 At a time when whites and blacks didn't mingle on the basketball courts, Ed Crenshaw, who died Tuesday at age 78, was a star at Sumner High School.
Despite being one of the best players in the metro area, he didn't get much recognition; African-American schools such as Sumner weren't permitted to compete in the early 1950s against white high schools.
But it was hard to ignore someone averaging 20-some points a game. The basketball coach at what is now Quincy University recruited him, and Mr. Crenshaw led his team to the national playoffs.
He went on to become one of the winningest coaches in Missouri history. He started out as the first black faculty member at what was then an all-white Catholic school in rural O'Fallon, Mo.
Edward James Crenshaw Sr. died Sept. 25, 2012, at Delmar Gardens nursing home in Chesterfield. He was diagnosed with Alzheimer's disease in 2009, his family said Friday.
Growing up, Ed Crenshaw shot hoops at an inner-city park near his childhood home in St. Louis to stay out of trouble. He was the youngest of five children, whose mother was a factory worker.
Basketball was a big deal then at Sumner with more than 100 students trying out for the team. At 6-feet, 6-inches, Mr. Crenshaw got the job as center.
At first, Sumner played only teams from other predominantly black schools. In his junior and senior years, the team was permitted to begin playing Catholic schools as well.
Sumner made it to the local championship and lost to St. Louis University High School.
"Now the white community got a chance to learn about Ed Crenshaw and the Sumner basketball team," recalled Ed Bester, who graduated in 1953, a year behind his friend Mr. Crenshaw.
Mr. Crenshaw was an All-American player and the first African-American to win the KMOX player of the year award. He set numerous scoring records.
At Quincy, Mr. Crenshaw became the school's first black basketball player. That number eventually grew to five. Mr. Crenshaw was the top scorer, captain and most valuable player.
They played teams that had few or no black players. Quincy's players were unwelcome at many hotels, restaurants and restrooms.
During Mr. Crenshaw's junior year, the team went to their division's national playoffs in Kansas City. They beat one of the nation's top-rated teams by 2 points.
They lost their next game by 4 points and were out of the tournament.
Bester said the officiating against the black players was "blatant" and the two referees were fired after the game.
The loss "has pained us ever since," he added.
Mr. Crenshaw was drafted and served on an Army basketball team with other stars.
In 1960, a friend got him the coaching job at what was then Assumption High School in O'Fallon, later renamed St. Dominic High School. At the time, he was the only black coach in the state teaching at an all-white school, according to Bester, a retired physical education teacher.
Mr. Crenshaw taught at St. Dominic from 1960 to 1973. He left for University City High School, where he coached from 1974 to 1994.
He retired with an overall record of 677 wins and 266 losses. He was inducted last year into the Missouri Sports Hall of Fame.
The gymnasium at University City and the gym floor at St. Dominic are named after him.
"He was the Michael Jordan of that era," said a son, Ed Crenshaw Jr. of St. Peters.
The funeral will be at 1 p.m. today at All Saints Catholic Church, 6403 Clemens Avenue, University City. The body will be cremated. Burial will be at 12:30 p.m. Tuesday at Jefferson Barracks National Cemetery.
Survivors, in addition to his son, include a second son, Anthony Neal of St. Louis County; a daughter, Lorri Vivian Crenshaw Williams of University City; a sister, Doris Reece-Crenshaw of Creve Coeur; and six grandchildren and four great-grandchildren. His wife of forty years, the former Ethel Conchita Sadberry, died in 2009.
Obituaries Newsletter
Sign up to get the most recent local obituaries delivered to your inbox.