Longtime civil rights leader, lawyer and activist Frankie Muse Freeman died Friday (Jan. 12, 2018). She was 101.
Her death was confirmed Friday night by her daughter, Shelbe Patricia Bullock.
"She went peacefully with her family beside her," Bullock said. "We ask for privacy until Sunday so we can plan services. She was a marvelous, warm woman, and we want to send her off in a good way."
Mrs. Freeman, raised in a segregated town in Virginia, once said she wanted to become a lawyer to change the world she lived in.
The woman whom some would later call "Frankie Freedom" became a civil rights attorney who fought to end segregated housing and promoted equal rights in St. Louis and nationwide during the civil rights movement.
"My commitment was to work for elimination of discrimination," Mrs. Freeman told the Post-Dispatch in 1988. "I could not accept the segregation that existed while I was growing up," she said. "I really do believe in the Declaration of Independence. I really believe that all men, all women are created equally.'"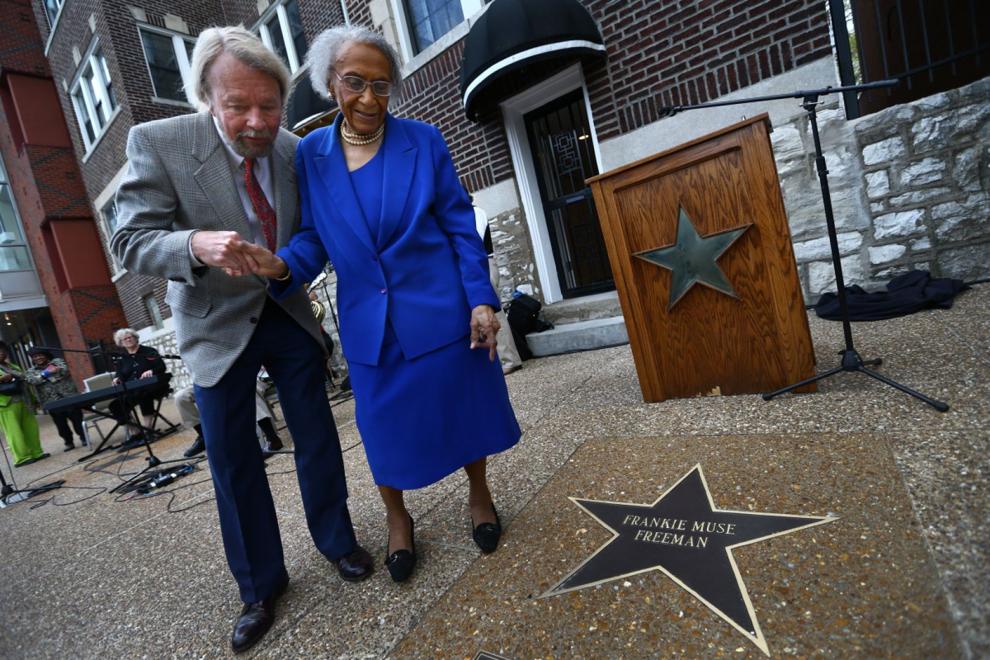 When Mrs. Freeman spoke at De La Salle Middle School in the Ville neighborhood in 2006, De La Salle president and founder Bob Sweeny told students, "You guys are standing in the presence of a giant."
Mrs. Freeman was the lead attorney in the landmark court case Davis v. St. Louis Housing Authority, filed in federal court in 1952, that led to the end of racial segregation in public housing in St. Louis.
Mrs. Freeman was an assistant attorney general of Missouri and staff attorney for the St. Louis Land Clearance and Housing Authorities from 1956 to 1970.
In 1964, Mrs. Freeman became the first woman on the U.S. Civil Rights Commission, which investigates discrimination complaints, collects data on discrimination and advises the president and lawmakers on issues of discrimination and equal protection. Her first trip was to Mississippi to investigate the bombing of four black churches.
She would eventually serve for 16 years on the commission.
Mrs. Freeman also was a longtime board member of the United Way and active in the leadership of the Girl Scouts. She co-wrote her memoir, "A Song of Faith and Hope: The Life of Frankie Muse Freeman," which was published in 2003 by The Missouri Historical Society Press.
Mrs. Freeman continued to be active in the legal and civil rights arenas into her 90s.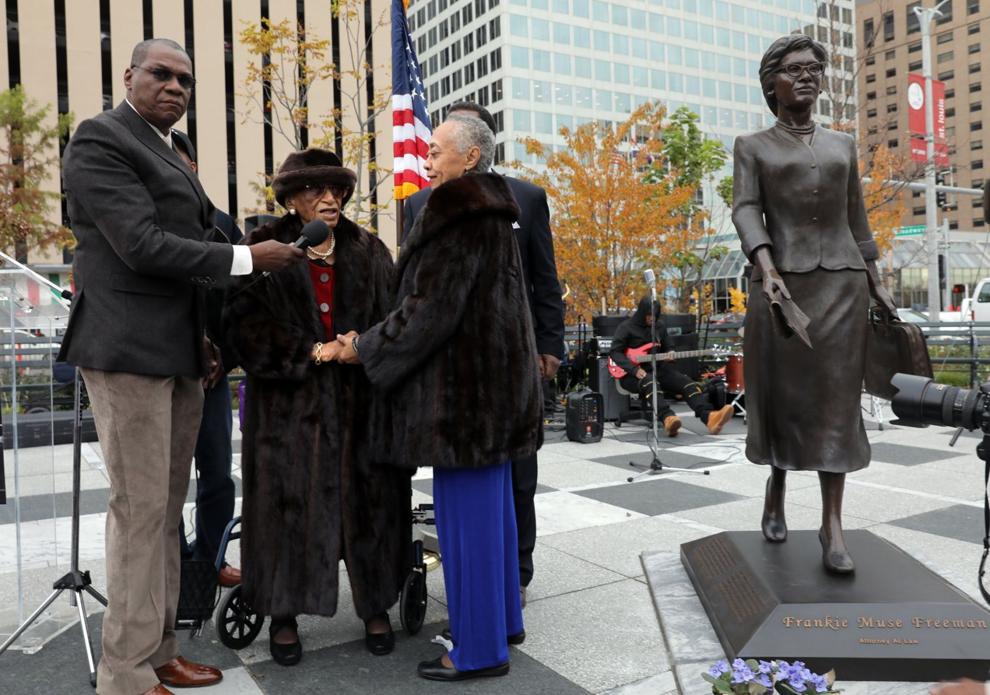 Her local honors included being named St. Louis' Citizen of the Year in 2011 and, in November, having a statue of herself dedicated in the northeast corner of Kiener Plaza while hundreds applauded.
In 1999, Mrs. Freeman and former Washington University Chancellor William Danforth were appointed to head a committee to oversee a landmark settlement that ended a St. Louis area desegregation case involving the St. Louis School Board, the NAACP, parents, the state and federal governments and the school districts in St. Louis County that were participating in an interdistrict busing plan.
In 2006, Mrs. Freeman and Danforth led a state advisory committee that analyzed — and criticized — the operation of the St. Louis school district, and eventually led to a state takeover.
In November 2009, she and Danforth were again asked to serve on a re-constituted advisory committee.
In 2007, her footsteps were added to the International Civil Rights Walk of Fame at the Martin Luther King Jr. National Historic Site.
That same month, Mrs. Freeman was one of four new members named to the Academy of Missouri Squires, a nonprofit that honors the accomplishments of Missourians. The Academy is limited to 100 living members, who must have achieved "true greatness" and who select the newest members.
Mrs. Freeman joined the likes of Harry Truman, sitting and former Missouri governors and Stan Musial; she was named at the same time as former Cardinal and longtime radio broadcaster Mike Shannon.
St. Louis civil rights attorney Frankie Freeman celebrates her 100th birthday
Frankie Muse Freeman, who turns 100 years old on November 24, was celebrated with a dinner and dance Saturday, Oct. 22, hosted by the St. Louis NAACP at the St. Louis Marriott Grand Hotel. Freeman was the first woman appointed to the U.S. Commission on Civil Rights, and the lead attorney for the landmark case "Davis et al. v. the St. Louis Housing Authority," which resulted in the end of legal racial discrimination in the city's public housing.
Mrs. Freeman was born in Danville, Va., one of eight children. Her father was a railway clerk, her mother a housewife and teacher. She graduated from what is now Hampton University with a bachelor's degree in mathematics, then moved to New York, where she hoped to enter law school.
The school balked at her undergraduate credits, however.
In the meantime, she met her future husband, Shelby T. Freeman Jr., of Tupelo, Miss., who was in New York to take graduate courses at Columbia Teachers College. He had graduated from Lincoln University in Jefferson City but couldn't continue his education at the all-white University of Missouri.
The couple moved to Washington during World War II, and Mrs. Freeman went on to attend Howard University School of Law, where she graduated second in her class. The couple and their two children moved to St. Louis, and Mrs. Freeman opened her own practice in 1949.
One of her cases that year, Brewton v. Board of Education, involved students at the all-black Booker T. Washington Technical School who were barred from taking an aero-mechanics course at the all-white Hadley Technical School. The Brewtons won, but Hadley responded by discontinuing the class.
Mrs. Freeman was married for 52 years to her husband, who died in 1991. He taught computer programming at Illinois Community College in East St. Louis for 17 years, worked for the Mobility Command Department of the Army in St. Louis and once owned a photography studio. They had two children, but Shelby "Butch" Freeman III died at age 11 from pneumonia.