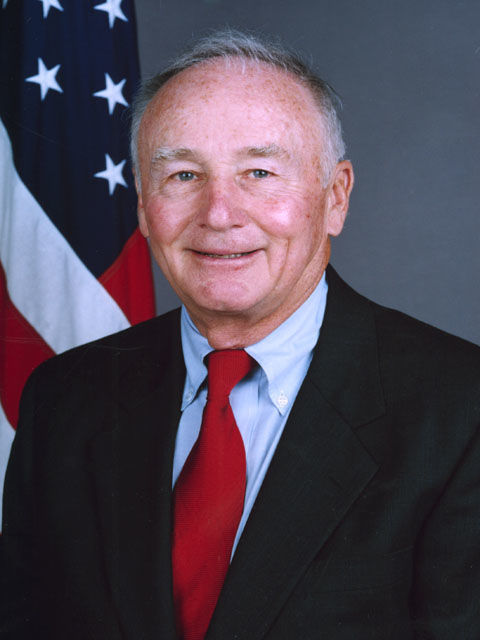 George Herbert "Bert" Walker III — a civic leader and philanthropist also well known for his family ties to two American presidents — died Saturday (Jan. 18, 2020). He was 88.
Mr. Walker, the retired chairman and CEO of the Stifel, Nicolaus and Co. brokerage firm, was a cousin of former Presidents George H.W. Bush and his son, George W. Bush.
The grandfather of Mr. Walker and George H.W. Bush was George Herbert Walker, who founded a banking and investment firm with offices nationwide.
Mr. Walker's wife, Carol Walker, said he died at Evelyn's House, a hospice in Creve Coeur, of complications from a stroke.
Over the years, he was active in Missouri Republican politics, at one point running unsuccessfully for the GOP nomination for the U.S. House from the 2nd District in 1992.
From 2003 to 2006, he was U.S. ambassador to Hungary in the George W. Bush administration.
Former Sen. John C. Danforth, who worked with Mr. Walker for decades in political and civic endeavors, said he had a "contagious enthusiasm" and was uniformly positive and upbeat in his approach to issues and people.
"He was a booster of St. Louis, of various good causes and of his many friends," Danforth said.
Mr. Walker was closely identified with Webster University, serving 42 years on its board, including six as chairman. Webster's business school was renamed in his honor in 2005 following his donation of $10 million.
In recent years, his wife said, he was especially interested in the Walker Leadership Institute the couple funded involving Webster and nearby Eden Theological Seminary to bring together business and faith leaders and students.
His career also included stints chairing the Missouri Historical Society and Downtown St. Louis Inc. boards. He also was on the St. Louis Science Center commission and the board of the Urban League of Metropolitan St. Louis.
He also played key roles in various efforts to overhaul the governmental structure in the city of St. Louis and the metro area.
He chaired a committee that worked successfully to pass a statewide constitutional amendment in 2002 to allow St. Louis to make changes in the city's county-type elected offices. But two years later, city voters rejected a follow-up proposal to make such offices appointive.
Former St. Louis County Executive Gene McNary, a longtime friend of Mr. Walker's, said Mr. Walker believed strongly in fostering city-county cooperation and wanted the city to reenter the county as one of its municipalities. "He felt as though that would help our image," McNary said.
More recently, Mr. Walker was the initial chairman of the Better Together organization, which last year proposed a since-discarded plan to merge the city and St. Louis County.
Mr. Walker grew up in Greenwich, Connecticut, the same New York suburb where his first cousin, George H.W. Bush, was reared. There was an unmistakable similarity in their accent and manner of speaking.
After earning an undergraduate degree from Yale University and a law degree from Harvard University, he served in the Air Force in the mid-1950s.
In 1958, he relocated to St. Louis to work for the financial firm founded by his grandfather. In 1976, he moved to Stifel, Nicolaus.
Among other survivors are four daughters, Mary Elizabeth Bunzel of New York City; Wendy Cleary of Sag Harbor, New York; Isabelle Walker of Santa Barbara, California; and Carter Walker of Bozeman, Montana. He also had two stepdaughters, Hilary Roche of Boca Raton, Florida, and Paige Martin of Mill Valley, California; a son, George H. Walker IV of New York City; a stepson, John Martin of Kennebunkport, Maine; a brother, Ray Walker of Brattleboro, Vermont, and a sister, Betty Holden of Black Mountain, North Carolina. He had 16 grandchildren.
A memorial service will be held at 11 a.m. Feb. 22 at St. Peter's Episcopal Church in Ladue.
Daily updates on the latest news in the St. Louis business community.