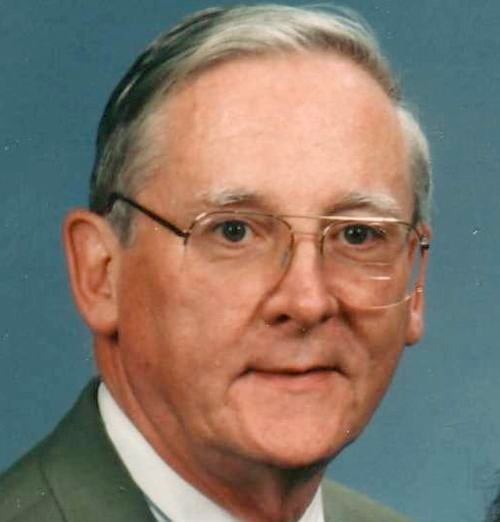 Gerry Gilmore was a premed student at St. Louis University when his Jesuit professor noticed his student's discomfort at dissecting a cat in anatomy class.
Mr. Gilmore transferred to Washington University, where he avoided dead cats by studying architecture. He went on to become one of the principal figures at HOK Inc., helping it grow into the largest architectural and engineering firm in the U.S.
Gerard G. Gilmore died Tuesday (Feb. 7, 2012) at St. Luke's Hospital in Chesterfield following complications from surgery, his firm and a family member said Thursday. He was 75 and lived in Glendale.
Mr. Gilmore's specialty was marketing. During his 40 years with HOK, he helped the firm grow from a young St. Louis architectural office into a national and global powerhouse.
He played a key role in public projects including the America's Center and its expansion, the Edward Jones Dome, the Thomas Eagleton U.S. Courthouse, the St. Louis County Justice Center, Terminal 2 (formerly called the East Terminal) at Lambert-St. Louis International Airport and the Abraham Lincoln Presidential Library and Museum in Springfield, Ill.
As the company's marketing director, his job was to bring in the business and oversee projects.
"He understood the politics of a situation very well and knew how to build the right kinds of relationships and keep them," said Clark Davis, HOK vice chairman.
Mr. Gilmore was born in south St. Louis and attended grade school in Detroit, where his father worked in Chevrolet's accounting department. The family moved back to St. Louis, where Mr. Gilmore earned a scholarship to St. Louis University High School and graduated in 1953.
After graduating from architectural school, he served three years in the Navy. As a young lieutenant, he was assigned to the Naval Shipyard in Charleston, S.C.
He met Mary Cecilia "Cele" Hyland, who was teaching in a Catholic school there. She soon left to join a convent.
Mr. Gilmore told friends she was an "Audrey Hepburn lookalike" and he started a letter-writing campaign that eventually persuaded her to leave the convent.
They married in 1964 at a Catholic church in her hometown of Cedar Rapids, Iowa.
In 1963, Gyo Obata, one of HOK's founders, hired Mr. Gilmore to create the drawings for the University of the West Indies John F. Kennedy College of Arts and Sciences, an eight-building campus in Trinidad. Mr. Gilmore moved to Trinidad as construction architect.
After three years in the Caribbean, he returned to St. Louis and was recruited to join the firm's marketing group. HOK then had a small regional practice. Mr. Gilmore helped the firm win dozens of major projects in St. Louis, New York and Washington.
He was project leader for the Lake Placid Olympic Center in Lake Placid, N.Y., site of the 1980 winter Olympics.
He retired in 2004 as a senior vice president. Mayor Francis Slay proclaimed "Gerard G. Gilmore Day," citing his work on such projects as the One Metropolitan Square Building, where HOK has its headquarters. The company has 25 offices on three continents and 1,800 employees.
A memorial Mass will be celebrated at 11 a.m. Saturday at Mary Queen of Peace Catholic Church, 676 West Lockwood Avenue, Webster Groves. Visitation will be at the church from 9 a.m. to 10:45 a.m. Mr. Gilmore donated his body to St. Louis University School of Medicine.
Among the survivors are a daughter, Anne Ridgway of Glendale; three sons, John Gilmore and Brian Gilmore of Glendale and Steve Gilmore of Sunset Hills; two sisters, Kathleen Kilcoyne of Kirkwood and Gloria "Winkie" Essma of Golden Valley, Minn.; and eight grandchildren. His wife died in March.