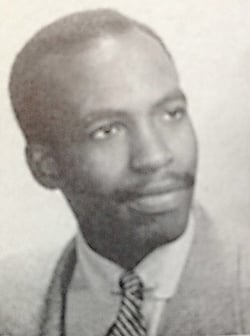 Halevy Simmons, who died last week at age 83, was one of the principal architects on one of downtown St. Louis' major hotels, the Adam's Mark.
His first job, while still studying architecture at Howard University, was as a draftsman for the government during the early 1950s. Government officials hired him on a written application without an interview. Not until he reported for work did they see him in person.
They told him to go home and come back the next day, Mr. Simmons' family recalled Thursday.
When he returned, his bosses assigned him to an office high up in a building where he could look down on the other draftsmen. At first, he wondered why he was getting the penthouse treatment.
He soon realized that he was the only African-American in the office and that he was alone, separated from the white workers, he told his family.
An African-American architect was a rarity then.
Mr. Simmons finished his drafting work, graduated from Howard and started on a career that led him to design buildings in St. Louis and across the country.
Halevy "Hal" Hercules Simmons died April 9, 2013, at his home in Creve Coeur. He had been diagnosed with heart disease, his family said.
He wanted to be a builder. His father was a carpenter in Brooklyn who had immigrated from the British West Indies. His mother was a housekeeper who had immigrated from Barbados.
In high school, one of his teachers told him there was more to building than carpentry. He became interested in architecture.
At Howard University, he met Shirley Herbert while both were students in a nude-model art class. Mr. Simmons came from a humble family, in integrated New York City; she came from a highly educated family in segregated Washington, where she was forbidden to eat in certain restaurants or shop in certain stores.
Mr. Simmons operated his own architecture shop in New York and Montclair, N.J. He earned extra income from a restaurant and bar he owned, but they went out of business during the mid-1970s, and his design work dried up. He moved his family to St. Louis figuring it had more opportunities for a builder.
He met Fred Kummer, president, CEO and owner of HBE, a major designer and builder of hotels, hospitals and medical buildings. There were few, if any, other black architects in St. Louis then, Mr. Simmons' family recalled.
Mr. Simmons applied through the personnel department and eventually ended up face-to-face with Kummer, the founder. They were two strong-willed individuals, who found that they shared a love of design.
"He was a talented guy," Kummer said this week. He made Mr. Simmons one of the lead architects on the Adam's Mark and other projects.
Perhaps the biggest challenge was that Kummer decided to build his hotel on top of an existing office building.
"A lot of people would have torn the office building down and started from scratch," recalled Gene Mackey, past president of the American Institute of Architects-St. Louis. But Kummer felt the existing building was an asset, Mackey said. The designer's job was to make it work.
The hotel opened in 1985. "All of the rooms have a wonderful view of the river and the Arch," Mackey said.
Mr. Simmons quit after about 10 years to become an independent architect. He and Kummer disagreed over a technical issue, the details of which Kummer says he no longer remembers.
"I wanted to do something one way, and he disagreed," Kummer said. "He was a very independent man with a mind of his own."
Among his later projects, Mr. Simmons restored buildings for the St. Louis School District.
"When you observe the completed buildings, note with a gleam that there is a little bit of you represented there," schools Superintendent Jerome B. Jones wrote to Simmons in 1990.
Mr. Simmons helped steer needy youths toward college. He played tennis regularly with Dr. Jerome Williams and Dr. Les Bond, two physicians who were involved in civic and civil rights affairs. Both died last month.
Visitation will be at 10 a.m. today at Austin Layne Normandy Chapel, 7733 Natural Bridge Road in Normandy, followed by a funeral service at 11 a.m. The body will be cremated.
Among the survivors are his wife of 57 years, Shirley Simmons of Creve Coeur; a daughter, Tracey Simmons Fisher of Dacula, Ga.; two sons, Stephen Halevy Simmons of Seattle and Scott Herbert Simmons of Creve Coeur; and six grandchildren.
Michael Sorkin is a reporter at the Post-Dispatch. Follow him on Facebook.