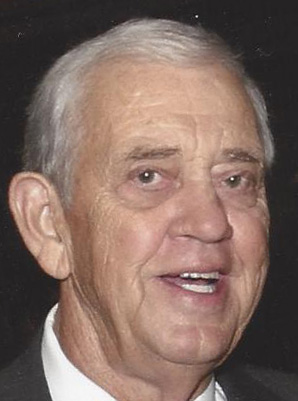 Jim Mulvaney was a milkman who started in politics as a Flordell Hills alderman, won election to the Missouri House and became chairman of the Missouri Public Service Commission.
He called himself one of the "little guys."
Others called him the first "consumer voice" on the PSC, which sets utility rates. By the end of his term, a phone company lawyer complained of a "radical shift" in the PSC's staff, which he said had become overly aggressive.
"Hell yes, the staff should be aggressive," Mr. Mulvaney responded. He said it was like a consumer shopping for a new car. "I'm going to scrutinize the price — that's the way it should be."
James Patrick Mulvaney died Tuesday (April 3, 2012) at his home in Florissant. He was 78 and had been battling congestive heart failure, his family said Wednesday.
Mr. Mulvaney was elected to the House in 1966 and served nine years. "Private interest legislation flies through the Legislature," he observed, "but people legislation has to sit back."
When he wasn't legislating, he held jobs driving milk trucks for Valley Farm Dairy, Pevely Dairy and Chapman Dairy.
He ran for office, he said, because some of the "big shots" in politics where he lived told him that a milkman should not be a legislator.
"It got me so damn mad," he told the Post-Dispatch in 1972, "I ran and beat them."
Mr. Mulvaney was the first chairman of the House Consumer Protection Committee, which the House has since abolished.
He sponsored and helped pass tax relief for seniors; elimination of arbitrary cancellation of auto insurance; and a requirement that public schools educate all children, regardless of disability.
He helped establish a Regional Diagnostic Center for people with disabilities and helped create the Office of the Public Counsel, which represents the public in cases before the PSC.
He fought unsuccessfully to strengthen state laws protecting the public from natural gas pipeline explosions that had leveled dozens of homes and buildings.
Mr. Mulvaney sometimes imagined hordes of people marching on the state Capitol to 'string us up."
To him, the hordes represented workers, the elderly, low-paid government employees, parents of people with disabilities and relatives of prisoners — all people whom Mr. Mulvaney said the government usually ignores.
"Our priorities are all backwards up here," he said of legislators in Jefferson City.
In 1975, Gov. Christopher "Kit" Bond, a Republican, appointed Mr. Mulvaney, a Democrat, to the PSC. In 1977, Gov. Joseph Teasdale, a Democrat, named him chairman of the commission.
He was the primary backer of the Consumer Bill of Rights, which set uniform billing practices for all public utilities.
He left the commission to work for the U.S. Labor Department in Kansas City. He helped develop the St. Louis Job Corps program that provided training for thousands of young people.
He later became a lobbyist for the old Bi-State agency (now Metro) and for the Missouri Credit Union League.
He worked until his death for the Bellefontaine Habilitation Center in North County. In the Legislature, he got funding to improve state facilities. He later worked without pay to lobby for the center.
The center named two buildings for him. The old Globe-Democrat gave him two of its Meritorious Service awards. In 1977, the Missouri Association of Consumers gave him its first award.
Mr. Mulvaney grew up in the Walnut Park neighborhood. His father was a milk driver for Pevely Dairy. He attended the old De Andreis High School before dropping out and joining the Marines in 1953. In the Marine Corps, he earned his GED and was a crew chief with the 3rd Marine Air Wing.
When he retired from lobbying in 1999, the Missouri House and Senate recognized him for his "honesty, integrity, quick wit, ready smile, and strong dedication to the people of Missouri."
After that, he spent Tuesdays delivering food for Meals on Wheels and Wednesdays volunteering at St. Augustine Wellston Center, a food pantry in Wellston.
The family will hold a memorial gathering from 1 to 8 p.m. Monday at the Buchholz Spanish Lake Mortuary, 1645 Redman Avenue. A Mass will be celebrated at 11 a.m. Tuesday at Blessed Teresa of Calcutta Catholic Church, 1050 Smith Avenue, Ferguson.
Survivors include his wife of 55 years, Elizabeth "Betty" Mulvaney of Florissant; four daughters, Sharon Topliff of Springfield, Mo., Pam Meyer of Florissant, Kelly Stufflebean of Kansas City and Jane Lorhan of Maryland Heights; two sons, James Mulvaney of Mount Vernon, Ill., and Patrick Mulvaney of Lake Saint Louis; 16 grandchildren and one great-granddaughter.