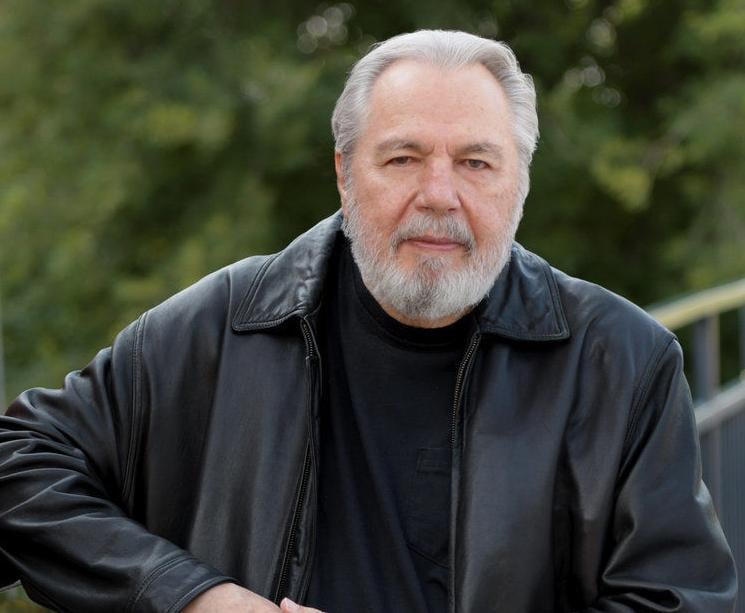 John Lutz, dean of St. Louis crime writers as author of more than 50 books, died Saturday (Jan. 9, 2021) after living for years with Lewy body dementia and a recent diagnosis of COVID-19. He was 81.
Mr. Lutz died in a nursing facility in Chesterfield, said his wife, Barbara. Although his last coronavirus test was negative, he spiked a fever the day he died, she said.
His dozens of thrillers had found more human-inflicted dangers lurking in places from St. Louis to Florida, where he split time for many years. Violence was common in some of his books about serial killers, as was an understanding of the weary determination of detectives and police officers.
Adept at almost every crime genre, Mr. Lutz was a past president of the Mystery Writers of America and Private Eye Writers of America and had won awards and nominations from both groups, including for his more than 200 short stories. In 1995, he received a lifetime achievement award from the Private Eye Writers.
When Bouchercon, a convention for whodunit authors, came to St. Louis in 2011, Mr. Lutz was billed as a "local living legend."
Perhaps his most famous novel was "SWF Seeks Same," which evoked the possible dangers of finding roommates through classified ads. It was made into the 1992 movie "Single White Female" with Bridget Fonda and Jennifer Jason Leigh. Another novel, "The Ex," became an HBO movie.
"The chemistry between a serial killer and his pursuer is important," Mr. Lutz once told writer Ellen Harris in an interview for the Post-Dispatch. "It's not enough to have a good villain and his nemesis; there must be parallels below the surface, a subterranean emotional relationship. Like Sherlock Holmes and Moriarty, and God and Lucifer in 'Paradise Lost.'"
When young, Mr. Lutz worked as a switchboard operator for the St. Louis Metropolitan Police Department. "That job also gave me insight into how cops think," he told Harris in 2003. "Police think they are aware of a depth of the dark side of human nature that other people can't imagine."
His writing idol was Ray Bradbury, who was known more for science fiction but who also wrote mysteries. After introducing himself to Bradbury at a conference, Mr. Lutz went back to his wife and said, "I embarrassed both of us."
Although he was born Sept. 11, 1939, in Dallas, his parents, John and Jane Lutz, moved back to St. Louis when he was 2, buying a house behind the Hi-Pointe Theatre.
While reading a Bradbury story on the house's porch at 13, he said, "it struck me that Bradbury was doing something extraordinary with words. That words could be used to convey more than information.
"I wondered if I could do that, too," he told Harris.
The Southwest High School graduate met his future wife at 18 while working as an usher at the Tivoli Theatre. She was a candy girl. "He used to hate that story because it was so corny," Barbara Lutz said. They married at 19 and raised their three children in Webster Groves.
Mr. Lutz was already writing stories as a teen, although it took a few years for him to be published. For a time, he worked in the warehouse of the old Bettendorf-Rapp grocery stores or drove trucks, his wife said.
They knew that payment for short stories would not be enough for a family and that he would have to write novels. His first, "The Truth of the Matter," was published in 1971.
"I believe his early fiction was private eye and stressed characterization, while his most recent books were plot-heavy thrillers," his friend, writer Robert Randisi, wrote in a direct message on Facebook.
Mr. Lutz eventually became a full-time writer, publishing one or two books a year.
Despite Mr. Lutz's dementia with Parkinson symptoms, he had several novels finished and recently published, including "The Havana Game" in 2019. The paperback is set in Sarasota, Florida, where the Lutzes long had a condo.
"I just clock in and clock out five days a week, and miraculously I get paid," he said in 2003. "I write every day as if it's a job, and I enjoy it as much as I did when I began. It's the writing of a book that I enjoy and not so much having the book come out."
In addition to his wife, Mr. Lutz is survived by his children, Steven Lutz and Jennifer Lutz-Bauer; a sister, Jacqui Stoneman; a brother, Jim Lutz; and several grandchildren. He was preceded in death by a daughter, Wendy Murray, and sister, Jane Jones.
No services are planned at this time.