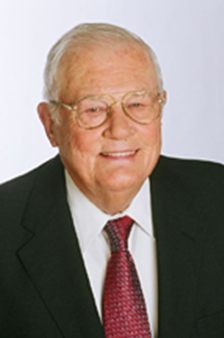 ST. LOUIS • As a young St. Louis assistant circuit attorney, Raymond Anthony Bruntrager Sr. would listen in frustration as his courtroom nemesis, defense lawyer Mark Henley, tried to score points with prospective jurors by noting that he was a decorated World War II pilot.
One day, Bruntrager beat Henley to the draw, citing his own credentials as a decorated military pilot from the war. As courthouse lore has it, Henley stood up and demanded that the judge order Bruntrager to tell the court just which side's planes he flew.
The quick-witted adversaries eventually became friends.
Mr. Bruntrager died Wednesday (Dec. 17, 2014) of pulmonary complications at Missouri Baptist Hospital. He was 90 and lived in Des Peres.
Bruntrager tried more than 50 felony cases before founding his own firm in 1954, according to family members — many of whom followed him into careers in criminal justice.
Until about one year ago, Mr. Bruntrager still put in 40 hours a week at his practice, according to a son, Neil Bruntrager.
"He truly was a lion of the profession," the younger Bruntrager said. "It wasn't a job to him, it was a vocation. And he was a professional in every sense of the word, a fierce advocate of justice, and we are mere shadows of what he was."
Mr. Bruntrager was born and raised in Queens, N.Y. At 18, he joined the Army Air Forces, where he met his wife, Mary Alice (née Roche).
At 19, Mr. Bruntrager was accompanying a fellow pilot on the way to the birth of man's first child on April 23, 1943, when they encountered dense fog near New York and hit the side of a mountain, Neil Bruntrager said.
Mr. Bruntrager awoke to find his legs on fire. He freed himself and went back to the burning plane to rescue his friend, carrying him about two miles before a sheriff's deputy found them. The friend did not survive. Mr. Bruntrager earned a Soldier's Medal for his effort.
After his military service, Mr. Bruntrager moved to St. Louis, his wife's hometown, and used the GI Bill to pay tuition at the St. Louis University School of Law.
In 1955, Mr. Bruntrager founded his own firm downtown. His son-in-law, Charles H. Billings, later joined the practice, which became Bruntrager & Billings and is now based in Richmond Heights.
"He was a big civil rights advocate," Neil Bruntrager said, recalling a time when his father represented a group called the Black Liberators during the 1960s.
Talk of courtroom drama dominated his family's dinnertime conversation, the son said, and drew family into the profession. Mr. Bruntrager's grandson, Peter, is close to being the 14th descendant to go into law.
"He treated people with respect," Neil Bruntrager said. "To this day, I have people who call the office to say, 'I was a client 50 years ago and I wanted to see how he was doing.' You can only hope to begin to touch a fraction of the lives he touched for the good." One of those phone calls came from the daughter that Mr. Bruntrager's co-pilot never got to meet.
The Soldier's Medal will be on display during visitation from 4-9 p.m. Friday at O'Sullivan-Muckle Mortuary, 13996 Olive Boulevard.
A memorial Mass will be at 10 a.m. Saturday at St. Gerard Majella Catholic Church in Des Peres, followed by burial at Calvary Cemetery.
Mr. Bruntrager was preceded in death by his wife and his eldest son, Raymond A. Bruntrager Jr. Survivors, in addition to his son Neil of Webster Groves, include two other sons, Edward "Ned" Bruntrager of Fairfax, Va., and Dan Bruntrager of Des Peres; two daughters, Mary Pat Schroeder and Kathleen Billings, both of Des Peres; 21 grandchildren; and 17 great-grandchildren.
Memorial contributions may be made to the Legal Support Services Group in care of Bruntrager & Billings, 1735 South Big Bend, Richmond Heights, Mo. 63117.