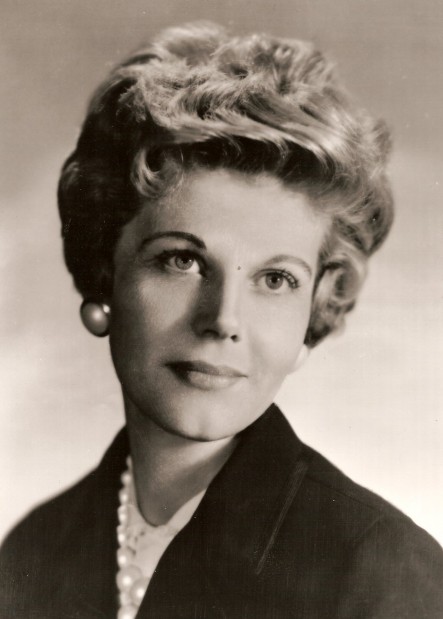 Edna "Taffy" Wilber, the wife of a St. Louis Cardinals player who made a name for herself in the public relations industry and for her work in the community, died Monday (Aug. 2, 2010) at a hospice in Sarasota, Fla.
She was 85 and had suffered from Alzheimer's disease and lung problems.
Mrs. Wilber, who was born in Del Rio, Texas, got the name of "Taffy" as a child because of her hair color, said her son, Bob Wilber of St. Paul, Minn.
During World War II, Mrs. Wilber earned the title "Miss Air Force-San Antonio" at Duncan Field. It was there that she met Del Wilber, a young Army Air Forces officer who was the catcher on a service baseball team. They married on Dec. 21, 1943.
Del Wilber signed with the Cardinals in 1941 but had to wait until after the war to join the organization. He spent six of his 11 major league playing seasons with the Cardinals.
The Wilbers had five children, and the family spent summers traveling across the country to follow Del Wilber's baseball career — as a scout, coach and manager after his playing days had ended. The family always kept a home base in Kirkwood, where the children were reared.
In the early 1960s, Mrs. Wilber landed a job with KMOX Radio, hosting a show called "Taffy On The Town."
In the mid-60s, she became the director of women's and children's activities for the Cardinals. She was responsible for the hiring of the first female "usherettes" at Busch Stadium, and she co-founded the "Pinch Hitters" organization to formalize the charitable functions of players' wives. Mrs. Wilber later opened a public relations agency, Taffy Wilber and Associates. It did a lot of work helping senior citizens and young students.
She spearheaded a learning/mentoring program entitled "The Student and the System," which brought select high school students together with business leaders, politicians and other influential members of the community.
The Wilbers moved to St. Petersburg, Fla., in the late 1990s. Del Wilber died in 2002.
Services will be private.
In addition to her son, among the survivors are two other sons, Del Wilber Jr. of McLean, Va., and Rick Wilber of St. Petersburg, Fla.; two daughters, Cynthia Wilber of Palo Alto, Calif., and Mary Lynn Smith of Sarasota; and 10 grandchildren.