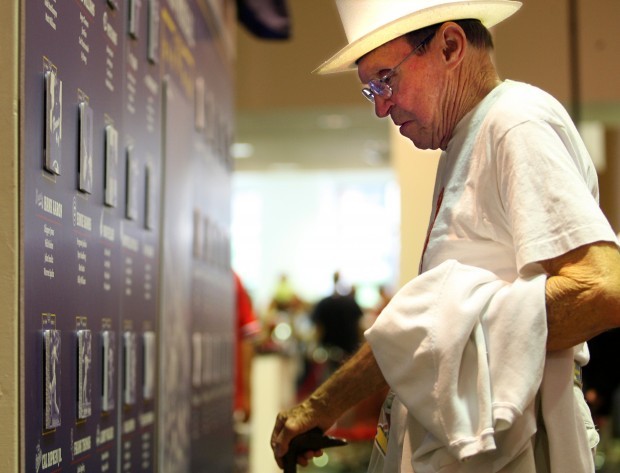 Tom Wehrle, who died this week at age 86, was a key player in St. Louis County government. As the county counselor, he was a right-hand man to Gene McNary, the longtime county executive.
His job as the county's chief lawyer put him in the middle of many controversies.
When the football Cardinals threatened to leave town, Mr. Wehrle helped McNary come up with an ambitious plan for a domed stadium in Riverport to keep the team here. But they ran into opposition from St. Louis Mayor Vincent Schoemehl.
Mr. Wehrle also helped his boss with what turned out to be an unpopular plan to slash the number of municipalities in St. Louis County to 19.
"I relied on him heavily," McNary said Thursday. "We took some bold stands, but I was always confident that I was following the law, and that was because of Tom. He was a consummate lawyer."
Mr. Wehrle was known for his cowboy hats as well as his ability to think on his feet. He could swiftly analyze a legal file and then argue a case in court without referring to notes.
Outside the courtroom, there was one subject on which he didn't act so quickly: He and his fiancée, a paralegal in the county counselor's office, dated for 25 years before deciding to marry.
Once married, they saw each other every day but continued to live in separate homes, she in Ladue and he in the farmhouse in Eureka where he was reared. They kept their own dogs at each house.
Thomas Wayne Wehrle died Tuesday (Feb. 5, 2013) at Creve Coeur Manor nursing home. He was diagnosed with Alzheimer's disease two years ago, his wife said this week.
Mr. Wehrle's grandfather was a foreman for Pevely Dairy and bought a farm in Eureka during the 1880s. Mr. Wehrle grew up with goats, peacocks and hens and helped milk cows. When he became county counselor, he held office Christmas parties at the farm house where he continued to live.
He graduated from Eureka High School and, with World War II under way, volunteered for the Marines at 18. In the Pacific theater, a sniper shot him in the chest. After recovering, he was sent home and graduated from the University of Missouri and its School of Law.
At first he practiced law at his father's office in Clayton. In 1964, he joined the county counselor's office. County Supervisor Lawrence Roos named him county counselor in 1973 and McNary later retained him.
Mr. Wehrle's office was next to McNary's on the ninth floor of the county administration building. The two became friends, and McNary regularly sent Mr. Wehrle to Jefferson City to represent him.
In court, lawyers may request a change of judge. But Mr. Wehrle told his staff attorneys to do the best they could before whatever judge was assigned.
"It was a message of respect for the court and good training for a young lawyer," said Carolyn Whittington, now a judge in St. Louis County Circuit Court.
One case pitted Mr. Wehrle against two of his friends. Jack Patty and F.J. "Pete" Vasel were two popular St. Louis County police officers who were accused of wrongdoing and fired. Mr. Wehrle defended the county against the men when they appealed. The sensational case made front-page news; both men eventually were cleared of all charges.
"It was a difficult case for him because he had represented them" as police officers, recalled Bob Grant, the deputy county counselor.
Another headline-making case involved the county building where Mr. Wehrle worked. In the 1980s, some bricks fell off the building and experts warned that three exterior walls were in danger of collapse.
Although the building was then about 15 years old, Mr. Wehrle was able to convince an unhappy contractor to return and perform the necessary repairs.
In 1990, Mr. Wehrle retired after he was asked to do so by H.C. Milford, McNary's successor. Mr. Wehrle later went into private practice and retired from Gallop, Johnson & Neuman in 2011.
Mr. Wehrle was divorced from his first wife, with whom he had two children.
He married Mary Ann Sunderland in 2000 after 25 years of courtship. "My sister was pressuring us and we finally set a date," Sunderland recalled.
She kept small dogs, including a Maltese, at her home, while he kept big dogs — German shepherds that he raised and trained in Schutzhund, the German sport of dog training.
A memorial service will be held from 4-7 p.m. Feb. 20 at Oak Hill Funeral Home, 10301 Big Bend, Kirkwood. The body will be cremated.
Survivors, in addition to his wife, include a daughter, Tommie Lathuras-Wehrle of Milford, Conn.; a son, Daniel Wehrle of Sunrise Beach, Mo.; and three grandchildren.
Michael Sorkin is a reporter at the Post-Dispatch. Follow him on Facebook.
Obituaries Newsletter
Sign up to get the most recent local obituaries delivered to your inbox.