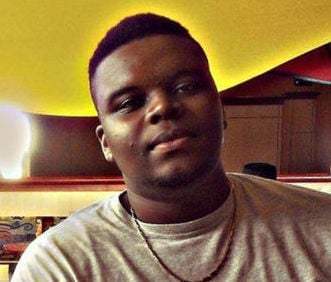 When St. Louis County Police conducted a followup interview of two construction workers who witnessed the Michael Brown shooting, a detective focused not on what they had seen but on a single word one of the men had said to Brown: "wax."
Pot smokers use the term to describe a process that concentrates marijuana's most active ingredient — tetrahydrocannabinol (THC) — into a highly potent sticky tar.
The worker told police he had made an offhand remark that Brown should try waxing to get a better high. But he said Brown told him he had never heard of it.
Waxing became a theme in a three-month long St. Louis County grand jury investigation.
Throughout months of prosecutors questioning witnesses, marijuana use, which may have involved waxing, was frequently presented as a potential explanation for why an unarmed 18-year-old attacked a police officer and then charged head first into a barrage of bullets, as Ferguson police Officer Darren Wilson has testified.
But investigators did not present a single witness to the grand jury who said they saw Brown wax or saw him use marijuana the day of the shooting.
Even expert witnesses told jurors it was impossible to say how marijuana would have affected Brown.
Earlier this week, the grand jury decided not to indict Wilson for fatally shooting Brown on Aug. 9, and as promised St. Louis County Prosecuting Attorney Robert McCulloch released thousands of pages of transcripts and investigative reports.
The documents reveal that a toxicology report showing Brown had marijuana in his system — along with testimony about an encounter Brown had with two construction workers shortly before Wilson shot him — played a significant role in the investigation.
One of the workers told the grand jury that Brown had approached him as he was trying to cut through some tree roots. He noticed Brown had a small amount of marijuana on him.
"You ought to try this wax stuff," the worker said he had told Brown.
Investigators and the prosecutors would latch on to that suggestion to account for Brown's combative behavior as described by Wilson.
Wilson told investigators that Brown initially attacked him in his car, punching him repeatedly and trying to grab his gun. Then, Wilson said, Brown fled, only to stop, turn around and charge back at him. Fearing for his life, Wilson shot Brown multiple times, killing him, the officer said.
Wilson described Brown as a "demon," and testified that Wilson felt "like a 5-year-old holding onto Hulk Hogan" during Brown's initial attack.
Early in the investigation, Dorian Johnson, Brown's friend who was with him when he died, told detectives about the conversation Brown had had with the worker about waxing. In his testimony, Johnson denied that Brown had consumed any marijuana at all that day.
A detective told jurors the term "waxing" didn't mean much to him at first. Then the results of Brown's toxicology reports came back on Aug. 15 showing he had high levels of THC.
The detective testified that the medical examiner's office told him the level in Brown's system "could have potentially caused a loss in perception of space and time and there was also the possibility that there could have been hallucinations."
Those comments, in light of Johnson's statement, caused investigators to suspect that the workers may have sold Brown a wax form of marijuana, a detective told the grand jury.
For his part, the construction worker told the grand jury that he and Brown had a rambling conversation about Jesus and anger management. He said he saw that Brown had a small amount of marijuana in a piece of paper. Brown said he planned to smoke it. The worker said he then suggested that Brown try waxing.
Then Brown and Johnson went to Ferguson Market & Liquor where a video captured Brown stealing cigarillos and shoving a clerk.
St. Louis County police brought the construction workers in for questioning and advised them of their rights. Neither admitted to giving Brown the substance.
But prosecutors still pursued the waxing angle.
The jurors first heard the term from a police chemist Oct. 7, as he was being questioned by Assistant Prosecuting Attorney Kathi Alizadeh.
"If one were to ingest that, you would be consuming a higher level of THC than you would if you were to have smoked or ingested the plant material?" Alizadeh asked.
The chemist answered, "Yes, you would."
The questions did not lead to any mention of Brown's waxing, though, leaving it unclear why they had been raised.
In the coming weeks, jurors would hear 44 other references to waxing, from prosecutors and other expert witnesses, whose testimony never seemed to provide a clear answer as to whether it had played a role.
According to a toxicology report, Brown had 12 nanograms of THC per milliliter of blood in his system. There were no other drugs detected.
In testimony before the grand jury on Nov. 4, the chief toxicologist for St. Louis County said it was clear Brown had consumed a lot of marijuana because it would take a lot to get a 300-pound person to the level of 12 nanograms of the compound THC in his bloodstream.
"In a small person, say like 100 pounds, to get to 12 nanograms wouldn't take a lot," the toxicologist said. "A single joint could easily do that. But when you talk about a larger body mass, just like drinking alcohol, larger persons can drink more alcohol because they have the receptacle to hold it."
The toxicologist said it was impossible to conclude if Brown was a chronic marijuana user or had a single acute dose within hours of his death — or how either would have affected Brown.
Alizadeh then asked, "But you cannot draw any conclusions that he was suffering or that he was experiencing hallucinations or having a psychotic break?"
The toxicologist answered: "That is correct."
Alizadeh asked if the toxicologist was familiar with "waxing."
The toxicologist said it was a process of using gases such as butane to concentrate the intoxicants in the marijuana for "a lot more bang for the buck."
Assistant Prosecuting Attorney Sheila Whirley asked the toxicologist, if Brown had been "waxing," would there be traces of butane in his system?
The toxicologist said no: Butane was too volatile.
So there was no way to tell if Brown was waxing? she asked.
No, the toxicologist said.
Dr. Michael Baden, the private pathologist retained by the Brown family, disputed that Brown had a large amount of THC in his body. In fact, Baden told jurors Brown had a "relative small amount, and how it affects somebody varies."
"It doesn't make people go crazy," he said. "So toxicology, everything it has and everything it doesn't have has significance, and in this instance, I think marijuana is significant that he smoked marijuana, but 99 out of 100 people taking marijuana aren't going to get in a fight with a police officer over it, in my experience."
Alizadeh then asked Baden three times if he was a toxicologist, twice if he was a pharmacologist, twice if he has been certified as an expert in toxicology and once if he has been certified as an expert in pharmacology.
Baden said he wasn't a toxicologist but had expertise in interpreting toxicology reports as a medical examiner.
In fact, he said, he ran a toxicology lab in New York City for five years.
On the final day of testimony, Nov. 21, prosecutors again brought up waxing, acknowledging through questioning of a homicide detective that police had found no evidence that Brown had gotten wax from the workers.
Walker Moskop of the Post-Dispatch contributed to this report.