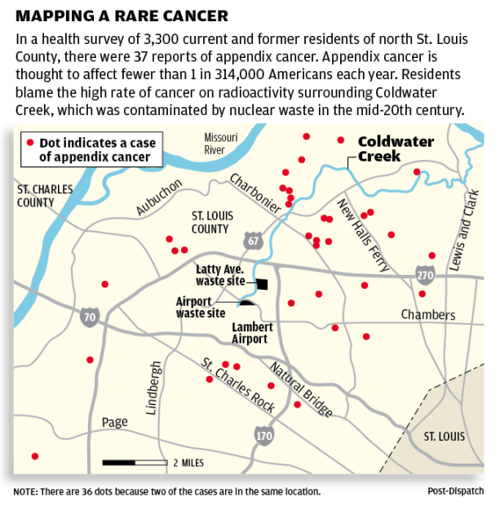 St. Louis County's health director says his department will work closely with federal researchers to develop a study of the possible health effects from radioactive contamination in Coldwater Creek.
It's a slight change from the St. Louis County Department of Public Health's original plans to design and conduct its own study of illnesses associated with the contaminated creek in north St. Louis County.
Dr. Faisal Khan, director of the health department, said the Agency for Toxic Substances and Disease Registry will strengthen the final study by providing both expertise and a scientifically accepted brand.
"It's not about resources," Khan said in an interview on Wednesday. "It's about expertise."
Earlier this year, Khan detailed plans for a cohort study, a type of investigation that would have compared a group of people exposed to Coldwater Creek years ago with a control group.
Residents who played in Coldwater Creek as children worry that too many of their friends and neighbors have developed cancer. A 2014 survey from the Missouri health department found higher-than expected rates of leukemia in the areas near Coldwater Creek.
Using resources such as old high school yearbooks, Khan and St. Louis County health department researchers planned to identify people who grew up near the creek. They wanted to publish a peer-reviewed study on the group's health conditions to begin driving scientific interest in the issue.
But the study design raised questions about how to control for other environmental and behavioral factors, such as smoking or workplace exposure to chemicals.
"The trouble with those studies is, A, they are very expensive, and two, they leave a lot of other questions unanswered," Khan said. "The more we delved into the design of that, the more we realized the list of confounding factors is huge."
The department wanted as rigorous a study as it could get. Khan said criticism of a less-than-flawless study could have distracted from the department's ultimate goal, which was to drive both federal and academic interest in Coldwater Creek and any possible link to cancer rates.
Khan said that several months ago, St. Louis County Executive Steve Stenger instructed him to "to find the relevant federal partners." Khan reached out to the Toxic Substances agency, which confirmed in October it had received authorization to conduct a public health assessment.
St. Louis County's team of epidemiologists will still be involved in designing the public health assessment "from the ground up." But the agency has health physicists, toxicologists and other specialists the county doesn't have on its staff. It also has access to data sets that St. Louis County doesn't, Khan said. Overall, he said he is "delighted" the agency is working with the county.
The agency hosted a public meeting on the new study last week, but representatives did not mention St. Louis County's involvement. Representatives from ATSDR did not return messages seeking comment.