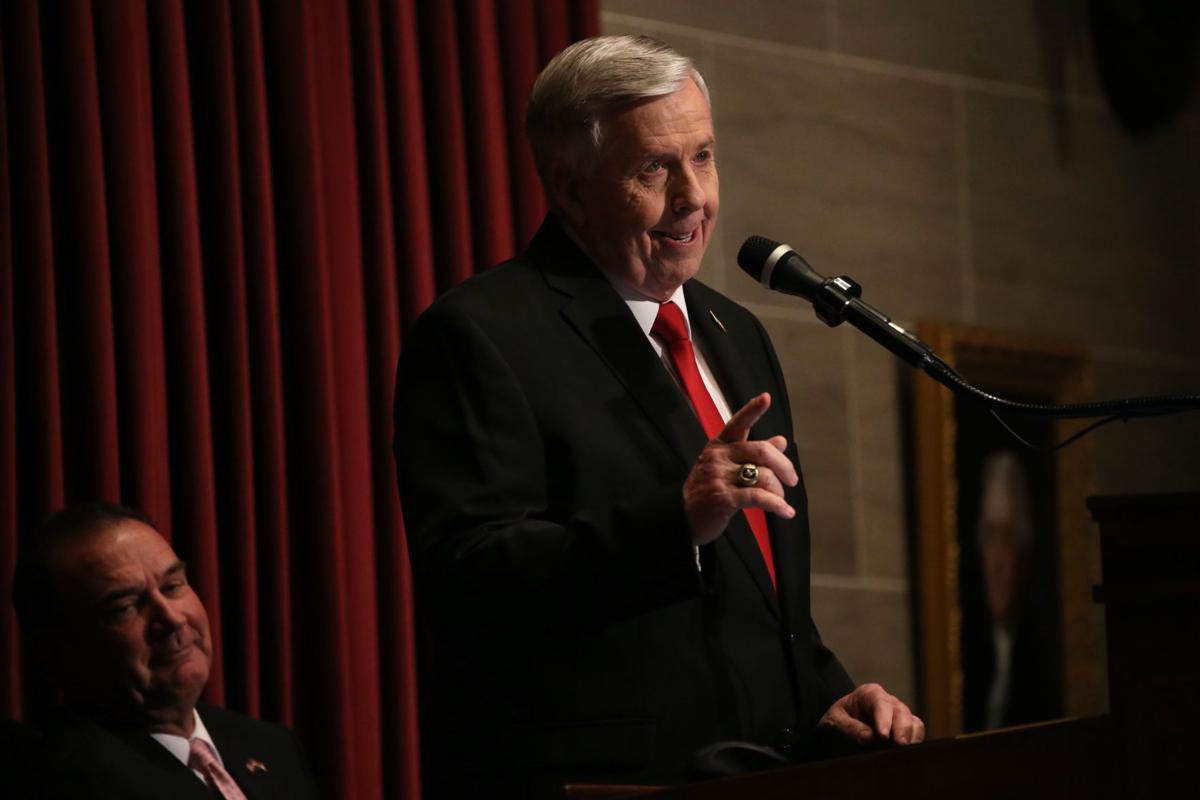 JEFFERSON CITY — African American clergy on Friday questioned Gov. Mike Parson's decision to begin reopening the state on May 3 and pressed him to increase COVID-19 testing in the St. Louis area.
Parson and aides, via a conference call, spoke with members of the St. Louis Metropolitan Clergy Coalition for about 40 minutes.
The conference call came as officials across the region and nation say the coronavirus is disproportionately affecting black residents. It also comes as the state increases the number of tests and weighs how to spend billions of dollars in federal stimulus aid.
Asked when the state would offer "on-demand" testing to people who currently can't access it, Parson said, "To be perfectly honest, we're not there right now."
The state has opened five testing sites in north St. Louis and St. Louis County, said Dr. Randall Williams, director of the Department of Health and Senior Services.
"People still have to get there," said the Rev. Darryl Gray. "And we're talking about elderly; we're talking about unemployed. We're talking about limited access to public transportation."
Williams said after the conference call that the department was working on deploying a test by Abbott Laboratories that could deliver results in about 13 minutes.
He said the state could use the device in a van that would travel to different locations, such as churches or specific neighborhoods.
Williams said the Centers for Disease Control and Prevention had sent the state 15 testing machines, each about the size of a bread box, but the state still was awaiting the cartridges it needs to use the tests.
"We think those machines will be incredibly helpful once we get the cartridges," Williams said after the conference.
Williams said the state's testing capacity on Friday was about 7,000 per day, and said the state's goal was to increase testing capacity to 10,000 per day by May 4.
Jeff Earl, Parson's legislative director, said the state also was awaiting guidance from the federal government on how to spend the stimulus money. He expected the guidance by April 24.
"They have not got the guidance down to us yet to even figure out how to distribute the money," Parson said. "So we're all trying to get through that ourselves, but as far as having input into it ... once we kind of get all the guidance ... I think we can share that with you and then you can have input."
Parson was also asked "what is your justification for opening up the state when we don't have testing?"
Parson said urban areas have been hit harder than rural areas, which factored into his decision to start reopening the state on May 3, even though cities are planning to roll back restrictions later.
"You've got to look at the entire state," Parson said. "That's why we've got to make the adjustments to still make sure the cities maintain" their stay-at-home orders.
Parson said the state would open up gradually, and said congregations, when they do gather in person, still would need to practice social distancing.
There will be "different phases over a length of time to get the economy going," he said.
"I know we're going to be able to do more testing," Parson said. "I firmly believe that that's going to happen, and we are doing that as I speak."
He said the state would be able to shift resources based on where there are "surges" and "hot areas."
Williams said the state would like to launch widespread antibody testing — in order to track who might have built up immunity to the disease — but said other testing would still be restricted to some degree.
"We want to make that widely available," Williams said of antibody testing. "For the other testing, we want to make sure that we're using that in selective populations."
He said after the conference call that symptomatic people and people in disease clusters would be given priority access to tests as the state moves into a "recovery" phase.
Concerned about COVID-19?
Sign up now to get the most recent coronavirus headlines and other important local and national news sent to your email inbox daily.