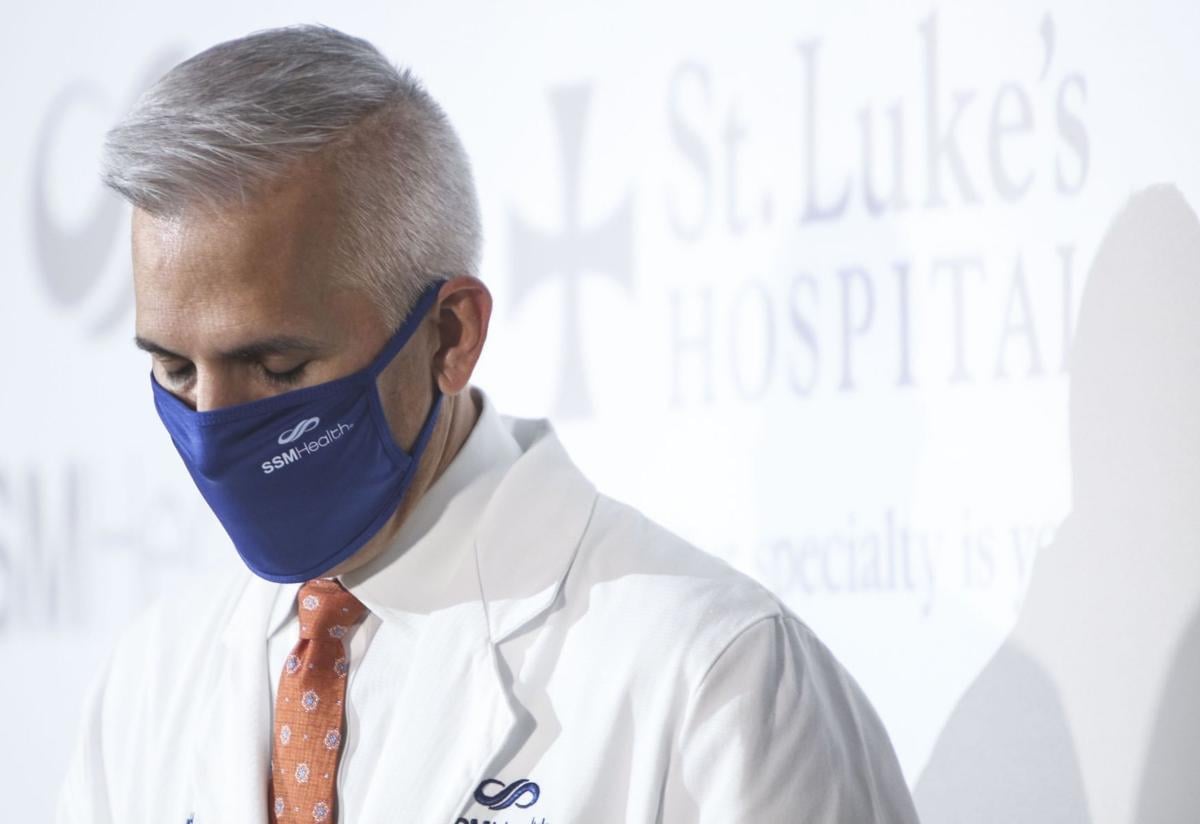 ST. LOUIS — COVID-19 infected and hospitalized more people in a single day across Missouri and Illinois than ever before, officials said Friday, as the unprecedented spread of the coronavirus threatened to soon leave St. Louis-area hospitals without enough beds or staffing to care for any new patients.
"The virus is hitting us harder now than it ever has," said Dr. Alex Garza with the St. Louis Metropolitan Pandemic Task Force.
"Let me say that one more time — just about any way you look at this, COVID is hitting us harder now more than ever."
The task force on Friday reported the seven-day average number of new daily hospitalizations reached 73, a record. The average was 35 a month ago.
There were 522 patients hospitalized with COVID-19 across the hospitals, a rate that hasn't been seen since April. Fewer than 250 people were hospitalized at the beginning of October.
The task force data lags by two days and includes hospitals in the BJC HealthCare, Mercy and SSM Health systems plus St. Luke's Hospital.
"There is so much virus in the community at this point that it's frankly, beyond frightening," Garza said.
"There is really no safe harbor now, whether it's rural, suburban or urban — we're seeing admissions from all over."
As of Friday, hospitals in the St. Louis region were at 90% capacity and in some intensive care units, already over capacity, Garza said.
"This kind of stress in our system is extremely dangerous," Garza said.
Statewide, Missouri on Friday reported a record daily increase in COVID-19 infections of 3,931 new cases and a record 1,834 people hospitalized with the disease in a single day. The rolling seven-day average of new infections reached a record 2,697 cases a week.
The state reported 25 COVID-19 deaths on Friday, bringing the state's death toll from the virus to 3,131. At least 200,507 people in Missouri have tested positive for COVID-19 since the start of the pandemic.
In Illinois, new cases of COVID-19 hit a record high of 10,376, bringing the state's total COVID-19 cases since the start of the pandemic to 465,540. The state reported 49 deaths due to COVID-19 on Friday, bringing the state's death toll to 10,079.
Gov. J.B. Pritzker on Friday was tested for COVID-19 after a possible exposure to the virus, his office said in a news release. Pritzker may have been exposed to the virus Monday during a meeting in a large conference room.
'This needs to stop'
In the St. Louis region, informal gatherings at workplaces and residences are driving a large percentage of new COVID-19 cases, Garza said. Numerous outbreaks were traced to people removing masks at work to eat lunch with colleagues, he said.
"This needs to stop," Garza said. "You have to act like the virus is around you all the time, and I know that's hard, but that's the only way we can get through this."
In the weeks after the COVID-19 pandemic first hit the U.S., states and cities across the country issued shelter-in-place orders that helped limit the virus' spread, Garza said. And hospitals had not yet been overwhelmed by COVID-19 patients, so they had the space and staffing necessary to treat a fast increase in COVID-19 patients without being overwhelmed, he said.
But more than eight months into the pandemic, hospitals are now struggling to retain enough staff, he said. Many are getting infected by COVID-19 not just at work, but in the general community, he said. Others have quit entirely amid frustration.
"For weeks now front-line workers have been overworked, discouraged and frankly put at risk," Garza said. "Things now are already worse now than they have been, and they are getting worse day by day."
Garza did not call for officials to issue stay-at-home orders, but said that without more people in the community wearing masks and social distancing, health orders could become necessary.
St. Louis Mayor Lyda Krewson said Friday that the city aims not to enact another stay-at-home order, but is considering the option.
"I'm sorry to say it's not something that's out of the question," Krewson said.
A shutdown would further affect businesses at a time when the federal government has not provided more aid to local governments, Krewson said. The city on Friday extended a ban on evictions until 2021 and extended until 2022 a waiver on fees for restaurants seating people outdoors on sidewalks.
But Krewson urged residents to avoid gatherings during the coming holidays.
"These big family gatherings," she said, "just should not happen."