ST. CHARLES COUNTY — The area's major rivers are continuing their protracted fall from near-record heights — just finally about to dip below the designation for "moderate" flood stage in places like Grafton, for instance.
Across the Mississippi River in St. Charles County, that means that, as of last week, people like Kathy and Kenny Vollmer can finally drive to and from their South Shore home for the first time in months. With the exception of a few days in April, the couple had been forced to take 45- to 60-minute boat rides to the dry ground where their truck was parked, before driving to the store twice a week. In the meantime, they lived in the upstairs portion of their home, where they had moved their possessions, even as more than three feet of water swamped its lower level.
"I had 39 inches of water in my above-ground basement. We had water from March till the end of June," said Kathy Vollmer, adding that there were about four days in April that the home could be reached by car before the water rose again "with a vengeance."
The receding water also means that, at last, the Vollmers, other flood victims and local officials can take inventory of the damage that has been done.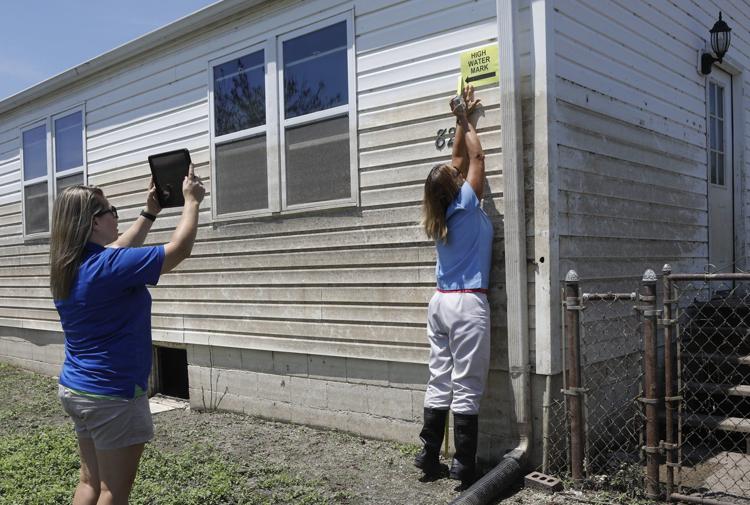 The Vollmers have flood insurance — something Kathy says she wouldn't live in the area without — and are now waiting for the claims process to aid their recovery. The months of flooding completely dissolved swaths of drywall, "and as soon as the water went out, we started gutting and cleaning," she said.
That work may have paid off to some extent. An inspection Monday by St. Charles County officials gave the house a yellow sticker, Kathy said — a designation that means it is safe to continue living in, though certain things, like the water and septic system, need to be checked separately.
Braving major floods is nothing new for the Vollmers, who have lived in the home since 1991. Kenny has lived in the area even longer, with his family occupying another home on the same block since 1966. That building, where his son now lives, got a red sticker from the county inspections, which means it is unsafe to live in until certain changes are made.
"My husband can tell you exactly where the water is going to be at what feet (of river level forecasts), because here's lived here for so long," Kathy said. "My husband will say, 'Well, we're going to have water at the mailbox.'"
St. Charles County began its initial damage assessments three or four weeks ago, according to Jared Agee, the county's division director of building and code enforcement. Now, he said, officials are finally able to access some of the harder-hit areas near the Mississippi River, for instance.
"On the initial inspections we have performed, we looked at almost 3,500 structures and we have about 150 left that we want to take a look at to see if there was damage," Agee said.
Those inspections mainly check to ensure that buildings are safe, he said, with more detailed follow-up inspections intended to let property owners know what specific things they will need to have looked at or fixed.
Beyond identifying a list of issues that property owners need to have corrected, Agee said the inspections also serve another goal, by providing information to the Federal Emergency Management Agency that helps calculate an official percent of damage, in terms of market value for a property. Varying percentage thresholds of damage, he said, correspond to different FEMA programs or resources that property owners may eventually be eligible for.
Of the county's current inspections, Agee said officials believe five buildings were destroyed, about 500 sustained major damage, around 1,300 have minor damage, and the rest of those that they have looked at have been affected to a lesser degree. Residents looking to get their property inspected should contact the county, he said.
Agee said monetary estimates of county-wide damage have yet to come into focus, but it could be steep, based on the extent and magnitude of this spring's flooding.
"This has been the worst flood that we've dealt with since the 1993 flood," Agee said. "We're looking at 89,000 acres affected and about 25 percent of the county was underwater."
But thanks to buyouts of at-risk properties or individual decisions to move elsewhere since 1993, there are fewer people living in floodplains in the county today, Agee said. You can see that firsthand in South Shore, where the small community went from 30 families before the 1993 flood to just about 13 today, Kathy Vollmer said.
Other areas are also just beginning the process of flood recovery and damage identification.
"We're still in the beginning stages of flood damage assessment. We were just able to access our marina last week and we're still doing cleanup on the riverfront," said Mayor Brant Walker of Alton, adding that the city is checking for issues including heaving in sidewalks and streets. "We'll have a better handle on it by the end of the week."
Despite the hardship that comes with the floods, the Vollmers don't intend to leave, nor do many of the other nearby residents, Kathy said. She loves her relationships with neighbors and the feeling of community that South Shore offers — and the beauty at times when it's not flooded.
But while forces like climate change increase the potential for intense precipitation, she is among the growing numbers of area citizens to deflect blame for flooding to the region's reliance on levee systems, and levee-protected floodplain development.
"They're up and down all the river, they've got too many of them," she said. "There's nowhere for that water to go. It's got to back up somewhere.… We get more water, more flooding than we used to."
Assessing flood damage is a full-time job
Assessing flood damage is a full-time job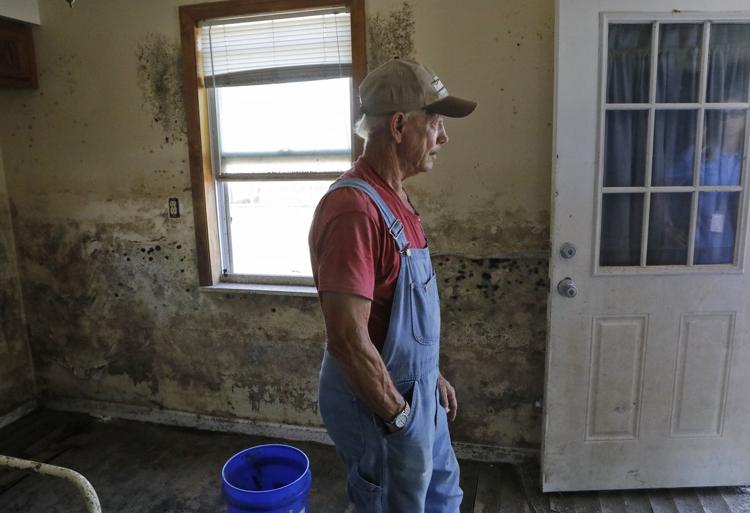 Assessing flood damage is a full-time job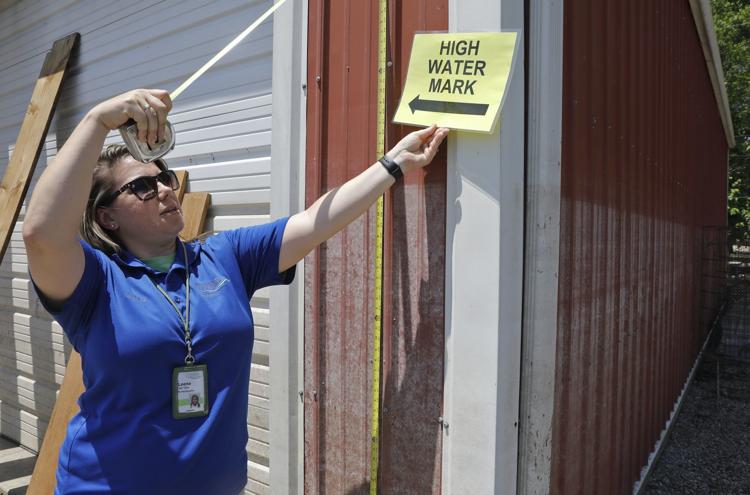 Assessing flood damage is a full-time job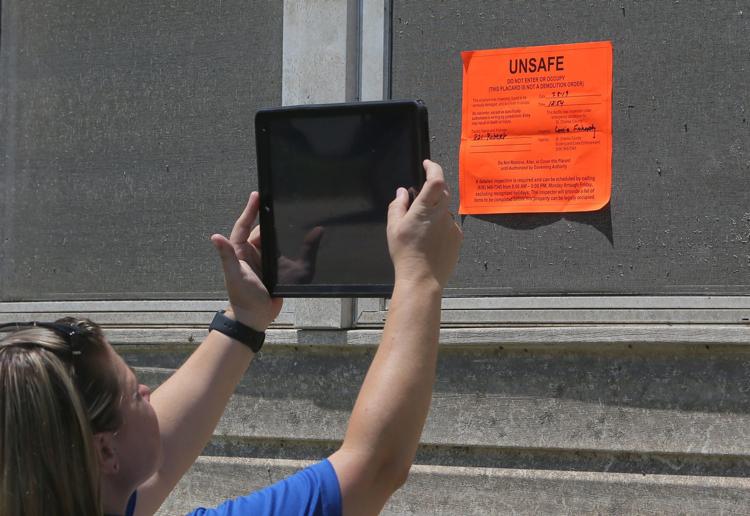 Assessing flood damage is a full-time job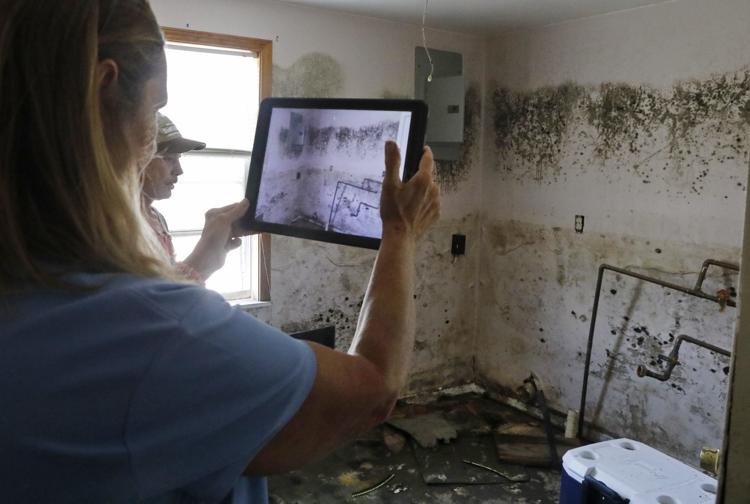 Assessing flood damage is a full-time job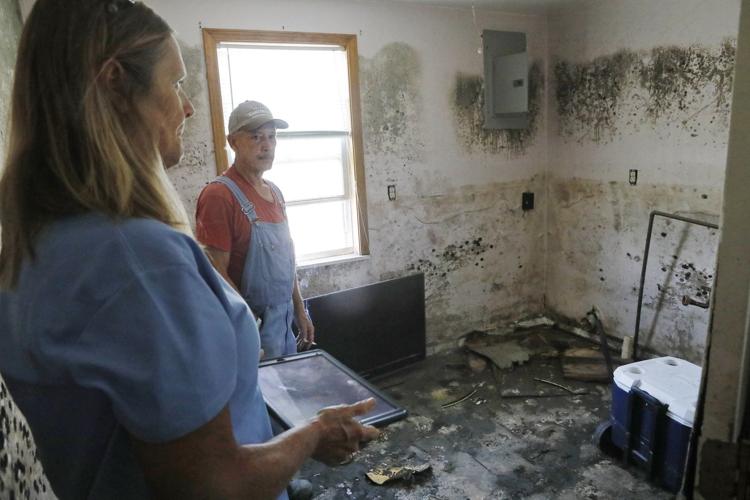 Assessing flood damage is a full-time job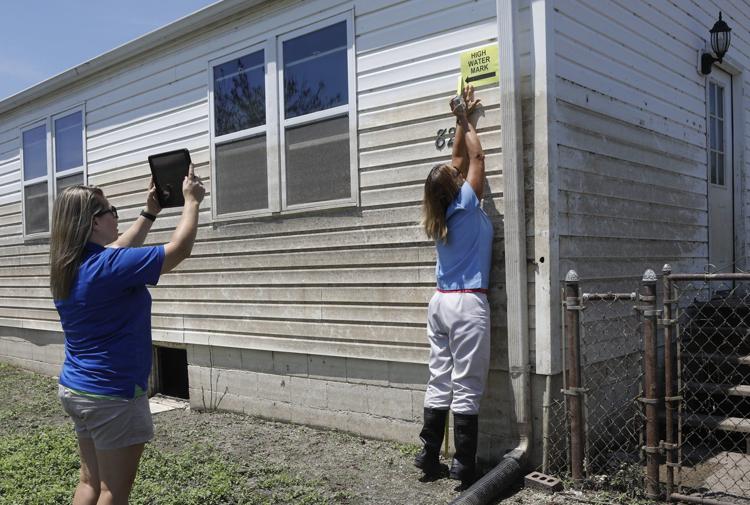 Assessing flood damage is a full-time job