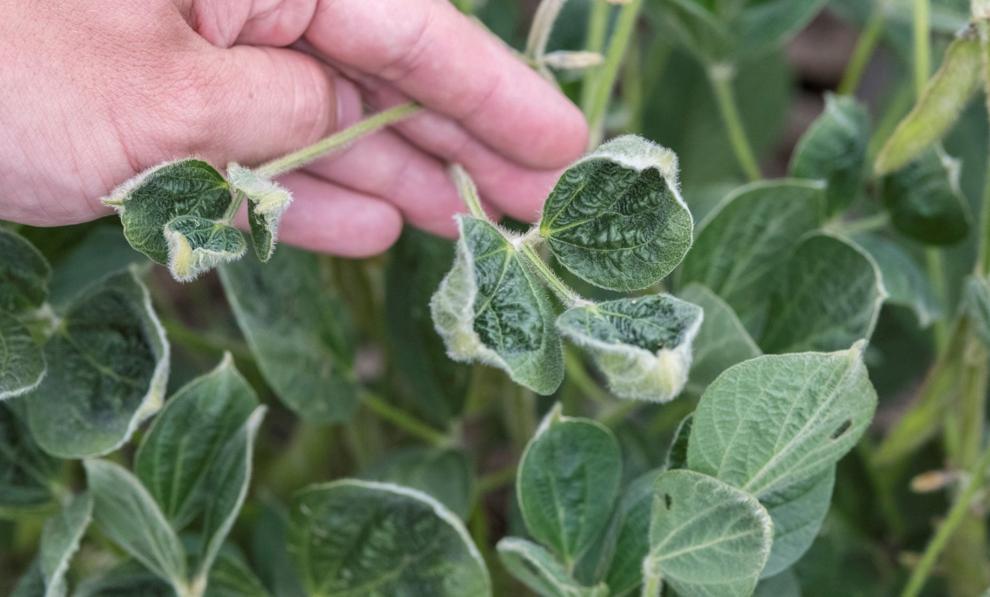 The U.S. Environmental Protection Agency is asking chemical producers to provide more information regarding widespread damage from dicamba in 2021, saying it is concerned about reports that the companies aren't being forthright about damage caused by the controversial weedkiller.
The federal agency, in letters sent Thursday, said it is "extremely concerned about these reports and is taking steps to better understand the nature and severity of these incidents in order to assess the sufficiency of the mitigations in the 2020 decision and, as necessary, take appropriate regulatory action."
The letters were sent to Bayer, BASF, Corteva Agriscience and Syngenta, each of which has federally registered versions of dicamba. Bayer spokesman Kyel Richard said in an email that it "routinely provides information to EPA" about its products.
"This is a matter both of EPA's routine regulatory oversight and also in the spirit of ongoing cooperation," Richard said.
Corteva said it no longer sells dicamba products as of February. BASF and Syngenta did not provide comments.
According to the letters, the EPA said it "has received allegations" that some companies are not submitting all of the reports about potential harm because the companies are blaming other factors, including drought or exposure to other herbicides such as glufosinate.
"EPA considers this assertion speculative, and insufficient grounds to rule out dicamba exposure as a cause of cupping," the letter said.
An Investigate Midwest investigation from last year based on documents disclosed during a lawsuit found Monsanto knowingly falsely blamed glufosinate for much of the damage caused by dicamba. However, the company agreed to drop that assertion after entering into a joint defense agreement with BASF, the maker of glufosinate, for the lawsuit.
In the letters, the EPA reminded the companies of their obligation to report adverse incidents involving dicamba to the agency under federal pesticide law. For example, the agency said it has received reports of damage to research plots that companies have not provided, which they are required to do within 30 days of discovering damage.
The herbicide dicamba has skyrocketed in use in recent years, after Monsanto introduced genetically modified soybean and cotton seeds that could withstand being sprayed by the weedkiller. Since 2017, millions of acres of nonresistant crops and natural areas have been damaged. Bayer, which has since acquired Monsanto, and BASF agreed to settle lawsuits about damage with soybean growers for $400 million in June 2020.
In 2020, the Ninth Circuit Court of Appeals vacated the pesticide's registration after finding the EPA underestimated or ignored the harms of the pesticide in approving it.
Months later, the Trump administration reinstated the herbicide just days before the presidential election in the swing state of Georgia. That decision, which the Biden administration has defended, has been challenged by conservationists and farmers.
Despite that decision, which also incorporated new measures designed to mitigate the harm, there were many news reports of widespread harm, the EPA said. The EPA said it recently held listening sessions with groups such as the Weed Science Society of America, the American Association of Pesticide Control Officials, academics and state extension agents. These groups raised concerns about damage to non-target plants.
In the letters, the agency also asked the companies for any information prepared for lawsuits about adverse effects caused by dicamba.
The Investigate Midwest investigation found Monsanto and BASF expected thousands of complaints from farmers about dicamba, designed investigations into damage to limit their liability and limited testing on dicamba that had the potential to delay or deny regulatory approval.
The EPA is also asking for information from companies about tank mixes — which is when a herbicide is mixed with other herbicides in a sprayer and then applied — that are more likely to cause harm. Dicamba is much more likely to move off target when it is applied with glyphosate, the active ingredient in Roundup and most common tank mix, according to documents presented in the lawsuit.
Investigate Midwest is an independent, nonprofit newsroom that covers agriculture through in-depth and data-driven investigative journalism. It was previously the Midwest Center for Investigative Reporting.