LICKING, Mo. • The story of abrupt change in this small south-central Missouri town starts with the water tower. A giant baseball is painted on top as a fading reminder of when Rawlings was king.
As sporting goods manufacturing dried up, a $60 million maximum-security prison opened in 2000. The South Central Regional Correctional Center doubled the local population to more than 3,000 people.
"We just try to go with the times," said Licking Mayor Keith Cantrell. "Whatever happens, we try to deal with it and go on."
Unlike Rawlings, the prison hunkers out of sight, just west of downtown. Now, another group has settled that also appreciates privacy, only its members arrived under the shade of straw hats and black bonnets.
The Amish, who are undergoing exponential growth, have chosen Licking as one of many new settlements. Facing overcrowding and increased government pressure in more traditional areas, they broke new ground here in 2009, after buying an 800-acre ranch. They bought another large property a few years later.
Today, about 35 Amish families are spread across roughly 2,800 acres, much of the land contiguous. They've built new homes, barns and sheds that don't have electricity. They've cleared a lot of land for pasture.
Most of them moved from flat and fertile fields in Berne, Ind.
"Here, boys can buy an 80-acre farm for what they had to pay for 5 acres there," said John Schwartz, 53, a bishop who leads one of two congregations in Licking. "And it was getting so crowded. I couldn't even go in the back of my house and take a leak. It was like living in a subdivision."
There's more privacy and space in Licking.
"They've been good to us," Schwartz said.
But while family and friends in Berne face higher population density, more expensive land and stiffer zoning laws, they reap the benefits of being established. The Amish are more exotic in the Licking area, and the Ozarks has tested them.
"It's not Indiana ground. It's got rocks," said Susan Schwartz, who runs a dry goods store and raises cattle with her husband, Moses.
She didn't want to be perceived as speaking ill about Missouri, or as being above anybody else in the Amish community, which preaches humility.
"This is nice grazing country," she concluded.
Many of the new Missourians had to pursue different types of agriculture than they were raised with, while getting paid less for skilled labor. A new effort to farm rabbits was hit by disease. Carpenters started at $10 an hour before they proved themselves. Today some make $25 an hour doing construction. One group has been traveling two hours each way by van to build storage units in Bonne Terre, Mo.
While the Amish don't typically have telephones inside their homes, they often make calls from neighboring farms, borrow tools, accept rides and pay to have their cattle hauled to market.
Still, they mainly live by patience and horsepower.
Fatal accidents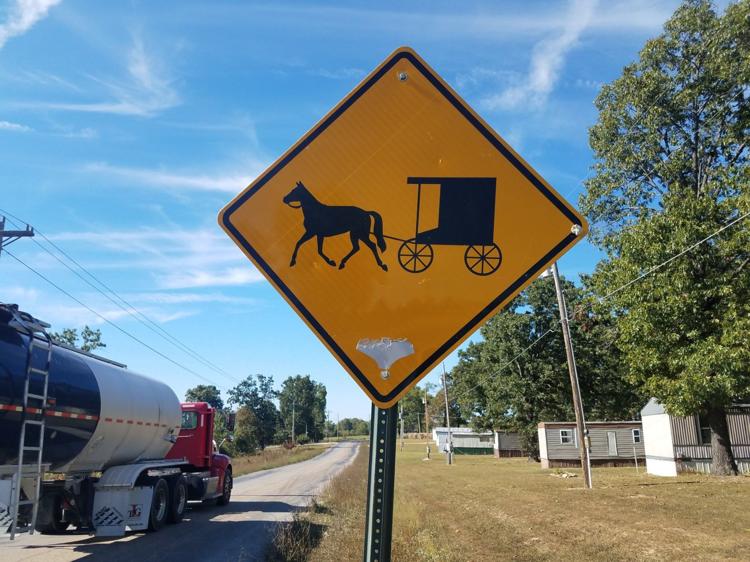 It's been a challenge incorporating horse-drawn buggies into the transportation stream in Licking and rural Texas County. Two Amish residents have been killed on roads near here in three years.
In 2014, Amos Girod, 14, was rear-ended by a Ford F-150 while driving a buggy around a bend on Highway C, just north of town. He died, and two of his little sisters were injured.
"He was the oldest son of the family and left a big gap around the family table," according to a 2016 edition of "The Amish in Missouri." The reference book noted a few other recent collisions.
Five people in animal-drawn vehicles were killed statewide between 2010 and May 2017, according to a Missouri Department of Public Safety database of traffic accidents. There were also 51 personal injuries and 71 reports of property damage from animal-drawn vehicle accidents.
"You hate to see one fatal, but there isn't a large number of crashes involving buggies," said Lt. Richard Buttram, who has been a trooper for 31 years, including in an area with a large Amish population. "I think the numbers are low because they typically travel during daylight hours and in rural areas where there are low motor-vehicle traffic counts."
Licking is an outlier. The second recent fatality happened Sept. 1.
Relatives said Mattie Miller, 29, was headed to the grocery and possibly to use a telephone in town when she was rear-ended at 11 a.m., on a paved road a mile from the city limits.
The pregnant newlywed was ejected from the buggy and hit the windshield of a 2001 Mercury Sable driven by Clarissa Smith, 82, according to police.
Smith, who lives near the Amish community, has roots that run deep in the area.
"I don't know how many buggies go by here," she said from her porch. "It doesn't matter, except they are moving slowly. They don't mix with fast traffic, but I guess they have a right to. Before you know it, you are right up on them."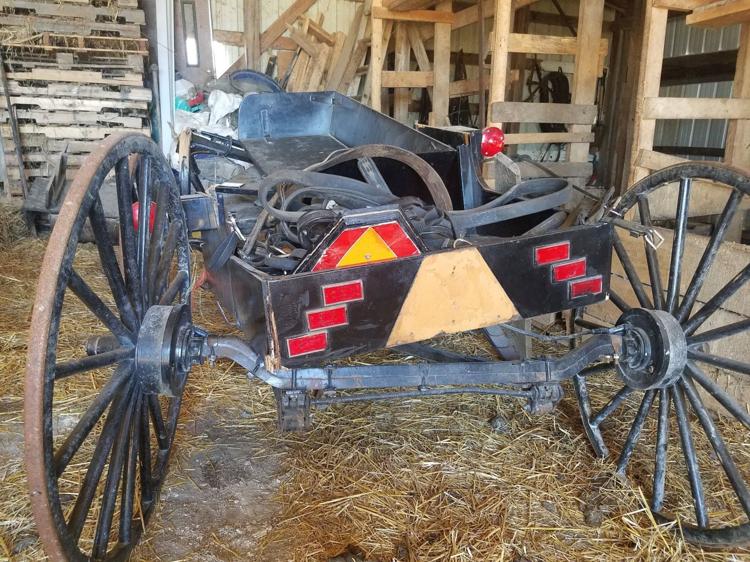 Smith said she hit Miller while on the way to town to help her granddaughter. She said a cement truck was coming from the opposite direction on Shafer Road when it happened. She attended Miller's burial.
"They tell me don't worry, it wasn't your fault," Smith said. "That it was God's way and just her time to go. I guess that's their religion."
Miller was released from Texas County Memorial Hospital in nearby Houston, Mo., several hours after the accident. She died at home, three days later. Miller appeared to suffer a closed head injury with significant trauma to the brain, according to the coroner's report.
"The hospital didn't take a CAT scan of her head," Miller's mother, Mary Schwartz, said in an interview. "She died right in my hands."
The hospital declined to comment.
"She's gone now, but we definitely don't want it to happen to anyone else," the mother said.
In the Girod case, the 14-year-old's parents sued the driver. The judgment paid for medical expenses for the boy and his two young sisters, Lizzie and Sarah, including $25,000 to Air Evac Lifeteam and $368 for glasses.
Community growth
The Amish population is booming.
"That's because they have large families and they retain most of their children in their communities," said Edsel Burdge, research associate at the Young Center for Anabaptist and Pietist Studies at Elizabethtown College in Pennsylvania. "I don't know of any other group that is doubling every 20 years or so."
There were an estimated 125,850 Amish people in the United States in 1992, according to the center. Today, there are 313,215.
Pennsylvania has the largest population: 74,250. Ohio has 73,780, followed by 53,075 in Indiana.
Kentucky has the highest growth rate among 10 states with the largest Amish populations. Of those, Missouri has the third-highest growth rate. In 1992, there were 3,745 Amish in Missouri. Today there are 12,320.
Seymour, east of Springfield, is the largest Amish community in Missouri. Established in 1968, there are 2,700 residents, half of them under age 15. Bowling Green, established in 1947, is the oldest settlement.
"They were moving to Missouri not only because of the farmland, but out of Indiana because of school laws and religious differences within their communities," said Cory Anderson, an assistant professor at Truman State University who teaches a course on the Amish.
He said the U.S. Supreme Court loosened restrictions nationally, allowing Amish children to attend their own coed schools only through eighth grade.
The Amish speak English and German. In Licking, they have a Swiss dialect.
They are Christians who believe in adult baptism, wearing modest clothing and nonresistance. Rather than serve in the military, at least one congregation donates blood a couple of times a year.
They attend church every other Sunday. They take turns hosting the service in homes, which keeps the congregations small. Church readings come from the New Testament. But ministers are free to draw from the entire Bible during the sermon.
There have been a few complaints at City Hall about manure in the street and rising land prices, but Licking Mayor Cantrell said the Amish mainly keep to themselves.
"They stay off until they either need something or somebody calls them to do something for them," he said. "They are good neighbors."
Landmark Bank installed a hitching post in the grass for the new clients. Tammy Sullins, a manager, said Amish customers don't use photo IDs or ATM cards; however, a few are warming up to a video teller machine that allows for extended banking hours.
"They are friendly folks," said Sullins. "They spend money in the community just like everybody else."
Another hitching post has been installed behind Town and Country Super Market. Manager Tracie Crawford said the Amish buy staples and a lot of block ice.
"Especially in the summertime," she said. "They are up here every other day having to buy ice to keep their stuff cool. I am amazed when they come in here."