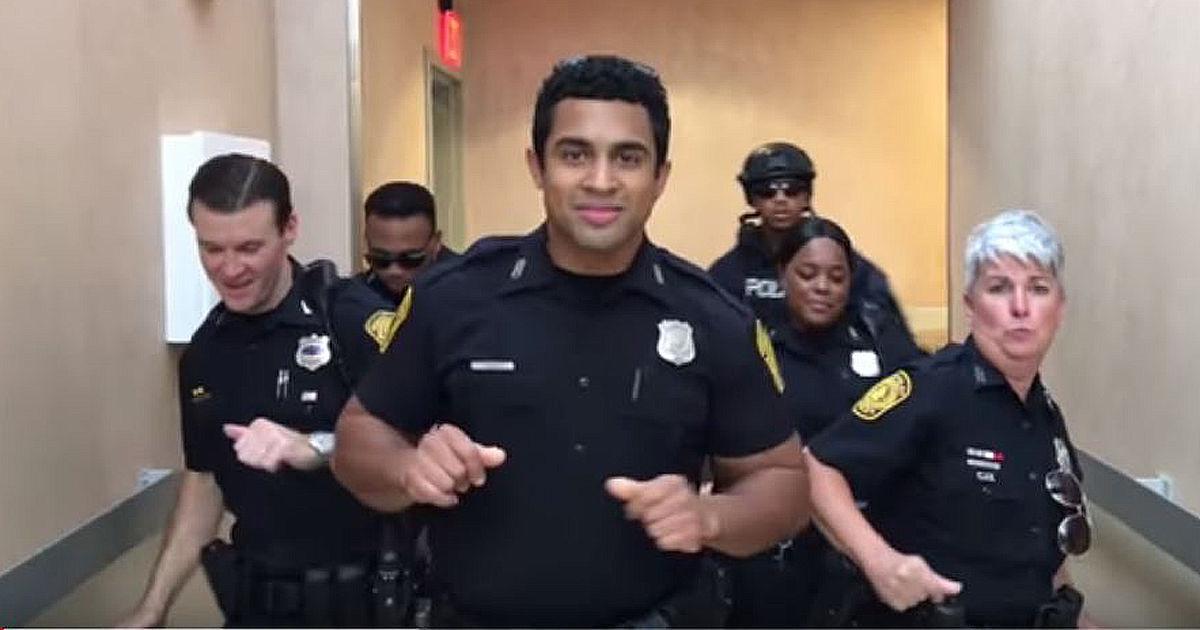 It's a police officer's sworn duty: To protect, serve and ... sing?
While almost all of us have belted out a song in the shower or crooned in the car, officers across the country have taken that a step further, lip-syncing, dancing and — in one case — recreating an entire Alanis Morissette music video as part of the Lip Sync Challenge sweeping social media.
The craze has been around since at least 2016, but gained major momentum last month as several departments in Texas started to drop videos, and new videos from departments nationwide continue to hit social media almost every day.
Trying to find the best of the bunch nationwide can lead one down a rabbit hole — a rabbit hole lined with moments alternating between laugh-out-loud comedy, jaw-dropping "how did they pull THAT off?" wonderment and so-bad-it's-almost-good head-shaking.
After painstaking research digging through dozens of videos and far too many references to doughnuts, a lot of "Bohemian Rhapsody," "Can't Stop the Feeling" and one outtake imploring an officer to "Lower your standards!" here are some of the best police lip-sync videos to this point, in no particular order.
Be sure to vote for your favorite in our poll at the bottom!
Albuquerque Police Department
From start to finish, this slickly produced gem drops hit after hit, and then finishes with a knockout blow to all those who dare step to this video.
A dramatic slow-motion introduction to the officers goes straight into uncharted territory that's perfectly done: An officer wearing a cowboy hat riding a pony backward to the unmistakable notes of Ginuwine's "Pony." Yep. They went there. And well.
After that comes a segment with a perfect Selena lookalike and a well-done lip-syncing job, then the dancing prowess picks up with songs from Bruno Mars, Taylor Swift and Sam Hunt, featuring terrific community involvement. The closing credits are entertaining, but the figurative and literal mic drop throughout the final minute are tremendous.
Norfolk (Va.) Police Department
Rocking to Mark Ronson's "Uptown Funk" featuring Bruno Mars, this might be the gold standard of all the videos, from the terrific dance choreography, the lead officer's uncanny resemblance to Bruno Mars, his outstanding lip-sync job, the single-take video, and the unexpected surprises (yes, that was a baby near the end) along the way.
Skokie (Ill.) Police Department
A relatively late entry to the field, Skokie Police Department makes a strong case for the crown with its video.
Skokie's video has slick production, pacing, choreography, graphics, transitions and a clever choice of songs, all done with masterful lip-syncing and great personalities. From the start, with a dead-on impression of the "Fresh Prince of Bel-Air," which seamlessly morphs into Queen's "We Will Rock You," Sugarhill Gang's "Apache (Jump On It)," the video eventually includes an outstanding rendition of Psy's "Gangnam Style" and even a quick well-done nod to the Harlem Shake before a show-stopping number to "Y.M.C.A." to close the festivities.
This is one you really need to watch multiple times to catch everything.
Martinsville (Ind.) Police Department
A recent release with eye-popping production that clearly has a claim as a legit contender for the gold standard. This has professional music production, a stint in a thrift shop lip syncing to Macklemore and dancing to LMFAO in front of a pool full of splashing kids (and officers), an officer doing the worm, Taylor Swift's "Shake It Off," well-done remixes of other popular songs, with mash-ups of AC/DC and The Bee Gees. Honestly, there's too much to take in during a single viewing.
Dakota County (Minn.) Sheriff's Office
Dakota County deputies pulled out all the stops with a fully-developed storyline featuring a deputy skydiving, McGruff the Crime Dog, brief video of a racing snowplow, an airboat, deputies on motorcycles popping wheelies, skate park antics, a big Elvis impersonation, and — naturally — a dance routine to "Uptown Funk" that includes a judge getting down. This video doesn't have much lip-syncing, but the sheer over-the-top production more than makes up for it.
Winston-Salem Police Department
Winston-Salem dropped a huge dose of humor and old-school rap and hip-hop songs (plus a reference to a surprising Taylor Swift hit) to put together a hit.
Starting with DJ Kool's "Let Me Clear My Throat," some horns and crazy dancing, Winston-Salem's finest cruise through several songs in a loose storyline that takes plenty of unexpected twists through Salt-n-Pepa's "Push It," Nelly's "Hot in Herrre," Queen's "Bicycle Race," and even a field full of people getting down to Petey Pablo.
The production and musical pacing are top notch, and the choreography, lip syncing and energy from the officers all earn high marks.
Fort Worth (Texas) Police Department
This isn't so much from a police department as it is from one officer, and it's probably the most insane of all the videos watched during extensive (ahem) research.
But it's also incredibly well-done and oddly hypnotic, as one officer does a spot-on remake of Alanis Morissette's "Ironic" video, complete with perfect outfits and the man playing all four roles in the iconic video.
Grapevine (Texas) Police Department
A cop getting water poured on him in slow-motion a la "Flashdance" while dancing seductively with a chair? A fake sobriety test with a "Footloose" dancing flair? Two other officers recreating the famous jump and lift from "Dirty Dancing"? Yes, yes, and yes, it's true, nobody puts this department in a corner.
Middletown (Ohio) Police Department
A well-done dramatic re-enactment of an ode to doughnuts set to Lady Antebellum's "Need You Now," featuring a performer who fans have dubbed "Detective Hottie," scenes straight out of the country group's video, nearly 8 million views on Facebook within a week and a glowing review directly from Lady Antebellum.
Moody (Ala.) Police Department
It takes a couple of minutes to get to the big payoff of this lip-sync video to Michael Jackson's "Thriller," but stick with it, because it's well worth it. Just trust us.
Seattle Police Department
The only lip-sync challenge video to date featuring NBC News anchor Lester Holt, flying fish and multiple local pro athletes, Seattle's finest put together an impressive offering set to Macklemore's "Downtown."
The video has a distinctly Seattle feel, with numerous iconic local landmarks, but also has spot-on lip-syncing, top-notch production and ridiculously good choreography behind a song that calls out many of those landmarks.
Cleveland (Tenn.) Police Department
Ever seen a uniformed police officer making it rain? Or singing about Havana? Watch this and cross those off your list, as Tennessee police officers break out a strong and surprising lip-sync rendition of Camila Cabello's "Havana," complete with backflips into a pool.
Las Cruces (N.Mex.) Police Department
With a polished production, a cheeky attitude and well-done lip-syncing (plus a surprisingly strong amount of line dancing), there's no wonder Las Cruces' effort has received wide acclaim.
The video starts with the police chief asking for suggestions from his staff, leading to strong, but short productions of Def Leppard, Warren G. and more. Those serve as appetizers to the main course: A retired officer bringing his banged-up guitar to the New Mexico scrubland with two uniformed officers to perform Toby Keith's "Should Have Been a Cowboy."
Las Cruces sprinkles plenty of funny moments into the song's presentation and line dancing (including a brief moment of a horse joining in) as the production unfolds before a striking backdrop with mountains in the distance.
St. Helens (Ore.) Police Department
If you like or remember hair metal, do we have the video for you. With flashing lights through fog and the unmistakable opening to Whitesnake's "Here I Go Again," this one looks like it's ripped straight off MTV from the 1980s.
While portrait mode was used far too often, this video features someone trying to recreate the famous Tawny Kitaen scene from the Whitesnake video on the front of a sports car, and an unexpected nod to "Star Wars" with the closing credits.
David Coverdale must be proud.
Laramie (Wyo.) Police Department
Laramie's video takes an unusual song choice, "The Champion" by Carrie Underwood featuring Ludacris, and turns it into a well-done uplifting story line.
With a top-notch lip-syncing job (seriously, it seems like the officer may as well be Underwood belting out the tune), excellent production and community involvement, the video tells the tale of people overcoming various struggles with the help of the Laramie Police Department. 
Willow Park (Texas) Police Department
Excellent music video production, starting with a perfect slow-mo of an officer and a perfect punk rock expression on the officer walking in as the opening strains of Joan Jett and The Blackhearts' "I Love Rock 'n Roll" play. And, in case you wondering, yes, a giant doughnut does make an appearance. As does a rock 'n roll cat.
Keep watching for the outtakes at the end. The cop cat was not amused.
Flower Mound (Texas) Police Department
A strong entry from officers dancing and lip-syncing storyline video set to Meghan Trainor's "Me Too." The middle of the video includes terrific comedic relief with firefighters scrubbing down each other, as well as two officers sitting behind a desk doing the "Vogue" (sort of).
Stay tuned for the outstanding outtake reel at the end including someone saying, "Lower your standards!"
Lehi City (Utah) Police Department
Another solo effort worth watching. From the mind of the same officer who once went viral after being caught doing the Whip and Nae Nae in a 7-Eleven comes a video medley covering everything from Chamillionaire's "Ridin' Dirty" to Carly Rae Jepsen's "Call Me Maybe."
Cedar Hill (Texas) Police Department
This opens with a perfect rendition of DJ Khaled's "All I Do is Win," before going into an officer riding what looks like a giant Big Wheel toy to Twenty One Pilots' "Stressed Out."
But what really puts this one among the best is the terrific homage to Marvin Gaye, "wrecked" at the end in a way anyone familiar with social media in the past few years will appreciate.
North Branford (Conn.) Police Department
With tremendous lip-syncing (especially for the first half) and a frighteningly accurate re-enactment of the Backstreet Boys' "I Want It That Way," complete with white shirts, the wind blowing their jackets and perfect choreography, North Branford puts together a worthy effort for the top spot.
After opening with a boy-band hit, North Branford moves into a medley with Luke Bryan's "Kick the Dust Up," a lip-sync standard with Pharrell's "Happy," aided with some eye-popping camera shots, then to an LMFAO song before a funny finish to The Foundations' "Build Me Up Buttercup."