JEFFERSON CITY — Overcoming a divided chamber, the Republican-controlled Missouri Senate muscled through Gov. Mike Parson's nomination of a politically connected attorney to the University of Missouri System Board of Curators in the early morning hours Wednesday.
After more than 13 hours of debate spread over two days, the chamber confirmed Kansas City lawyer Todd Graves to the board overseeing campuses in Columbia, St. Louis, Kansas City and Rolla on a 19-13 vote.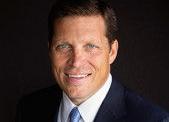 Democratic Sen. Brian Williams of University City joined Republicans in supporting Graves, signaling his priority for the ongoing legislative session was not the controversial appointment, but other issues, like the pandemic and its economic effect on the state budget and public health. That position could help him get some of his initiatives across the finish line in the Republican-controlled chamber.
Sen. Paul Wieland, an Imperial Republican who voted against the confirmation, said he was disappointed in the efforts by his fellow Republicans to alter his vote by offering him a deal to change his mind.
"I don't want nothing. I want to do what's right," Wieland said. "I have a feeling this nominee does not respect the Missouri Senate. I am not happy with this nominee."
Graves, the former chairman of the Missouri Republican Party, sat in the Senate gallery for some of the lengthy debate over his credentials for the nonpaying, but highly regarded position.
Graves, who was nominated for the six-year term on March 18, is a partner in Graves Garrett LLC, a Kansas City law firm that also includes Lucinda Luetkemeyer, who served as general counsel for Greitens during his rocky tenure as governor. She is married to state Sen. Tony Luetkemeyer, R-Parkville.
Another partner in Graves' law firm, Edward Greim, provided legal assistance to the governor's office during Greitens' final days in office, when the former Navy SEAL and now-candidate for a Missouri seat in the U.S. Senate was targeted for impeachment by the Republican-controlled House.
Graves also is a former U.S. Attorney for the Western District of Missouri, and his brother is 6th District U.S. Rep. Sam Graves of Tarkio.
Parson, the former lieutenant governor who took over after Greitens hastily resigned in 2018, nominated Graves to replace Democratic former state Sen. Phil Snowden, whose term expired on Jan. 1.
Sen. Mike Moon, R-Ash Grove, raised concerns about Graves' role when the state Republican Party transferred $200,000 to a political action committee linked to his law firm.
He also put a spotlight on a $400,000 investigation Graves' law firm conducted for the Missouri Gaming Commission earlier this year. That report has not been made public, despite multiple Sunshine Law requests from the Post-Dispatch and other news organizations.
"What if these questions aren't being answered? You've got a cloud hanging over," Moon said.
"One thing about this nominee is that there are so many questions," Wieland said. "I think we should fully vet nominees from the governor. For some reason, I feel like there's a rush to get this done."
Wieland said curators of the state's university system are among the most important confirmation votes facing the Senate.
"There is a tremendous amount of revenue that we send to the University of Missouri," Wieland said. "We want to make sure we have the right people in place."
Sen. Greg Razer, D-Kansas City, said Graves' political background made him question whether he would be a good fit on the board.
"We're producing our state's dentists, our state's pharmacists, our state's doctors, our state's attorneys, our state's — everything that our state does, our university system is producing it. And it's something we have to protect," Razer said.
He added there was a "need to protect the system from even the perception of politics being interjected into the leadership of those four campuses. And it's a concern that I have with this nomination."
"If this appointment goes through, whether his votes are political or not, a lot of people are going to view them through a political lens," Razer said. "These should be nonpolitical positions."
"I think the majority party would be concerned if Gov. (Jay) Nixon had appointed, you know, a former Democratic Party head to the position," he said.
Parson isn't the first governor who has tussled with the Senate over an appointee.