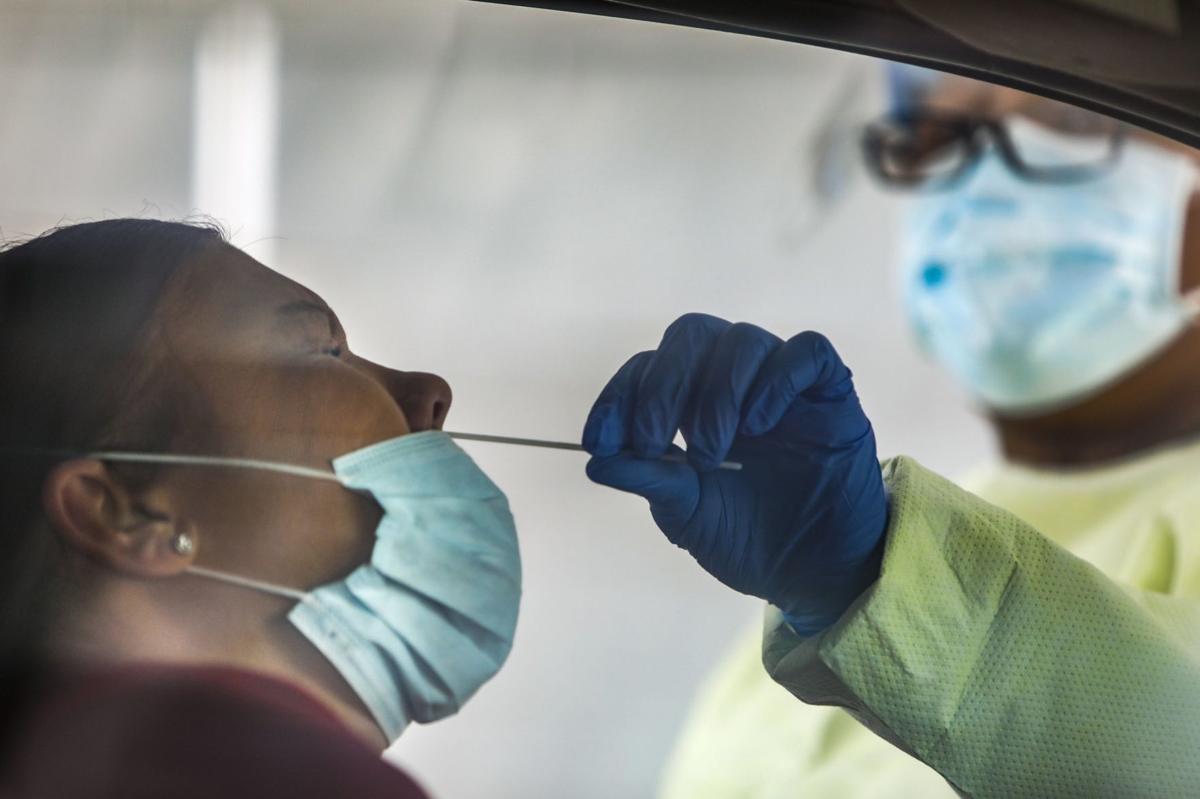 ST. LOUIS — Missouri overcounted the number of people it claimed have been tested for COVID-19 by at least 17,000, state health officials said Saturday, raising the percentage infection rate and muddying the state's assessment of the viral spread even as regional officials ease restrictions.
Until Saturday, health officials were lumping together two different types of tests: viral tests that show who is currently sick with COVID-19, and antibody tests that look for signs of past exposure.
Combining the two can give an inaccurate picture of the virus' spread and inflate the extent of testing and tracking of the disease. Experts have consistently emphasized that for states to reopen safely, adequate testing and tracing is needed.
At least 17,108 people were given the antibody test, the Department of Health and Senior Services said Saturday. Of those tested, 688 people, or 4% showed signs of exposure.
Meanwhile 148,303 people have been tested for active COVID-19 infections, DHSS said. Of those, 11,751 people, or 7.9%, tested positive.
The department previously reported that as of May 21, 172,946 viral tests for active COVID-19 infections had been done, and 11,340 people — or 6.5% — had tested positive.
Also on Saturday, DHSS changed how it calculates the percentage rate. Previously, the department compared the number of positive viral test results to the total number of viral tests completed.
But people who may have prolonged exposure to the virus, like paramedics or nurses, may have been tested for COVID-19 multiple times. DHSS removed the repeat tests Saturday and compared the positive COVID-19 infections to the number of people tested.
A third change Saturday in the state's reporting showed confirmed COVID-19 cases in Missouri starting on Feb. 2 — more than a month earlier than the virus was previously reported to have hit the state.
DHSS spokeswoman Lisa Cox said the change might be because of delayed test results.
The U.S. Centers for Disease Control and Prevention acknowledged Friday that it had been combining active virus tests and antibody tests. Several states, in addition to Missouri, have confirmed doing the same.
While combining viral and antibody tests changed the number of people who DHSS claimed had been tested for COVID-19, it did not affect the number of confirmed COVID-19 cases that were reported, Cox said. Officials did separate positive antibody test results from viral test results, after April 15 when DHSS began collecting results from antibody tests done in private labs, she said.
The department intended to separate the viral and antibody tests when calculating how many people were tested for active infections, but the Centers for Disease Control and Prevention required them to combine the two, DHSS Director Dr. Randall Williams said in a written statement.
"As a 30-year clinician, and like many fellow clinicians nationally, I was very concerned that the CDC had specifically advised our staff and those among other states to combine these results," Williams said. "I believe that the CDC clearly knows these represent two very distinct clinical entities. I understand our team did what the CDC required them to do and did not maintain one set of data for the CDC and one set for public reporting."
The number of antibody tests did not "substantially or noticeably" affect Missouri's testing numbers until the second week of May, Williams said.
While the state's revised reporting of COVID-19 testing will help clarify data going forward, it cast doubt on the state's picture of the virus spread until now, said Chris Prener, a sociologist at St. Louis University.
"The practical effect is that the percentage of positive cases appears to have gone up," he said.
"If it's true that the percentage rate is higher, it means we are less further along in not just expanding testing but addressing the outbreak."
Missouri needs reliable data to be able to accurately assess the virus spread, Prener said.
"I would certainly not fault them for making any of these changes, but there is this question of whether they have been measuring what we wanted them to measure consistently over the past two months," he said. "It makes it harder to compare where we are now to where we were before."