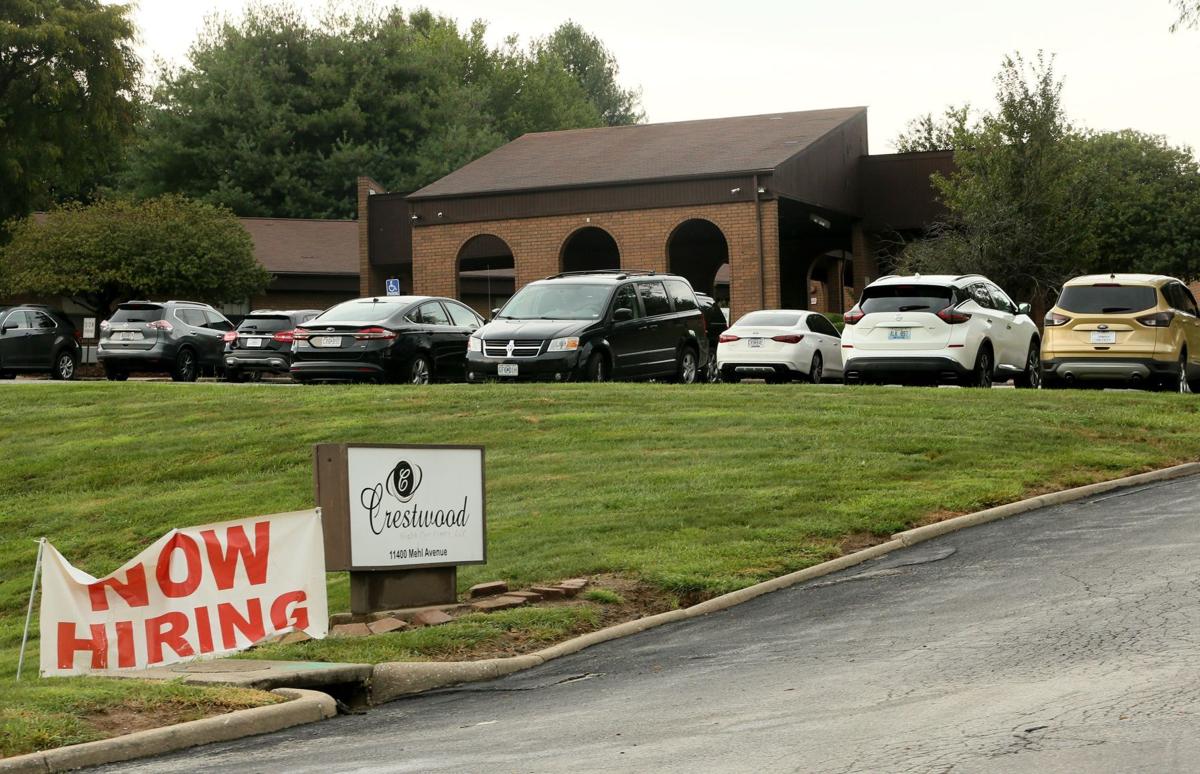 ST. LOUIS — Most of the residents of Crestwood Health Care Center, a nursing home near Florissant, are fully vaccinated. Most of the staff isn't.
With just 10% of its 93 health care workers receiving the shot as of early August, the north St. Louis County facility had one of the lowest staff vaccination rates in the state. But the facility isn't alone: Missouri is nearly last in the nation for vaccination rates among nursing home employees.
Michael Williams, who has lived at Crestwood for four years, is among the 85% of roughly 130 residents who've been fully vaccinated. He doesn't understand why his caregivers have chosen not to get protected.
"That bothers me: Why should they think they can come to work and bring that disease in here and work and be around us?" said Williams, 57.
Williams, who has diabetes, is on dialysis because of kidney failure. He has lost his eyesight and a leg. Last fall, he nearly died of COVID-19. He was on a respirator and spent a month in a hospital. Vaccines have since proven highly effective at preventing severe illness and death from COVID-19, but they are not 100% effective. Those with chronic health issues are at highest risk of still ending up in the hospital despite getting the shot.
"It's fine if they (staff) don't want to take it, but then don't work around us. We all have underlying conditions here," Williams said. "They are out in the casino, and they are rolling the dice, but the sad thing about it is, it's other people's lives they are playing with."
While Missouri's 82% vaccination rate among nursing home residents is on par with the national average of 83%, the rate among employees is much lower. Just 48% of nursing home workers have been fully vaccinated, well below the national average of 61%, according to federal data from early August.
By that metric, Missouri ranks third-lowest in the nation, trailed only by Florida and Louisiana, both at 47%. Hawaii leads the states, at 89%.
To boost lagging vaccination rates, President Joe Biden on Aug. 18 announced that his administration will require nursing home staff be vaccinated against COVID-19 as a condition for those facilities to continue receiving Medicare and Medicaid payments — revenue nearly all skilled nursing facilities depend on.
The details of the federal mandate are in the works, with the rules expected to be rolled out mid-September.
The Post-Dispatch analyzed data from facilities statewide that submitted COVID-19 case, death, vaccination and testing records to the U.S. Centers for Disease Control and Prevention's National Healthcare Safety Network. The data is made publicly available by the U.S. Centers for Medicare and Medicaid Services.
The number of new virus cases among Missouri's nursing home residents, though still well below winter levels, has begun to increase, according to data from July and early August.
Since early July, Missouri nursing homes have reported 58 deaths from COVID-19.
As of Aug. 15, a total of 3,684 nursing home residents have died from COVID-19 in Missouri, more than 36% of all the state's deaths from the disease since the start of the pandemic, according to the latest preliminary data.
Nursing homes with staff vaccination rates of 85% or higher have had relatively low rates of new cases and deaths since the beginning of the year, the data shows.
Many nursing home administrators say while they desperately want to increase vaccination rates, they are worried the mandate will cause workers to quit and exacerbate the already existing shortage.
Some are ramping up efforts to educate staff about the safety and effectiveness of the vaccines and beefing up incentives in an effort to stave off an exodus.
Williams hears the staff in the hallways sharing misgivings with each other about the vaccine. He said he tries to convince them to listen to the experts — "the Ph.D.s" — not just to protect him, but themselves and their families. But they won't budge.
"If they aren't going to take it," Williams said, "then they might as well shut her down."
Some already quit
Joseph Shafer is the chief operating officer for Prime Healthcare Management, which operates seven nursing homes across outstate Missouri. Two have among the lowest vaccination rates in the state: Georgian Gardens in Potosi and Buffalo Prairie Center in Buffalo, both with 11% of staff vaccinated.
Among all seven facilities, the average staff vaccination rate is 35%, Shafer said. The resident rate is 87%.
Data analyzed by the Post-Dispatch shows 20 facilities statewide have staff vaccination rates of 20% or less as of Aug. 15. The analysis excluded 47 facilities — out of 515 that reported that week — for concerns about data quality.
Several nursing homes with the lowest rates did not return calls from the Post-Dispatch. Even one with a near 100% rate did not want to comment about the facility's success because of strong anti-vaccine sentiment.
Since Biden's announcement, Shafer said he's already had a handful of employees quit and others threaten to.
"They are just not even going to deal with it. They said, 'I quit. I'm going to work at the grocery store' — including managers. It's all levels," he said.
Nursing home residents and staff were among the first offered the vaccines in December and January. Cases and deaths have dramatically dropped since. But with the delta variant, Shafer said, he is seeing case numbers creep up again among his staff, mainly among the unvaccinated. So far, resident cases have been few.
On Aug. 1, Prime Healthcare began giving away gift cards and other prizes to employees who are vaccinated as a way to boost rates. The company recently increased the gift card prize to $1,000, with a vaccination rate goal of 45% among staff, Shafer said.
The company gives out vaccine information with paychecks, holds staff meetings, hosts on-site vaccination clinics and has an "open-door policy" where staff is encouraged to ask questions one-on-one, he said. But rates have stayed stubbornly low.
Shafer has shared his concern with elected officials and the nursing home trade association that a mandate could cause his employees to quit. He hopes that maybe the coming rules will allow for those who don't want the vaccine to undergo increased testing instead, but that will require funding to go with it.
Shafer and other administrators also fear that singling out skilled nursing facilities will cause workers to go to other health care settings such as adult day cares, assisted living facilities or some hospitals that don't require the vaccine.
"It could leave residents with little to no care in facilities," he said. "Let's be cautious and let's not create another emergency in America right now."
Creative approaches
At Community Manor in Farmington, the nursing home was missing its two key leaders this week. The administrator and the director of nursing, both unvaccinated, were out with COVID-19, said nurse practitioner Tiffany Arnold.
The facility has a 10% vaccination rate among health care staff.
Arnold said she was doing their jobs in addition to her own caring for the home's 90 residents. Luckily, no one else has tested positive in the facility, one of five under the same owner across southeast Missouri, Arnold said.
"Our sister facility down the road are in outbreak protocol because of unvaccinated people who have spread it in the nursing home," said Arnold, referring to St. Joe Manor in Bonne Terre. "It could just as well of happened here."
After not having any new cases since January, St. Joe added one case during the week ending Aug. 8 and five the week ending Aug. 15, the CMS data shows. The vaccination rate among staff is 23%.
Marjorie Moore with Voyce, a Creve Coeur-based nonprofit that advocates for families of nursing residents, said one important result of mandating vaccination among staff is helping to enable visits from loved ones.
"Every time a staff member or resident tests positive with COVID-19, a facility has to shut down for a few days to a few weeks," Moore said. "That increases the social isolation of residents and decreases their mental health."
Arnold said she is vaccinated and tries to share her experience and share information with other staff members, but many focus on reports of rare serious side effects, do not want "government telling them what to do" or can't discern what information is from experts and what's not.
"There's so much misinformation out there on social media and mainstream media, and they are on that bandwagon and unwilling to accept the information we are providing," she said. "And unfortunately, they are making a decision that affects other people based on that misinformation."
Americare Senior Living, which operates 150 skilled nursing and assisted living facilities in five states including Missouri, is trying to get creative in boosting vaccination rates among staff, said company spokeswoman Pat Cokingtin.
One idea is having employees paste sticky notes in bathrooms sharing why they got vaccinated. Having co-workers share their experiences and local administrators answer questions personally works best, Cokingtin said. "Broad-based corporate education is just not as effective."
Many employees say they want to get the vaccine but fear being ostracized by their anti-vaccine family and friends, she said. The company is planning more on-site clinics "to give them that cover" and assure privacy.
"Ultimately, you want them to opt in," Cokingtin said, "because if it's mandated, we may lose people."
'On my conscience'
Ashley Mosley, 34, of Jennings, has been a cook at Crestwood Health Care Center for 14 years. When the vaccine first became available, she put it off.
She was leery because of a history of mistreatment of Black people by government and doctors, she said. She has asthma and high blood pressure and was unsure how the vaccine would affect those conditions.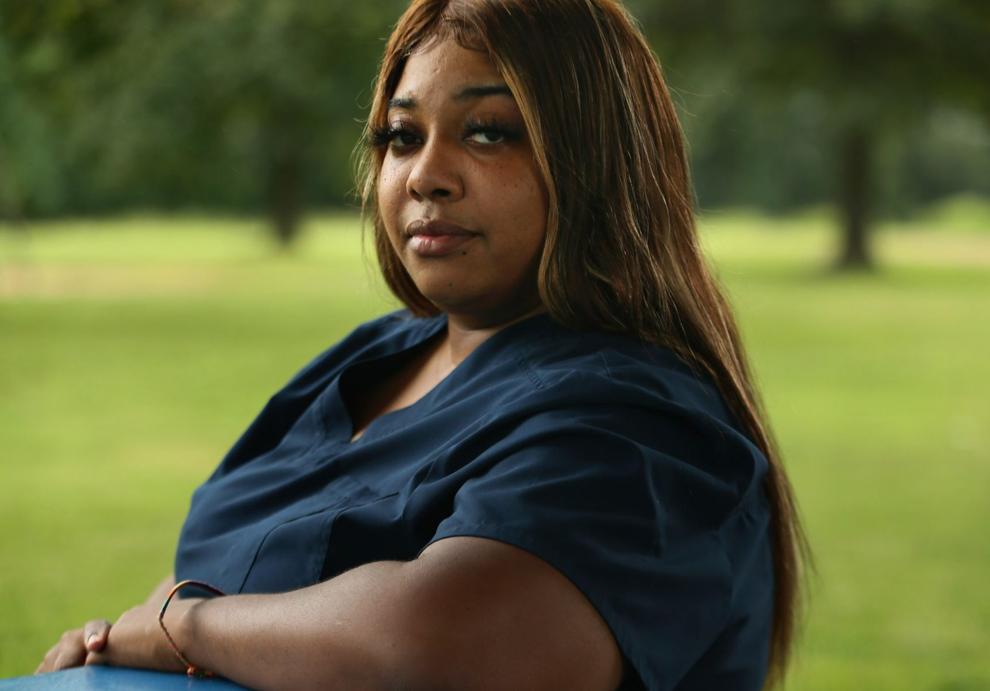 As time went on and cases dropped, Mosley figured she was safe from getting COVID-19. But in May, she got infected. She was coughing, weak and had severe chest pain.
"It was such a horrible experience. I thought, 'Oh, I don't want to go through this again, and I don't want to put anyone else in jeopardy of having to go through this,'" she said.
More than anything, she feared she infected her teenage son, grandmother, aunt with cancer or her co-workers, she said. "I could've given it to someone else, and I didn't want that to be on my conscience."
Last month, she got two doses of the Pfizer vaccine.
Mosley says she feels uncomfortable bringing up at work her decision to get vaccinated. "It's a lot of division when it comes to that. It's very sensitive, and a lot of people stay away from it. … It's a very touchy subject."
The nursing home has done little education outreach other than handing out information sheets, she said. It hasn't held any on-site vaccination clinics since the first of the year.
"I feel like they are a bit light on the education because they are too scared they are going to run their workers away," Mosley said.
A Post-Dispatch reporter called Crestwood and asked to speak to an administrator about the facility's vaccination rates. After being transferred, a woman answering the phone refused to answer questions and said she would pass the reporter's name and number to the "legal department."
Mosley is now sharing her decision to get vaccinated through the union's virtual presentations to members, which also include question-and-answer sessions with infectious disease experts.
She said she feels safer being around her family and going to work, especially as the delta variant has pushed cases higher.
"It makes me feel more confident going into the building because we have people whose immune systems are compromised," Mosley said. "And I mask up."