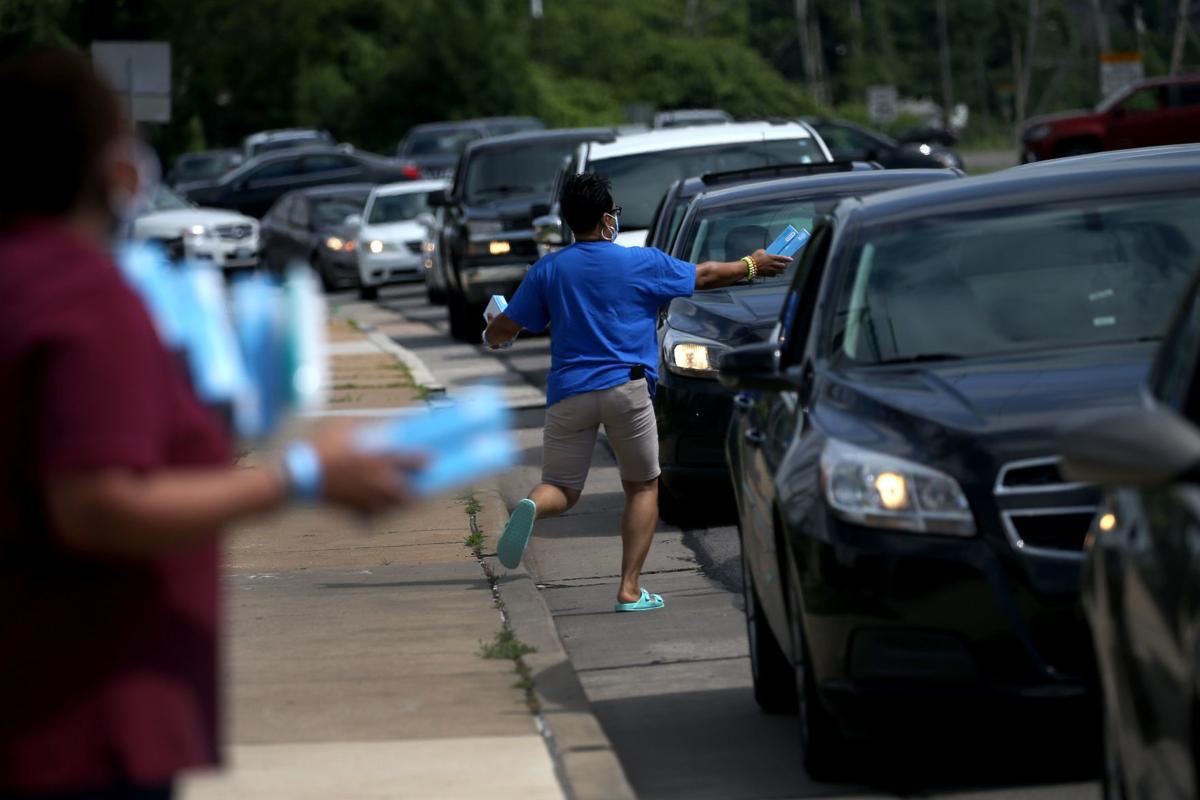 ST. LOUIS — Missouri on Friday reported the third-largest daily increase in new COVID-19 cases since the pandemic's start, continuing a record-breaking week in new virus cases.
The Department of Health and Senior Services reported 662 new cases, coming under the single-day record of 795 cases on Thursday, and the second-highest record of 773 cases on Monday. Before this week, the record for the most new cases was 553 on June 25. The seven-day average of new cases in Missouri shows the daily counts are continuing on an upward trend, reaching an average of 547 new cases a day Friday, about 2½ times higher than last month.
DHSS also reported 13 additional COVID-19 deaths across the state Friday, the largest daily increase in deaths since the state reported the same number on May 23. So far, 1,064 people in the state have died of COVID-19.
In the St. Louis metro area, the rolling seven-day average of hospital admissions for both suspected and confirmed COVID-19 cases increased to 24 on Friday, up from 23 on Thursday, according to the St. Louis Metropolitan Pandemic Task Force, which includes St. Luke's Hospital, BJC HealthCare, Mercy and SSM Health.
That number is the highest it's been since late May, said Dr. Alex Garza, task force commander.
"We continue to see that upward trend and that's not where we want to be," Garza said. "This means there is accelerated transmission of the virus in our community and it lets us know that we need to refocus and do everything that we can to slow the spread."
However, the data doesn't reflect the impact that recent orders requiring masks might have in slowing the spread, Garza said. St. Louis and St. Louis County last week instituted orders requiring anyone older than 9 to wear a face covering indoors and outdoors when social distancing is not possible.
The rapid rise in cases has prompted cities across the state to require face coverings, including Joplin and St. Joseph. Kansas City Mayor Quinton Lucas on Friday extended the June 29 requirement to wear a facial covering through at least Aug. 15, after the city averaged nearly 300 new cases per day.
"If we consistently practice mask-wearing," Garza said, "as well as all of those other practices, then we can bring that transmission rate down."
"But it has to be a collective effort."
Testing delays
Tracing the rise in cases, meanwhile, is a challenge because of long delays in test results, in some cases lasting up to two weeks, Garza said. Local and state governments across the country are largely relying on two private laboratories to process most tests, and they've been overwhelmed by demand, he said.
The delays pose a challenge to people working to quickly locate outbreaks and contact anyone exposed to the virus, he said, though local officials have assured him that they that they have enough personnel to trace outbreaks.
Testing delays, Garza said, also hurt officials' ability to make informed decisions about how to respond to the latest virus numbers as they show a steady rise, he said.
"That's the concerning part — not where we are right now, but where we are going to be in a week, two weeks, three weeks," he said.
And some people have refused to cooperate with contact tracers, Garza said.
"If we want to control the transmission, that is an absolute essential part . . . so that we can protect the community."
Young people driving increases
The increases across the state are in part attributable to increased testing across Missouri, as well as growing outbreaks concentrated in the southwest part of the state. But health officials also continued to emphasize increasing COVID-19 cases among young people.
Infections among young people, who are more likely to have no symptoms or mild symptoms and a fast recovery, will spread to others, Garza said.
"This absolutely increases the probability that it's going to infect the vulnerable population as well," he said.
St. Louis County, for example, has seen the largest increases in COVID-19 cases in people ages 20 to 29, County Executive Sam Page said at a news briefing. Among them was a man who didn't develop COVID-19 symptoms, but still infected 15 friends with whom he'd spent time, Page said.
"This is just an example of how very real this virus is in our community," he said, "and how easily it can spread from person to person even when someone doesn't have symptoms. ... No one is an exception."
St. Louis has also seen its largest increase among adults in their 20s and 30s, Mayor Lyda Krewson said in a Facebook live briefing.
"This is still a very serious virus and a very contagious virus," Krewson said. "It's very important that we continue to socially distance, wear a mask so that we can continue to have our economy open, people can go to work, earn a paycheck, and of course, so people don't get sick."
The Associated Press contributed to this report.
Be the first to know
Get local news delivered to your inbox!