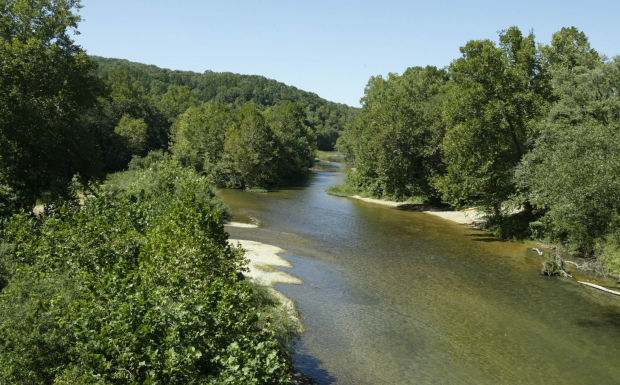 JEFFERSON CITY — In Shannon County, where the Current and Jacks Fork rivers cut through rugged Ozark hills, officials have a message for most would-be visitors: Please stay away.
The Shannon County Commission and the county health center enacted an order last week saying "nonresidents are prohibited from entering Shannon County" — except if they are visiting on essential business.
It's another example of how life has changed dramatically during the coronavirus outbreak. The order amounts to a temporary ban on tourism, which the county, home to parts of the Ozark National Scenic Riverways, relies on to power the local economy.
Kandra Counts, the Shannon County health administrator, said officials' rationale was twofold: there are few medical resources in Shannon County for people who may fall ill, and officials don't want visitors to spread the disease to residents.
"It could be a while before they get medical help, and that's a great concern to us. We don't want somebody dying on our watch," she said. "We're small and rural. And when there's a great influx of tourists in our town, that's just more opportunity for the virus to be spread."
The county, as of Tuesday, had no known cases of COVID-19. There had been at least 26 people tested for COVID-19, with 25 negative tests and one still pending, Counts said.
Shannon County, roughly a three-hour drive south from St. Louis, had an estimated 8,166 residents in 2019, according to the U.S. Census Bureau.
Counts said that while Gov. Mike Parson's stay-at-home order allows people to go outside for physical exercise, "I don't think his intention is for people to go on vacation with their family at this time, which is what people would be doing if they came down here."
Officials in nearby Iron County, which has reported one case of COVID-19, issued an order that took effect April 6 restricting non-resident travel.
In neighboring Reynolds County, home of Johnson's Shut-Ins State Park and other natural sites, officials have also closed the county to nonresidents subject to stay-at-home orders who aren't traveling for essential purposes. 
The county, with an estimated population of 6,270, has reported two positive COVID-19 cases.
All three county orders say violators could face class A misdemeanor charges, which carry a maximum one-year jail sentence and a $1,000 fine.
Shannon County's order expires on April 24, according to the health center's website, but could be extended. Reynolds County's lasts through May 10, according to the county health center's Facebook page.
Meanwhile, Current River State Park and Echo Bluff State Park in Shannon County, and Johnson's Shut-Ins in Reynolds County, remained open for day-use, said Connie Patterson, spokeswoman for Missouri State Parks.
But she said the division was "encouraging the public to visit a state park close to home."
"We are aware of the county orders," she said. "We continue to evaluate the situation and make adjustments to operations as the COVID-19 pandemic evolves."
Following Shannon County's order, the National Park Service, which operates the Ozark National Scenic Riverways, closed the Current and Jacks Fork rivers to floating companies on Thursday.
In a news release, officials announced licensed concessionaires wouldn't be able to rent canoes, kayaks and rafts to floaters until at least May 10.
The floating businesses affected are privately owned but they each control a license to put in floaters along the two rivers.
The parks service also expanded a suspension on camping within the park to include overnight camping on gravel bars along the river.
Dena Matteson, spokeswoman for the Ozark Riverways, said individuals can still launch their own vessels in the park during the coronavirus shutdown.
Shane Van Steenis, owner of Harvey's Alley Spring Canoe Rental in Eminence, said he hoped swift action now would prevent future losses during the summer tourism season, which unofficially begins Memorial Day weekend.
"If we could get this virus and stuff knocked out of the way now — I mean, I don't care to close down in April, but I don't want to be closed down in June or July," he said. "I look at it like this: If we're open by Memorial Day, I'll be tickled to death."
Armand Spurgin, who owns Windy's Canoe Rental in Eminence with his wife, Donna, said he hoped more people would come down when the restrictions lift to help make up for early season losses.
"We know that everybody's struggling financially," he said. "Maybe instead of people going on great big trips this summer, they decide to come floating a couple times instead."
Nancy Brewer, president of the Eminence Chamber of Commerce, said the chamber supports the moves by the county and scenic riverways, as well as the state's stay-at-home order.
She said many businesses hadn't yet recovered from devastating floods in 2017. She said business owners wanted more information on when the orders would lift and how that would happen.
"We believe they were put in place to protect the local residents as well as our visitors," she said. "This could potentially save many lives as we do not have any hospital facilities in Shannon County."
Concerned about COVID-19?
Sign up now to get the most recent coronavirus headlines and other important local and national news sent to your email inbox daily.