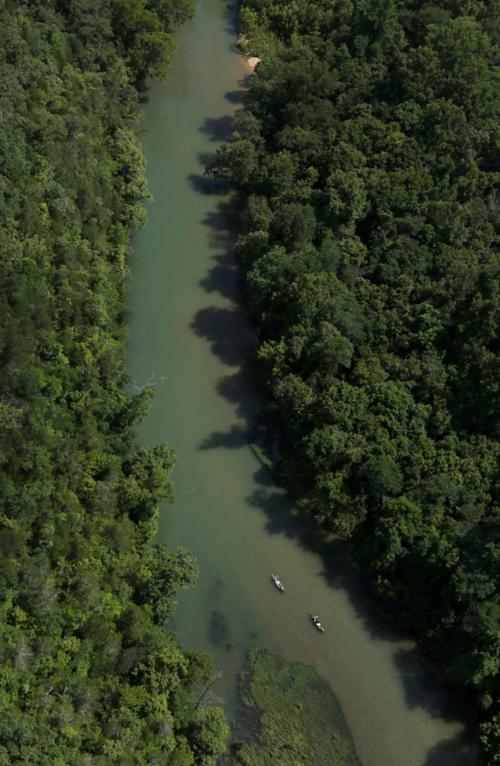 JEFFERSON CITY — Business owners in Shannon County are hoping for a busy Memorial Day weekend to help them make up for losses experienced during the state's stay-at-home order.
"We're all anxious for things to pick up," said Nancy Brewer, president of the Eminence Chamber of Commerce. "That's where we're all at now is just waiting to see what happens."
Shane Van Steenis, owner of Harvey's Alley Spring Canoe Rental, said Friday his current challenge is a sub-par weather forecast, which predicts scattered storms through the weekend.
"We're just now barely getting started but everything's open and ready to go," he said. "Now if the weather would just cooperate it'd be good."
The Shannon County Commission and the county health center enacted an order in early April prohibiting nonessential visits to the county. Officials worried tourists could spread the disease locally, or get sick in the rural county, stretching sparse emergency resources.
As of Thursday, the county still had no confirmed cases of COVID-19, according to state health officials. Kandra Counts, the Shannon County health administrator, said Friday that 97 people had been tested.
Counts said the order asking visitors to stay out "probably helped" guard against the virus, but said there's no way to know for sure. The county is rural anyway, which naturally lends itself to social distancing.
"We're open back up," Counts said. "We just ask that they (visitors) continue to social distance in our businesses and restaurants."
The Ozark National Scenic Riverways, which controls much of the land along the Current and Jacks Fork rivers, said Friday parts of the lower Current River remained closed.
The park said Thursday that campgrounds, back country sites and primitive camping would reopen Friday.
Shannon County, located about three hours south of St. Louis, had one of the state's highest poverty rates in 2018, with an estimated 22.6% of the county's population in poverty, according to the U.S. Census Bureau.
"This is a depressed area to begin with," Brewer said, "so when you add to that it's really bad. So we welcome the tourist dollars."
She said she hadn't heard of any businesses closing permanently because of the pandemic, but said "they're struggling of course."
Her closing pitch to potential visitors?
"Its God's country. I mean it's very natural and pristine and beautiful."
Rural Reynolds and Iron counties, also home to picturesque Missouri views, were similarly closed to most visitors last month as part of their local stay-at-home orders.
Reynolds County's health administrator said late last month the county would cut short its stay-at-home order, which was supposed to last through May 11.
The Iron County Health Department posted on Facebook late last month that its stay-at-home order would expire May 1. 
Be the first to know
Get local news delivered to your inbox!