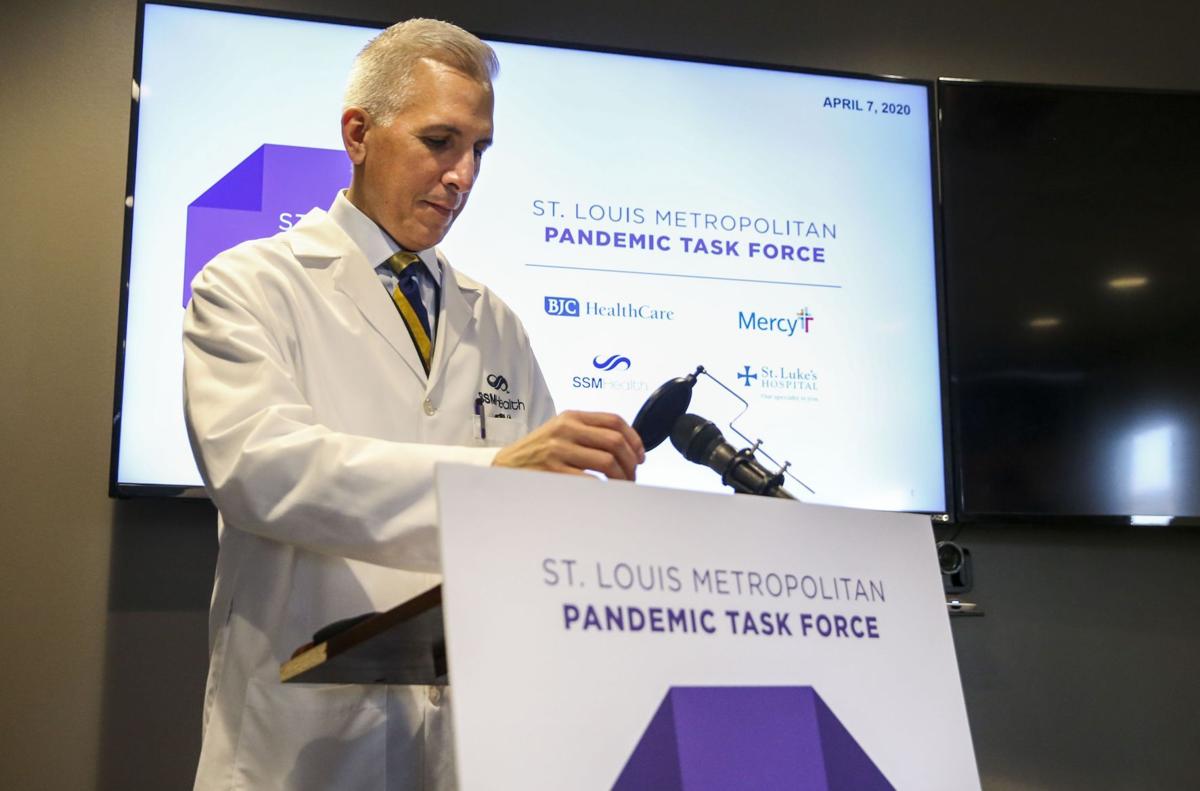 ST. LOUIS — Crowds of revelers seen last weekend at the Lake of the Ozarks could cause "needless suffering and potential strain to our health care systems," the head of the St. Louis Metropolitan Pandemic Task Force said Tuesday.
"We must all continue to remember that the virus hasn't left us," Dr. Alex Garza said. "It hasn't changed. It's still here. It's still very contagious and dangerous."
The task force reported 12 new hospital admissions on Sunday — the latest data available — representing the lowest one-day total since early April, Garza said. The average number of those hospitalized in the St. Louis region, those in intensive care and those using ventilators all have declined over the past week, but Garza said the progress could be erased if people relax social distancing recommendations and other guidelines.
"We let our guard down or act like the virus is gone," Garza said, "it will continue to improve the odds of hitting our region again with a second wave and those really hard-fought investments that we've made to suppress the curve will be wasted."
Garza's admonition Tuesday comes as Missouri Gov. Mike Parson said there is little he can do to break up the parties.
Although Parson called scenes of people shoulder-to-shoulder at lakeside pool bars "potentially dangerous" ways to spread COVID-19, he said local health departments are responsible for ensuring people stay six feet apart.
"I'm not going to send the National Guard," Parson said. "I am not going to send the highway patrol out to monitor this."
Rather, the Republican governor said he is leaving enforcement to city and county-level officials.
"That's their business. I trust the people in those positions," the governor said. "These people are elected to do these positions."
In an interview that aired on Fox affiliates across the state Tuesday, Parson reiterated that social distancing should be enforced by local governments, though he called the weekend parties "disappointing."
His comments came a day after state and St. Louis-area officials issued dire health warnings as videos showing holiday weekend celebrations at the lake brought national media attention to Missouri.
St. Louis County Executive Sam Page this week issued a travel advisory urging "those who ignored protective practices to self-quarantine for 14 days or until testing negative for COVID-19" and encouraging employers to ask workers how they spent their holiday and to take necessary precautions.
St. Louis Mayor Lyda Krewson called the behavior "irresponsible and dangerous" because visitors to the lake could spread the disease across the Midwest when they return home.
Garza said it's unclear whether weekend party crowds will cause a spike in cases but he said it wouldn't be surprising. 
"Without a doubt, this type of activity, this type of behavior increases the risk of transmission, which means it can only go in one direction," he said.
Missouri lifted stay-at-home restrictions on May 4. The state as of Tuesday has seen 694 deaths from the coronavirus along with 12,291 cases. The number of new cases has risen by 8.3% over the past week as state officials have ramped up testing.
The state acknowledged this past weekend that it had overcounted testing totals for COVID-19 by lumping together viral and antibody tests. A St. Louis County spokesman said its tests did not include antibodies. A spokesman for Krewson said he didn't know if antibody tests were included in the city's totals.
Revised data from Missouri health officials shows the state's first positive COVID-19 case as early as Feb. 2, more than a month before Missouri's first case was publicly reported March 7 — a woman from St. Louis County. The revised data on the state's revamped COVID-19 website show 10 people were positive for the virus between Feb. 2 and Feb. 29, with two dozen more detected the first week of March.
A spokeswoman for the state's Department of Health and Senior Services said Tuesday that Missouri's first case was March 7 but that dates reported for some cases have been revised to reflect when symptoms began for some people.
"As we've learned more about each case, information is entered for the patient including date of symptom onset," DHSS spokeswoman Lisa Cox said in an email.
Illinois Gov. J.B. Pritzker said Tuesday he was "dismayed" over large Memorial Day weekend gatherings reported in Midwestern states, including reports of large crowds in Lake Geneva, Wisconsin, a popular weekend destination near the Illinois-Wisconsin state line. 
"The challenge here is I want every resident to feel safe and keep themselves safe," Pritzker said during his daily COVID-19 briefing Tuesday. "They have the ability to do that and people who choose not to haven't been reading newspapers … (and) don't seem to understand how dangerous this is."
Illinois reported 1,178 more positive cases and 39 more deaths Tuesday, bringing the state's total to 113,195 cases and 4,923 deaths.
Dr. Ngozi Ezike with the Illinois Department of Public Health said she wants those who feel they've been in a high-risk place of transmission such as the Lake of the Ozarks to "stand down" by self-quarantining, but this is not often done, she said. She stressed that there is no way to know who is "harboring the virus and who isn't."
She added, "Take all the mitigation strategies we do have and employ those. Use your mask and keep your distance. After that, that is the most I can offer."