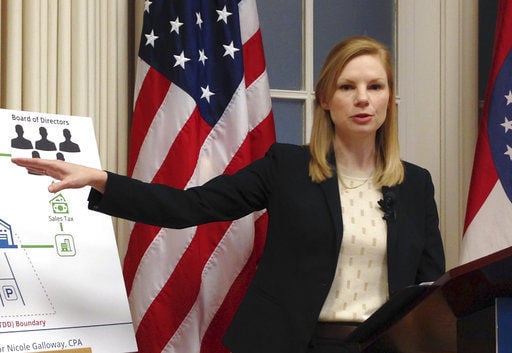 St. LOUIS — Missouri Auditor Nicole Galloway issued a harsh rebuke of the city's oversight of special taxing districts in a report released Thursday, accusing officials of allowing those districts to form and operate with little public scrutiny and no strategy to guide their use.
"The rampant use of local taxing districts in St. Louis has resulted in the highest sales tax rates in the state," Galloway said in a statement. "It's outrageous that, for too long, these districts have operated unchecked. Taxpayers deserve to know their money is being used efficiently, effectively and for the benefit of the entire community. It's up to the city to put processes in place to protect taxpayers and ensure projects have meaningful oversight."
Galloway's report focused on the use of Community Improvement Districts, or CIDs; Transportation Development Districts, or TDDs; and Special Business Districts, or SBDs — all of which can charge taxes to fund infrastructure, development or services within their boundaries. While some are created to pay for marketing, security and maintenance in larger commercial districts — such as Downtown, South Grand Boulevard and the Central West End — most are created by individual property owners to help finance their projects.
The city had a total of 138 special taxing districts as of June 30, 2018. Because some overlap, the sales tax rate has reached 11.679% in 25 areas of the city — the highest in Missouri, the report found.
At a news conference in St. Louis to outline her findings, Galloway said the audit was first requested by concerned residents, and in meetings with them, she consistently heard concerns about special taxing districts.
"A private property owner can create a special taxing district … and the only entity that has the ability to do due diligence as these are set up is not exercising that right," she said.
State law often gives little recourse to municipalities to police the districts. For instance, Galloway criticized the city for not collecting annual financial reports required under state law from CIDs — 86 of which have been created in St. Louis over the last 20 years. Over 60% of CIDs did not submit annual financial reports to the city, and 99% did not submit a 2018 budget.
Galloway, a Democrat running for governor, acknowledged that oversight issues are not unique to St. Louis and she has repeatedly asked the Legislature to pass reforms to special taxing district laws. But the sheer number of those districts in the city makes it a community "ripe for reform."
"I am disappointed that the city seemed resistant to change and resistant to reform," she said at the news conference.
Mayor Lyda Krewson's Deputy Mayor for Development Linda Martinez said in a written response that "the CID Act does not provide an enforcement mechanism or penalty if a CID fails to file budgets or annual reports with the city in a timely manner. State legislation to amend the CID act to include an enforcement mechanism or penalty should be considered."
Local governments must sign off on the creation of CIDs — in the city's case, the Board of Aldermen — but afterward have little say in their governance. And while local governments can appoint board members, state law requires that they be property owners or live in the district.
Still, the audit slammed the city, saying it "does not consider if the proposed district, corresponding project, and the resulting taxation of the public is in the best interests of the city and the public." Further, it said leaders do not have "any guidance or criteria to use when evaluating the merits of a proposed district."
Martinez, in her response, said the report in several places had "inaccurate" findings and "false conclusions."
Neighborhood-level districts must build community and business support before they're created, the city points out. And as for site-specific CIDs or TDDs, city economic development staff use their new incentive analysis model to "evaluate whether the requested incentive amount is necessary for the proposed project to be completed" and whether the project will "generate sufficient taxes relative to what similar properties generate."
As for TDDs, the city notes that it has little say over their creation — state law allows developers to petition the courts to form the sales tax districts and 31 exist in the city limits. Local governments' limited say in the oversight of TDDs often relates to transportation projects that affect a city's roads or sidewalks. That said, Martinez wrote that the city "understands" the auditor's "concerns regarding (TDDs) that do not affect public rights-of-way."
The audit was part of a comprehensive audit of the city Galloway agreed to in January 2018, after a request from the Board of Aldermen. She planned to focus on its economic development office first.