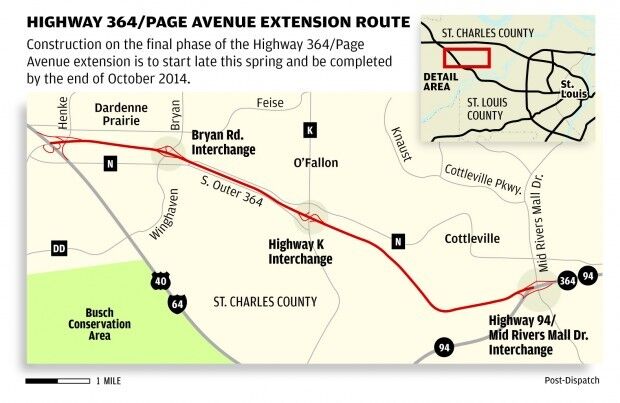 ST. CHARLES COUNTY • Construction of the final nine miles of the Page Avenue extension (Highway 364) is to begin late this spring and finish by the end of October 2014.
The schedule was announced Wednesday as the Missouri Department of Transportation's board approved a $71.8 million design and construction contract for the project.
The segment will stretch from the highway's current west end at Mid Rivers Mall Drive in St. Peters to Highway 40 (Interstate 64) in Lake Saint Louis.
There will be full interchanges at 40-64 and Mid Rivers Mall Drive/Highway 94, Highway K in O'Fallon and Bryan Road in O'Fallon and a partial interchange at Henke Road in Dardenne Prairie.
Overpasses will take Gutermuth Road in Cottleville and Bryan over the new highway and underpasses will be used for Hanley Road in Dardenne Prairie and Motherhead Road in Cottleville.
"A lot of people have been waiting for this for a long time," said St. Charles County Executive Steve Ehlmann.
Unlike earlier Page extension segments, portions of the final leg will open from west to east. That allows a western part to open sooner because there is more bridge and earth work farther east.
The stretch from Highway 40 to Bryan is to open Aug. 30, 2014, followed by Bryan to Highway K on Oct. 1 and Highway K to Mid Rivers Mall Drive on Oct. 31.
The new road will have two lanes each direction with a grassy median. Most existing segments have three or four lanes each way.
The state Highways and Transportation Commission, meeting in Jefferson City, chose a plan from Page Constructors LLC, which includes Fred Weber Inc., Millstone Bangert Inc., Kolb Grading and other firms.
That team and three rival bidders were each told to come up with plans costing $71.8 million. Unlike with typical road projects, each bid covered both design and construction.
"Their proposal provides the most improvements for our budget," said Ed Hassinger, MoDOT district engineer. He said traffic disruptions due to construction will be minimal.
The final leg's overall cost will be $118.2 million, including land acquisition. Of that, $73.96 million is from the federal government, $29.15 million from the county, $12.24 million from the state, $2.25 million from O'Fallon and $600,000 from Dardenne Prairie.
Hassinger said the funding plan put forward by Ehlmann and the county made the project possible. "MoDOT could not have done this project with our current funding," he said.
A key was getting cities in the county to seek less for their own road improvements. That allowed the project to tap $25 million in federal money that otherwise would go to other local projects.
The mayors of St. Charles, St. Peters, O'Fallon, Lake Saint Louis, Dardenne Prairie and Cottleville joined Ehlmann and MoDOT officials at a news conference to discuss the project.  The event was in the County Council's meeting room.
The road's first phase, from Interstate 270 in Maryland Heights to Heritage Landing in St. Charles, opened in 2003. The next phase, to Mid Rivers Mall Drive, was finished last year.