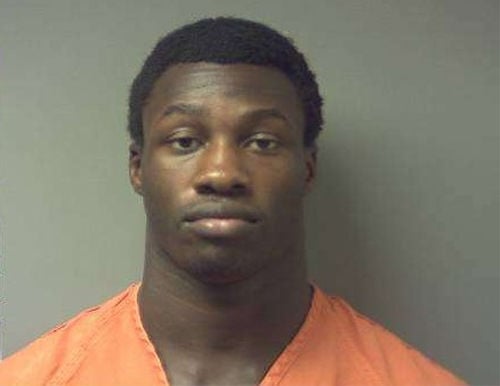 ST. CHARLES • A jury recommended a 30-year sentence on the most serious charge against Michael L. Johnson, a former Lindenwood University wrestler convicted of exposing one sex partner to HIV and attempting to expose four others.
But sentences on lesser charges could push Johnson's time in prison to more than 60 years, depending on whether they run consecutively or concurrently. St. Charles County Circuit Judge Jon Cunningham will impose a sentence based on the jury's recommendation on July 13.
In Missouri, a 30-year sentence is considered life with the possibility of parole. Johnson will have to serve 85 percent of any sentence ultimately handed down on the exposing charge, a Class A felony.
When the sentences were read, Johnson, wearing a tan shirt and tie and gray slacks, showed no emotion. But audible gasps could be heard from a man who contracted HIV and his family, who were sitting in the second row.
After the hearing, St. Charles County Prosecutor Tim Lohmar said the sentence sent a strong message about how residents view this crime.
"Our community definitely takes this very seriously and agrees with the legislature that this should be criminalized as it was, and they responded accordingly with a significant sentence," he said.
Johnson's case attracted national news coverage because some gay rights activists and legal reform groups say that HIV criminalization is outdated, in part because of advances in treatment for the disease. They say laws like Missouri's deter people from being tested for the virus, since a person can only be prosecuted after a positive test result.
The jury found Johnson, 23, guilty Thursday of five felony charges after three days of testimony that featured experts in infectious diseases and the men who had unprotected sex with Johnson.
In testimony in the sentencing phase, St. Charles Police Detective Donald Stepp said that after the media reports of Johnson's arrest in 2013, he was contacted by about a dozen other men who had sex with Johnson, but did not want to file a formal complaint.
Stepp said some of the men refused because they hadn't told their families they were gay or they were too embarrassed to testify about such a personal matter. In one case, the man was married and didn't want to upset his wife, Stepp said.
In addition, Stepp provided details of about 32 videos on Johnson's computer that depicted him having sex with unknown partners.
One of the videos, which showed unprotected sex, happened on the same day Johnson got his HIV test at Lindenwood's health clinic, Stepp said.
Assistant Prosecutor Phil Groenweghe said the evidence showed that Johnson had been an accommodating host for the HIV virus.
"The six men you heard testify were only the tip of the iceberg," he said.
Also taking the stand was the mother of the man who got HIV after having unprotected sex with Johnson.
The woman spoke about the effects the disease had taken on her son physically and emotionally. She said drugs her son takes have severe side effects and have required her to rush him to the hospital to get help.
"My son got a life sentence without parole," she said. "So I ask you, why does Michael Johnson deserve any less?"
Defense attorney Heather Donovan called Meredith Mills to testify on Johnson's behalf. She said he was a friend of her stepson's in high school, and Johnson was especially helpful with her daughter, who is autistic.
She said that Johnson is someone who always saw the positive in life and never said or did anything mean.
The jury deliberated for just more than two hours Friday before announcing the recommended sentence.