Joshua Curtis, 36, of the first block of Saddleback Ridge Drive in Winfield, pleaded guilty Monday to first-degree assault and armed criminal action.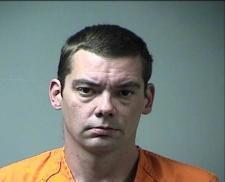 Curtis admitted to charges of randomly shooting Francis Howell High School teacher Carl Wayne, who was jogging on the Hamburg Trail the afternoon of Nov. 29, 2017.
Curtis and Wayne crossed paths about 2:45 p.m., authorities said. Wayne, who didn't know Curtis, made a gesture with his head acknowledging him. About 30 yards after Wayne ran past Curtis, the teacher heard a loud bang, felt pain in his back and fell to his knees, police said.
While on his knees, Wayne looked over his shoulder and saw Curtis standing on the paved trail, pointing a gun at him, charges said. Curtis then fired two more shots, police say.
"That image will never leave my mind," Wayne said Monday in court.
"I'll see it when I'm teaching, when I'm driving, when I'm just walking. I see it in my nightmares. I cannot unsee it. I wish I could. I did not know if I would escape this situation and live to see my wife, my friends and my family."
The teacher sprinted toward Highway D, screaming for help.
He flagged down the first car he saw on the highway, and the driver gave him a ride back to the school.
Police captured Curtis in the woods after finding his tent. The teacher later identified Curtis in a photo lineup as the man who attacked him.
On Monday, Wayne told St. Charles County Circuit Judge Jon Cunningham, who sentenced Curtis, that returning to the Francis Howell campus for work forces him to relive the shooting every day.
Wayne said he knows he is lucky and is grateful for supportive friends and family, but that the shooting has changed him forever.
"My life isn't the same," Wayne said in court. "Someone who met me may never notice that anything is wrong. My friends may not even notice. But the memories of that day still haunt me."