JEFFERSON CITY — A member of the Missouri House of Representatives from St. Charles died Wednesday.
Rep. Tom Hannegan, a Republican, suffered a stroke Wednesday morning and died at about noon, said Scott Mell, his life partner, campaign manager and campaign treasurer.
Hannegan, 51, was elected to his first two-year term in November 2016, representing the 65th House District encompassing the northern part of the county.
In addition to his legislative duties, Hannegan served as publisher and editor-in-chief of StreetScape Magazine. He also was a broker for STL Buy & Sell Realtors of St. Peters.
A St. Louis native, Hannegan graduated from Duchesne High School in 1988. He received his bachelor's from Lindenwood College in 1992, and received his master of science in human resources from Lindenwood University in 1998.
Hannegan also was among a small number of openly gay lawmakers in the Legislature's lower chamber.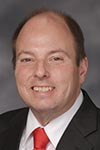 In previous legislative sessions, he has served as a co-sponsor of a law that would add protections for sexual orientation to the state's anti-discrimination statutes.
State law currently prohibits discrimination in housing, employment and places of public accommodation based on race, color, religion, national origin, ancestry, sex, disability and age.
In a joint statement, House Speaker Rob Vescovo, R-Arnold; Speaker Pro Tem John Wiemann, R-St. Charles; and Majority Floor Leader Dean Plocher, R-Des Peres, said Hannegan will be missed.
"Our hearts are deeply saddened by the news of our colleague and beloved friend's departure today. Representative Hannegan was a strong person of conviction in these chambers, a truly wonderful person and a dedicated public servant who will be greatly missed," the statement noted.
"Tom will forever be remembered for his determination to serve those in need, as well as his great love for all people. We extend our thoughts and prayers to the many friends and family who loved Tom," the Republican leaders said.
House Minority Leader Crystal Quade, D-Springfield, said Hannegan was a kind and thoughtful person who put people before politics.
"His sudden passing is a great loss, but he leaves a legacy as a champion for equality under the law for all Missourians," Quade said.